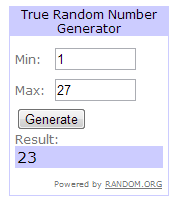 Congratulations! You will soon be the owner of a brand new pack of Softlips lip balm!
All you need to do now is e-mail me at lipbalmwrangler@gmail.com with your name and mailing address and I'll try to get it out to you as soon as possible!
Thank you to everyone who entered!
A new giveaway will be announced very shortly, so make sure to enter!
--Christina