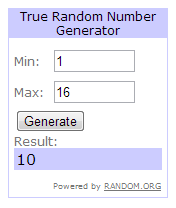 Congratulations! You're the winner of three new Chapstick Holiday balms!
All I need from you is to send an e-mail to lipbalmwrangler@gmail.com to give me your name and mailing address and I'll try to get it in the mail this weekend!
Thank you to everyone who entered! I have many more giveaways coming up so please make sure to enter those as well!
--Christina