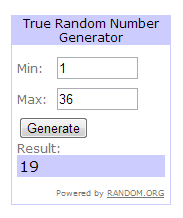 Entry number 19 which was
Trish!!
Congratulations!
Thank you to all who entered! These giveaways would not be possible without all of you! I have two other giveaways going on right now which you are more than welcome to enter!
There will also be TONS of giveaways coming in the next couple of weeks (almost one every single week!), stay tuned!
--Christina