Okay, I'm finally going to give in to my mind thinking it's Valentine's Day already. I've given up trying to convince it otherwise. I mean, it is getting close, isn't it? Hopefully this review will give you enough time before Valentine's Day to purchase it for someone special for V-Day, or for yourself. I think all of these balms are absolutely perfect for Valentine's Day!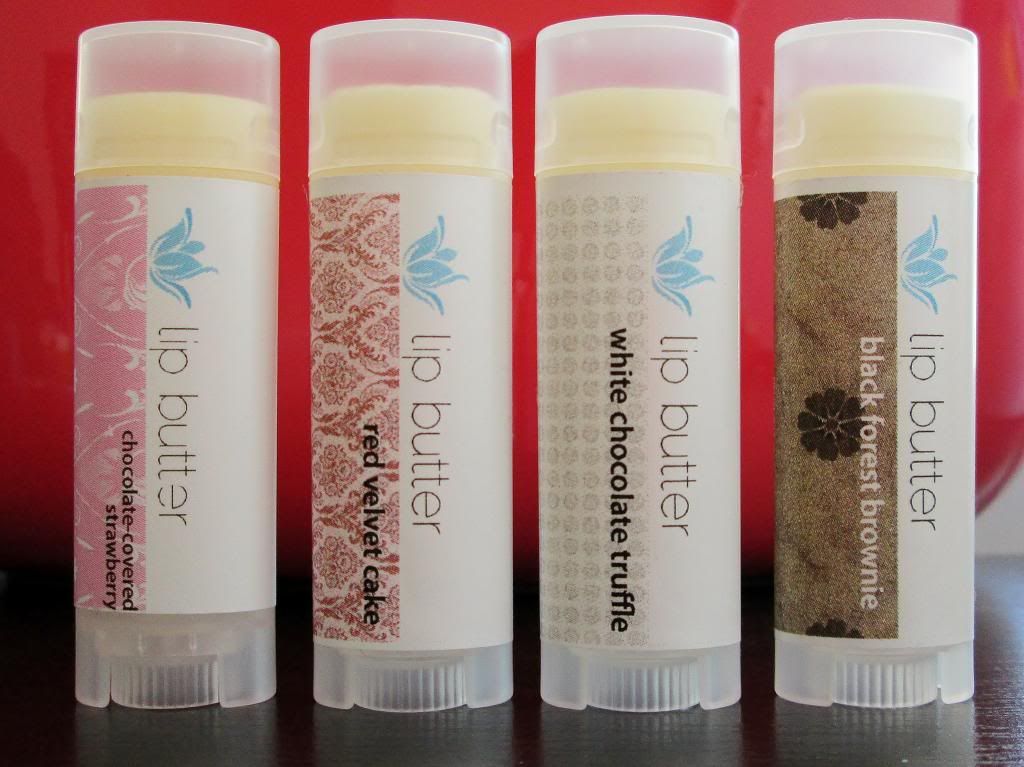 Company:
Aqua Blossom
Flavors:
Chocolate Covered Strawberry, Red Velvet Cake, White Chocolate Truffle, and Black Forest Brownie. Okay, yum, each of these flavors is seriously amazing. The
Chocolate Covered Strawberry
smells exactly like sweet strawberries dipped in rich chocolate. The
Red Velvet Cake
is such a rich scent, it's very chocolatey and creamy. The
White Chocolate Truffle
smells incredible! It smells just like creamy white chocolate, it makes my mouth water just by smelling it. And last but definitely not least, the
Black Forest Brownie
. Okay, if you've been paying attention the last couple of weeks, you've seen how much I love this balm! The Black Forest Brownie smells AMAZING. Rich, rich chocolate complimented by sweet cherries, seriously this balm is so decadent. I'd take this over dessert any day! (Okay not really, because I really love dessert, but you see what I'm getting at here. It's THAT good when I would consider trading dessert for lip balm.) Ashley also has a Sparkling Champagne balm for Valentine's Day that I didn't try, I don't know how I'd feel about a champagne balm since I don't really like champagne. But I'm sure it's wonderful!
Wear:
These balms go on so smooth and creamy and sink right into my lips. They last for hours and just cover beautifully.
Packaging:
These balms come in those lovely oval tubes that I love so much. Each label is custom designed to match the flavor of the balm, making each label easily distinguishable from the others. The labels for these balms are so well done, very sophisticated yet simple.
Price:
$3.75 per tube, which is definitely something I'm willing to pay for one of these balms!
Overall
Pros:
Flavors, Wear, Packaging, Price
Cons:
Rating: 5 out of 5 twists. Seriously these balms are wonderful, any girl (or guy) would be lucky to receive these for Valentine's Day. Ashley also has a gift set where all of her Valentine's Day flavors come in a really cute tin, that set is $16.75. Although these balms are very much Valentine's Day themed, I think they'd be perfect year round!
Ingredients: Shea butter, sweet almond oil, apricot kernel oil, avocado oil, candelilla wax, coconut oil, kokum butter, soybean oil, essential and/or flavor oil, vitamin e oil
Have you tried Ashley's Valentine's Day flavors yet? Which one is your favorite?
---------------
Don't forget you can use code: WRANGLER to save 20% off your purchase in Ashley's
Etsy
and
direct shops
! Good until March 31st, 2013
---------------
**Don't forget to enter both my giveaways this week! Find my Softlips giveaway here and my PuurBody giveaway here!**