I love these lip balm of the month clubs, it's so wonderful to receive a new balm each month! I often forget that it'll be arriving until I see a little yellow package in my mailbox. Then my heart swells with excitement as to what the next marvelous balm will be! I mean it's always nice to just pick your own balms, but with these subscriptions, I've been able to try balms that I never would have had it been my own choice. And you know what, a lot of them are really good!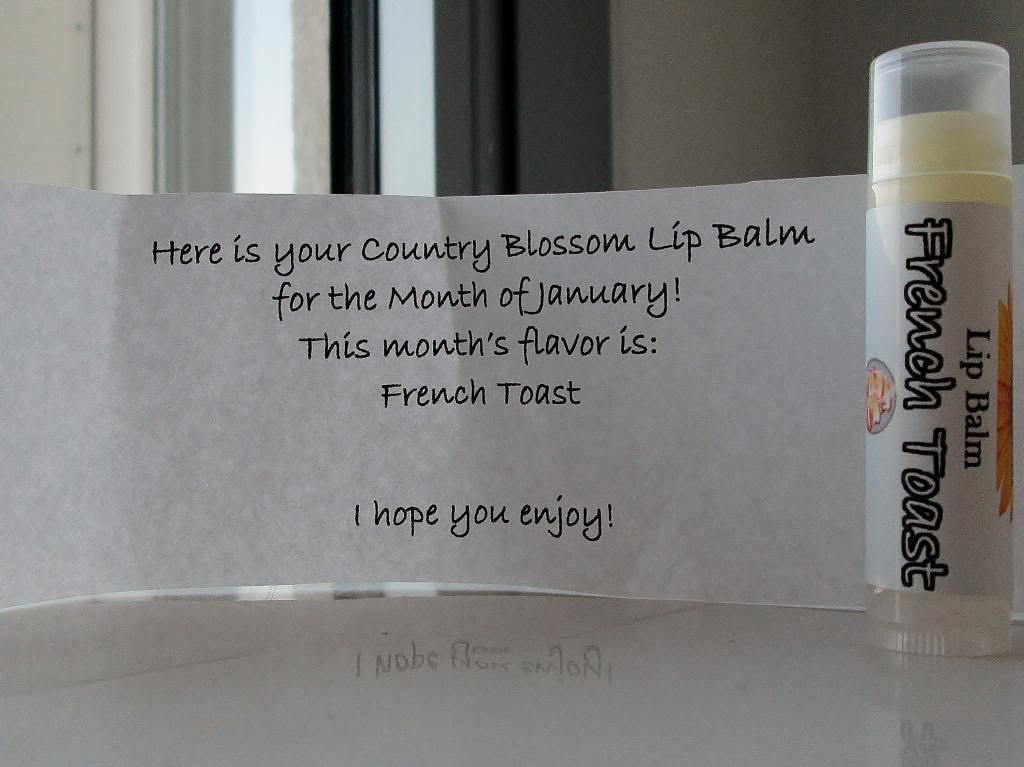 Company:
Country Blossom
Flavor:
This month's balm is French Toast! I definitely would have never tried this balm had it been my own choosing. I tend to prefer lip balms that are fruity and for the most part stay away from baked goods and flavors that don't have any fruit in them at all. But this balm is really good! It smells just like french toast with a little powdered sugar! I can definitely catch whiffs of the maple syrup and cinnamon, it's perfect. It smells absolutely delicious! French Toast is definitely one of my favorite breakfast foods and Megan definitely has this flavor down, it's wonderful!
Wear:
This balm goes on so smooth and creamy. It makes my lips feel really moisturized and soft. I really like the consistency of Megan's balms.
Packaging:
This balm comes in your average sized lip balm tube. The label has a big sunflower on it with the shop's name in the center of it. The flavor of the balm is also clearly stated on the front of the tube as well as a picture of some french toast!
Price:
$3 per tube which is definitely worth it for one of Megan's balms!
Overall
Pros:
Flavor, Wear, Packaging, Price, Customer Service (Megan has been a doll and working with the many address changes I've had to make with this subscription. Thanks, Megan!)
Cons:
Rating: 5 out of 5 twists, this balm is wonderful. If you've been wanting to try this balm, you most definitely should. I highly recommend it!
Ingredients: Beeswax, Olive Oil, Coconut Oil, Vitamin E Oil, Flavoring Oil
What's your favorite Country Blossom flavor? Do you have a lip balm of the month subscription? If so, what do you think of it?
**Don't forget to enter my HUGE Birthday Giveaway here!**