I'm so glad to see many shops that closed for the holidays, reopen again for business! December felt like such a down month for lip balm buying and browsing because almost everyone closed up shop for a while, which was totally understandable because of the holidays! Now that the holidays are over, shops are back in full swing. One of which is ForGoodnessGrape!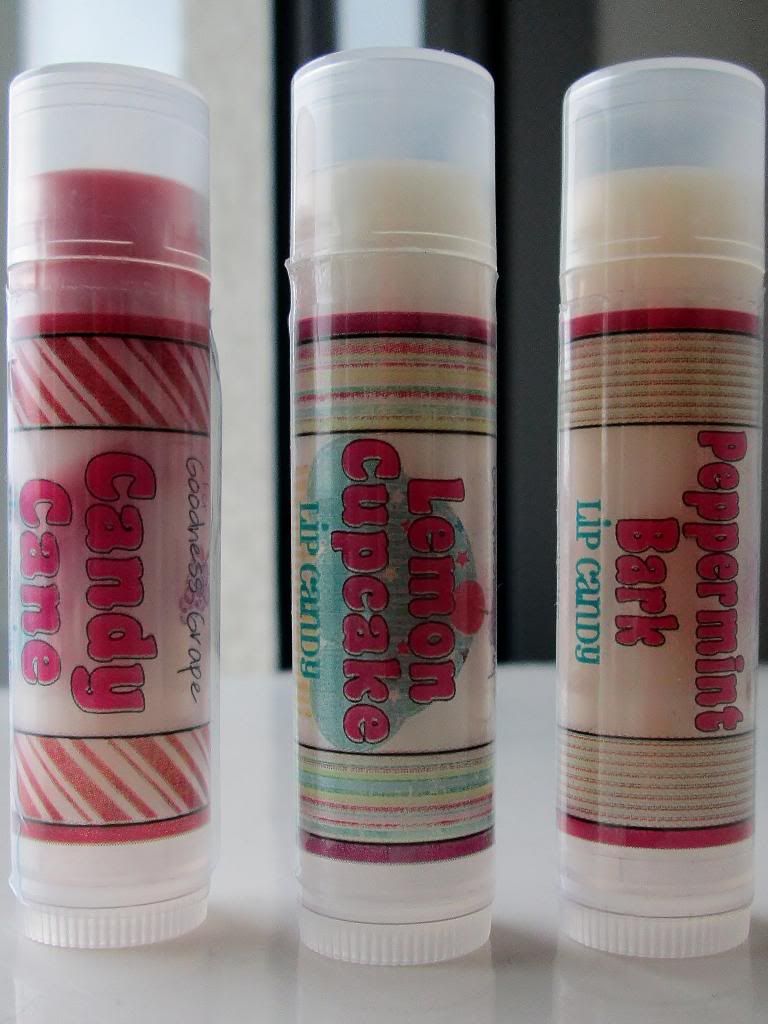 Company:
ForGoodnessGrape
Flavors:
Peppermint Bark, Candy Cane, and Lemon Cupcake. The
Peppermint Bark
is really incredible! If you like mint and chocolate at all, this is a balm you need to try. I can detect rich, decadent chocolate combined with mint that is not overwhelming. I think the chocolate scent is stronger in this balm than the mint, so you chocoholics out there should look into this balm! The
Candy Cane
is much lighter than I expected. It's pepperminty but not overbearing, perhaps there is a little bit of vanilla to tone down the mint. Either way, this is a classic candy cane balm! This balm is extra cute because the balm itself is red and white swirled, just like a real candy cane! The
Lemon Cupcake
is AMAZING, probably one of my most favorite ForGoodnessGrape flavors, ever! It's lemon and buttery and smells just like a freshly baked cupcake! And everyone knows lemon cupcakes are pretty much my favorite thing to make, ever! Seriously if you like lemons or baked goods, you have to try this balm.
Wear:
These go on so smooth, much like all other ForGoodnessGrape balms, and make my lips feel so smooth and moisturized.
Packaging:
These balms come in clear average sized lip balm tubes. The labels have the flavor of the balm clearly stated on the front and have designs and/or pictures to match the flavor of the balm. The Candy Cane one is especially festive!
Price:
$4 for Peppermint Bark and Lemon Cupcake, $5.50 for Candy Cane. These are a bit at the upper end of my budget for lip balms, but they're totally worth it!
Overall
Pros:
Flavors, Wear, Packaging, Price
Cons:
Rating: 5 out of 5 twists, I love all of these balms! ForGoodnessGrape has so many flavors it's hard to not find one...or five...that you'll fall absolutely head over heels for!
Ingredients: Shea butter, mango butter, cocoa butter, sweet almond oil, beeswax, jojoba oil, coconut oil, castor oil, vitamin E, fragrance
--------------------------
The Peppermint Bark was free with a previous order that was forgotten, but quickly sent, and the Candy Cane and Lemon Cupcake were complimentary from Lisa at ForGoodnessGrape. However all opinions are my own! Thank you Lisa for sending me these balms, you always know exactly what to send!
--------------------------
**Don't forget to enter my HUGE Birthday Giveaway here!**