I was told about this shop by one of my readers and quickly after looking through the shop, I knew I would be trying some of their balms. Shortly after I received my first order, I saw that Nicole and Aaron had come up with two new anthologies! And as soon as I saw them, I was drooling over them instantly! Shortly after I tweeted about the new anthologies, Nicole and Aaron contacted me to try them out! They also let me choose a whipped lip butter to try, yippee! I was almost in tears, I was so excited and so happy!
Company:
Live Beautifully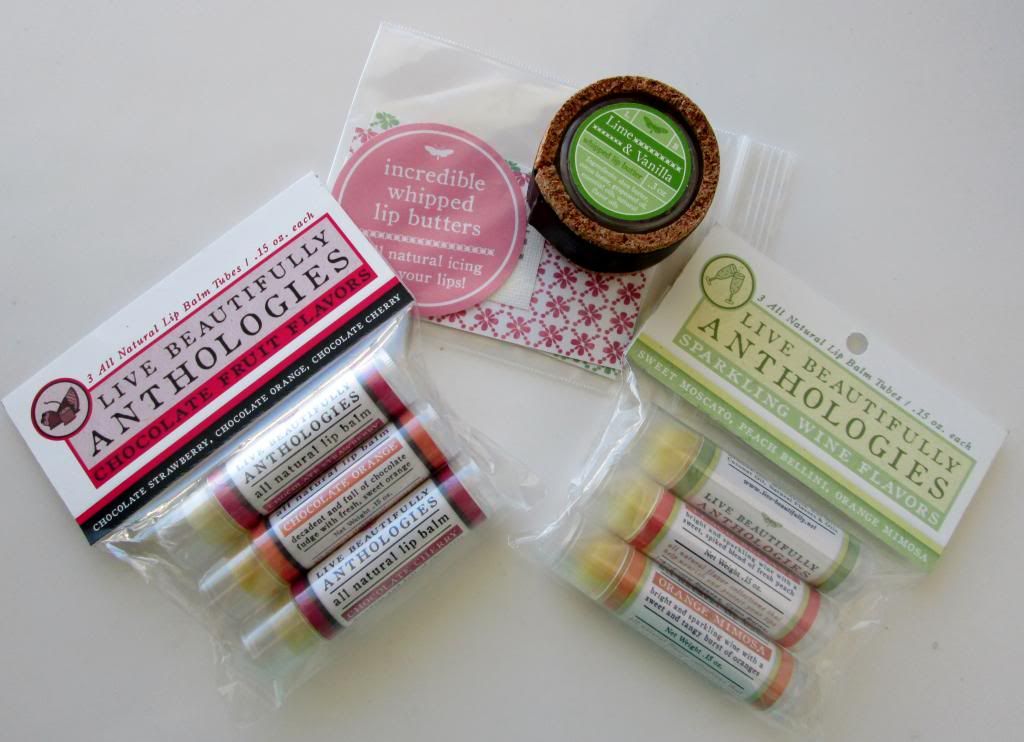 Flavors:
Sparkling Wine Flavors-
Sweet Moscato, Peach Bellini, Orange Mimosa;
Chocolate Fruit Flavors-
Chocolate Cherry, Chocolate Orange, Chocolate Strawberry; and Lime & Vanilla whipped lip butter. First, let me start by saying that every flavor I have tried from Live Beautifully has been truly amazing. I find myself using these balms every day! My boyfriend and I have recently been getting more interested in wine, especially Moscatos, so the Sparkling Wine Anthology came at just the right time! The
Sweet Moscato
is a very light fruity scent. The
Peach Bellini
is a light and sweetly scented peach balm. It's very fruity and delightful! The
Orange Mimosa
smells incredible! A very bright and strong scent of orange, but not overbearing smack in your face citrus, but a more mellow citrus scent. It's quite lovely. The
Chocolate Cherry
is such a rich and decadent chocolatey scent with just a hint of cherry. I can't stop smelling it, it smells incredible! I'm sure most of you know by now how much I love a good chocolate orange lip balm, and this one definitely fits the bill! The
Chocolate Orange
is wonderful. A rich chocolate scent complimented by a sweet and citrusy orange scent. Seriously, this one smells AMAZING. A burst of orange and rich chocolate, what more could you ask for? The
Chocolate Strawberry
is equally as wonderful, sweet, sweet strawberry blended with a rich chocolate scent. This one would be absolutely perfect for Valentine's Day, heck both of these anthologies would be great for Valentine's day. But especially, the chocolate anthology! I'd much rather receive some chocolate lip balms than chocolates (less calories, and they last longer). The
Lime & Vanilla
whipped lip butter has got to be THE BEST thing I've ever used! Tangy lime blended with sweet vanilla, the best scent I've ever encountered!
Wear:
Each of these balms goes on crazy smooth and creamy. They melt right into my lips and provide me with long lasting moisture and protection. The whipped lip butter has the best consistency, it's super smooth and silky; one of the only balms my boyfriend will let me put on him! He couldn't get past how amazing the consistency was. Seriously, I love wearing these lip products.
Packaging:
First off, I have to say the packaging on EVERYTHING is so impressive. From the mailing labels on the envelope to the lip balm tubes to the business cards, I've never been so in awe before. Everything is so well put together, so pleasing to the eye, and just oh so lovely. The lip balms come in your average sized lip balm tubes, with labels that have the name of the shop, the name of the balm, and then the flavors that go into the balm. I LOVE that, I don't think I've ever found a lip balm that actually had the flavors of the balm on the label. Like sure, a strawberry lip balm shouldn't be too surprising that it's strawberry flavored, but something like a fruity punch or something would be great to have the flavors used to make it! (Which by the way, this shop does on their Tropical Drink Anthology! [Review coming soon]). The labels are so well done and the color scheme and fonts all just go so well together. The whipped lip butter comes in a lip balm pot with the same type of label on the lid, it's so nice! I also love the extra care that went into packing the products, the whipped lip butter jar was surrounded in cork to protect it. How wonderful!
Price:
$4 per tube or $10 for an anthology which has 3 balms. The whipped lip butters are $6 a pot and trust me, it's totally worth it!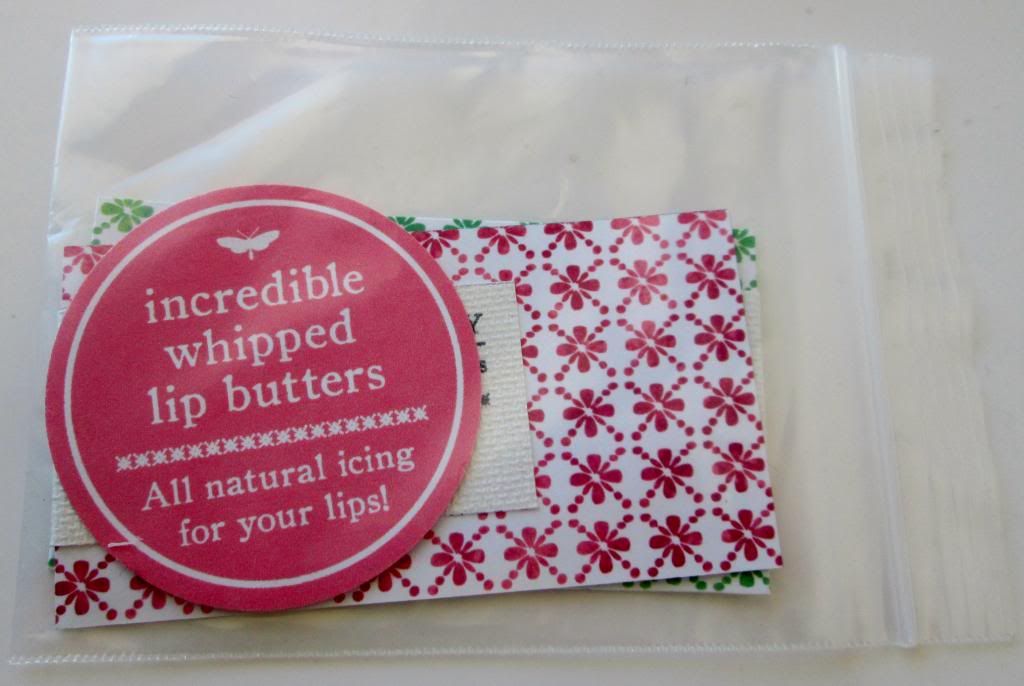 Overall
Pros:
Flavors, Flavor variety, Wear, Packaging, Price, Presentation, everything!
Cons:
Rating: 5 out of 5 twists, seriously I can't say enough about these balms. They are totally wonderful in every way. The whipped lip butters are a must try! Honestly, I could rave about these balms all day!
Ingredients: Beeswax, Cocoa Butter, Shea Butter, Mango Butter, Apricot Kernel Oil, Grapeseed Oil, Sweet Almond Oil, Macadamia Nut Oil, Coconut Oil, Natural Flavors & Oils
Have you tried Live Beautifully balms before? Which flavor is your favorite?
-------------------------
These balms and whipped lip butter were sent to me complimentary by Nicole and Aaron over at Live Beautifully Body, however all opinions expressed in this review are my own! Thank you Nicole and Aaron for allowing me the opportunity to try and review your products!
-------------------------
**Don't forget to enter my Softlips giveaway here!**