I had always eyed PuurBody balms, there were so many flavors and many that I would love to try. I don't know why it took me so long to place my first order, but it did and just like always, I kick myself over and over for waiting so long! I had so many mishaps with this order it was almost funny (keep in mind it was during the chaos that is Black Friday). First, the tracking info for the packages were switched and I received one package that said it hadn't been delivered, but didn't receive the package that said it was delivered. Then the package that did arrive was delivered a second time (I received the same order twice instead of two separate orders). Then when the correct order came, one of the balms twisty thingy was broken so I couldn't get any balm out. Then I moved and had subscribed to her lip balm of the month club and had to switch addresses. Even through ALL of that Brandi sure was a trooper! It was Black Friday after all and I definitely was in no hurry to get it all at once, I knew that she would do her best and that everything would work out in the end. She was so wonderful and quick about replies and I always felt bad about messaging her, I'd even hold my breath and cringe as I hit enter, only to be met with a sweet reply. My boyfriend knows how guilty I felt having to message Brandi so much, it eats me up inside to have to bother someone!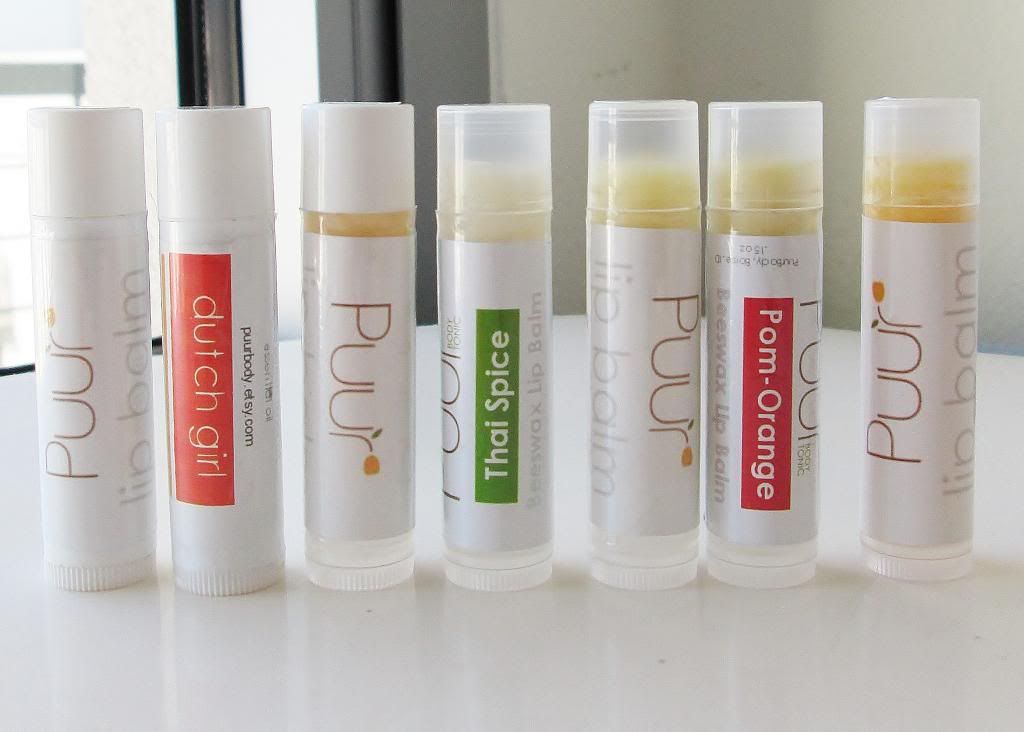 Company:
PuurBody
Flavors:
Dill Lime, Dutch Girl, Coconut Banana, Thai Spice, California Dreamin', Pom-Orange, and Pink Grapefruit. Blood Orange was also in this order, but it was reviewed previously as a lip balm of the month; and Apple Pie was also part of this order, but it will be reviewed later as this month's lip balm of the month! I had no idea what to expect of the
Dill Lime
because I've never had such an interesting flavor combination before. This balm smells so unique! It is clearly citrusy, tangy lime with a handful of dill. It actually smells really good! Oh the
Dutch Girl
, boy does this one smell AMAZING. Rich chocolate blended with sweet orange, this scent is so decadent and wonderful. Definitely one of my favorites! Another one of my favorites is the
Coconut Banana
, it smells delicious! Finally a balm that gets the proportions right, equal parts banana and coconut with neither scent overwhelming the other. The
Thai Spice
was also another flavor that I was unsure about what I should expect, it definitely reminds me of Thai food. You can surely smell equal parts peppermint and lemongrass, it's such an interesting flavor combination! The
California Dreamin'
is another one of my favorites, it's amazing! A wonderful blend of orange and vanilla, it's not too strong and not too light, it's perfect. The
Pom-Orange
is another one I can't get enough of! It's so sweet and fruity and all around wonderful. You can smell the slightly tart, yet sweet pomegranate combined with fresh juicy oranges. It's lovely. The
Pink Grapefruit
is a true grapefruit scent, light and delicate, yet citrusy and tangy.
Wear:
All of these balms go on super smooth and creamy. They go on a bit thicker than other balms, in my opinion, which is so wonderful! My lips feel really nourished and smooth after wearing one of these balms. So let's see, smooth, creamy, thick, and long lasting. What else do we need?
Packaging:
These balms come in your average sized lip balm tube with white labels that have the shop's name in big letters right on front, along with the flavor of the balm and the type of balm it is (vegan or beeswax). Some balms have a colored rectangle that has the flavor of the balm in it and some do not. The one's that don't have a colored rectangle with the flavor of the balms on the label have a sticker on the top of the cap with the flavor of the balm.
Price:
$3.50 per tube which is definitely worth it for one of these balms!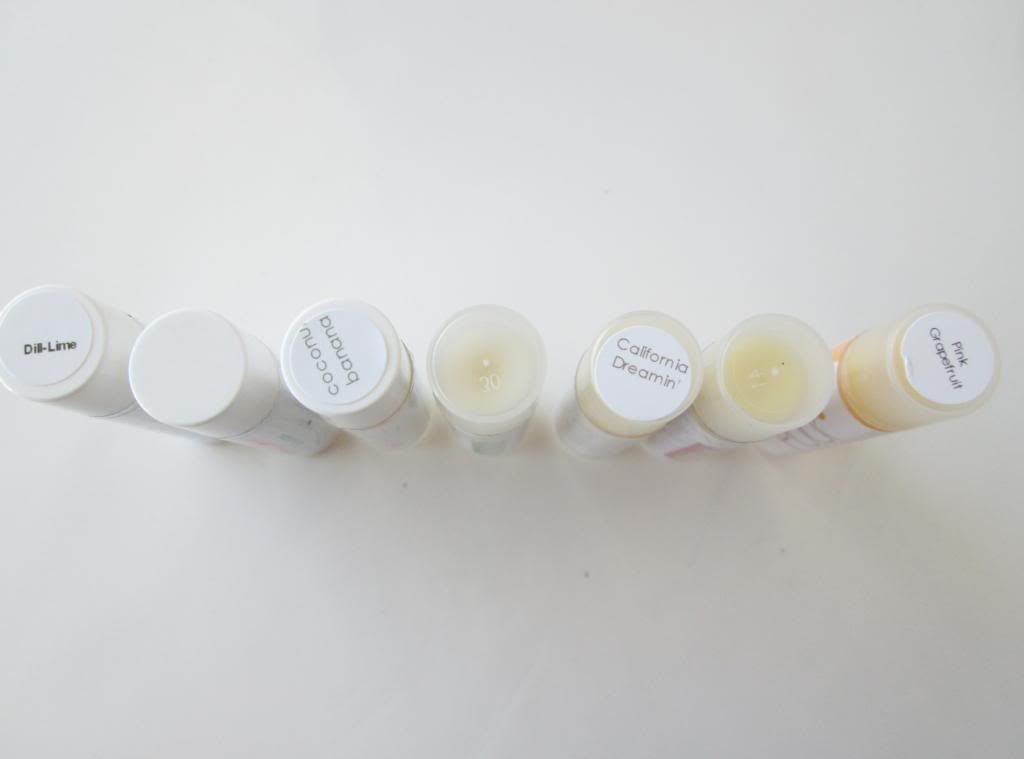 Overall
Pros:
CUSTOMER SERVICE, Flavors, Wear, Packaging, Price, everything!
Cons:
Rating: 5 out of 5 twists, you can't go wrong with one of Brandi's balms. Both formulas, vegan and beeswax, are amazing and all the flavors are wonderful. Working with Brandi has been a wonderful experience.
Ingredients:
Vegan-Castor Oil, candelilla wax, shea butter, cocoa butter, flavor oil, and/or essential oils
Beeswax-Castor oil, beeswax, shea butter, cocoa butter, fragrance, and essential oil
Have you tried any of PuurBody's balms yet? Which flavor is your favorite?
**Don't forget to enter my HUGE Birthday Giveaway here!**