I reviewed this shop a while ago and in the
previous review
the beeswax formula didn't sit well with me, but Christine sent me a different beeswax balm to see if I liked it better. I meant to review this balm a long time ago, shortly after I realized I had received it (my boyfriend never told me it came and it sat in a pile of mail for about three weeks), but so many things came up. It's about time that I give this balm a review!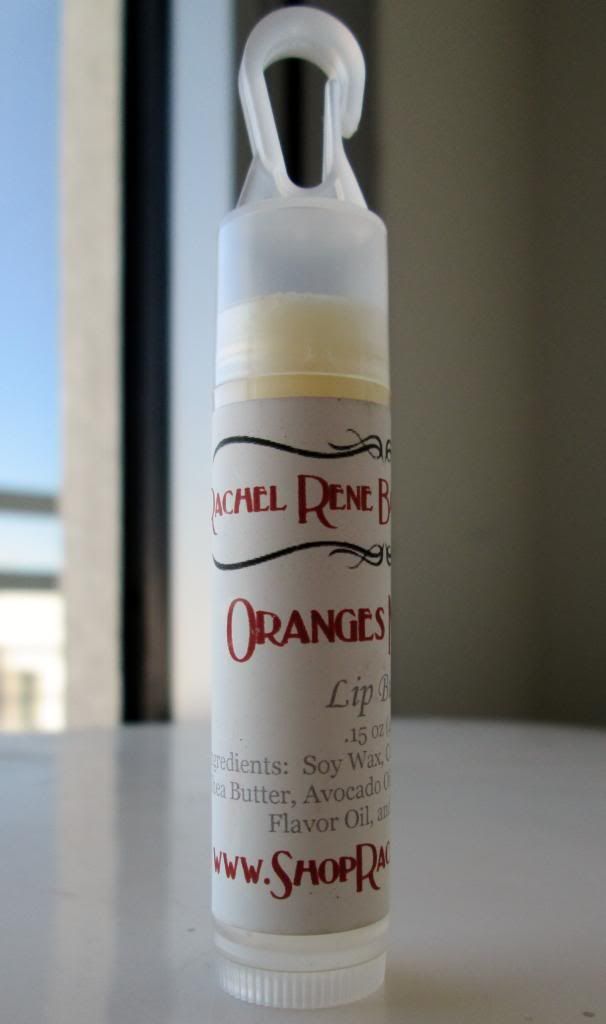 Company:
Rachel Rene Bath & Body
Flavor:
Oranges N Cream. When I first got this balm it smelled very much like sweet oranges with a bit of cream, it was amazing! I couldn't stop using it! But I think I may have melted it somehow between moving it from San Francisco to Chicago and back to San Francisco because the scent isn't as strong and the texture changed. So for all intensive purposes, this balm smells wonderful! And much better than the Mango Mango balm I had such bad luck with.
Wear:
Smooth! This balm goes on very smooth and melts into my lips. Christine told me that the reason the last beeswax balm could have been grainy was that the shea butter could have cooled too rapidly which results in a grainy texture.
Packaging:
This balm comes in your average sized lip balm tube but the cap has a handy clip that you can attach to your keys, I love it! The flavor of the balm is clearly on the front of the balm as well as the ingredients, shop name, and website.
Price:
$3 per balm which is definitely a reasonable price for one of these balms.
Overall
Pros:
Flavor, Wear, Packaging, Price, Customer Service (I had no idea Christine was sending me a replacement one!)
Cons:
Rating: 4 out of 5 twists. This is a really good balm and I would definitely recommend trying a few flavors from Christine's shop. I also really love the clip on top!
Ingredients: Shea Butter, Cocoa Butter, Beeswax, Soy wax, Avocado Oil, Castor Oil, Vitamin E, and Flavor Oil
Have you tried Rachel Rene balms before? What did you think of them?
**Don't forget to enter my HUGE Birthday Giveaway here!**