Another company that has recently opened up shop again is one of my absolute favorites, Epically Epic Soap Co.! Yay! I can't wait to see any and all new flavor combinations Allison comes up with!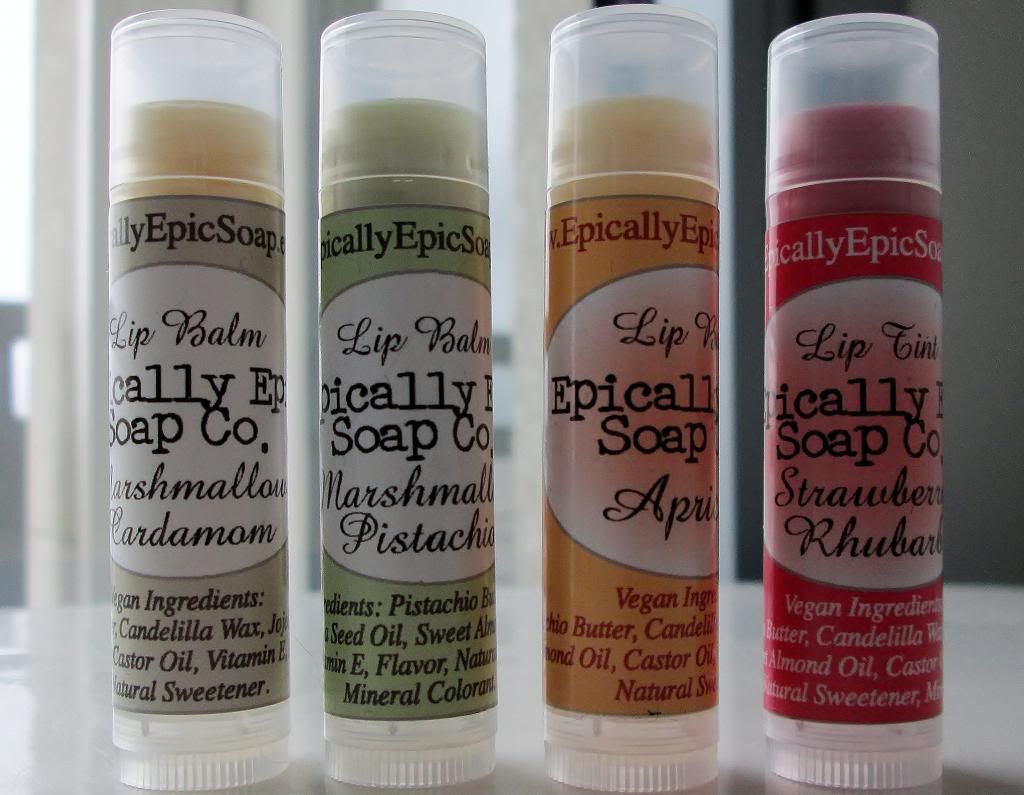 Company:
Epically Epic
Flavors:
Apricot, Marshmallow Pistachio, Marshmallow Cardamom, and Strawberry Rhubarb lip tint. The
Apricot
smells very light and sweet, I'm not a huge fan of apricots, but this balm smells wonderful. The
Marshmallow Pistachio
smells SO amazing!! My gosh, I think Pistachio balms are quickly becoming my new favorite thing. They are so sweet and creamy! I can only detect a little hint of marshmallow which is definitely not a deal breaker because the pistachio in it smells incredible! The
Marshmallow Cardamom
smells wonderful, it's very light with a little bit of spice. I think the Cardamom Vanilla is still my favorite over the Marshmallow Cardamom. Allison also threw in my last order this
Strawberry Rhubarb
lip tint. It smells wonderful! It reminds me of a fruit roll up or a fruit by the foot, kinda. (Which, I'll admit, I like to indulge in every once in a while.)
Wear:
These balms go on so smooth! A little goes a long way and they last for a minimum of two hours which is wonderful!
Packaging:
These balms come in your average sized lip balm tubes with labels that are colored and designed to match the flavor of the balm. The marshmallow balms are so cute, they have little marshmallows placed all over the label...adorable! The flavor of the balm is also clearly stated on the front of the tube, gotta love that!
Price:
$3.75 which is definitely a steal for one of Allison's balms!
Overall
Pros:
Flavors, Wear, Packaging, Price
Cons:
Rating: 5 out of 5 twists. I love Epically Epic balms! If you couldn't tell by now, I'm a bit obsessed with my Epically Epic balms! They're some of my favorites!
Ingredients: Pistachio Butter, Candellila Wax, Sweet Almond Oil, Jojoba, Castor Oil, Vitamin E, Natural Sweetener, Flavor, Mineral Colorant
What is your favorite Epically Epic lip balm flavor?
------------------------------
I want to take a minute and thank Allison for sponsoring the blog this month! I'm so happy to have you back as a sponsor! Thank you, Allison! Everyone please go and check out her shop, her balms are amazing!
------------------------------
**Don't forget to enter my HUGE Birthday Giveaway here!**