Happy New Year, everyone! I hope you all had a wonderful night celebrating the new year with friends and family! I know my family and I will definitely be taking it easy and playing it low key today. I move tomorrow to San Francisco so, as much as I'd like to take it easy, I have lots of last minute packing that needs to get done. I'll apologize now in advance, in case I can't get posts lined up in time, if my post for Thursday is a bit delayed.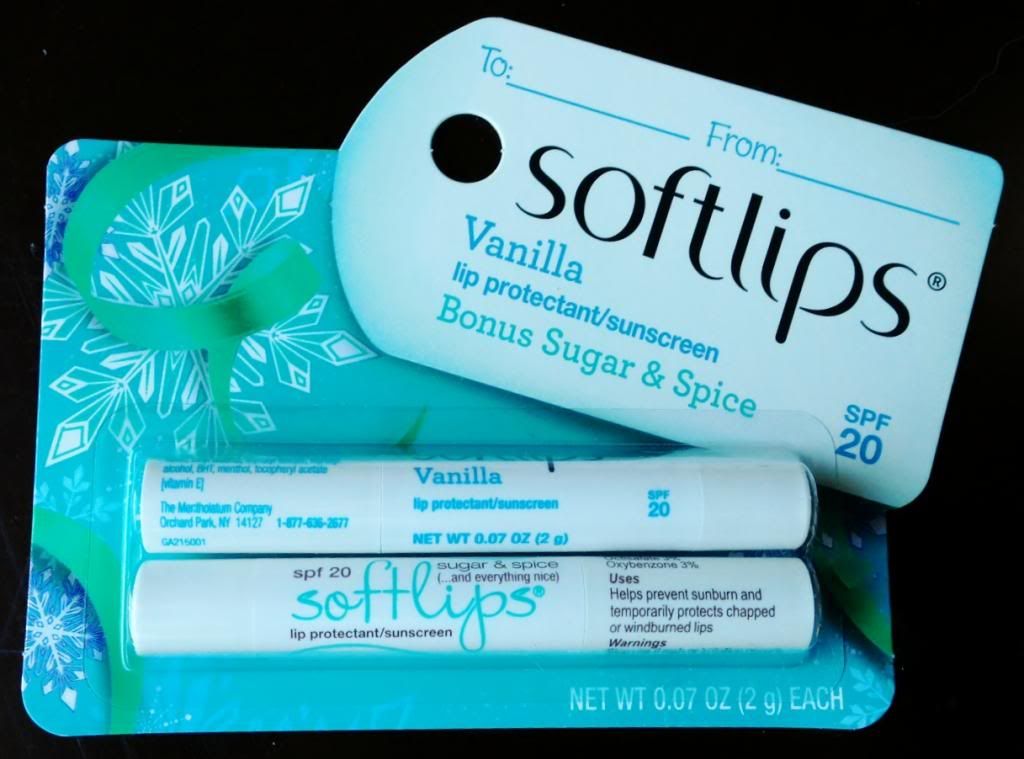 Company:
Softlips
Flavors:
Sugar & Spice and Vanilla. The Sugar & Spice is definitely sweetness with a hint of spice, but it's not a very strongly scented balm. My sister thought it smelled like Chai Tea and my boyfriend thought it smelled like cotton candy, so it's definitely not a very strong scent. But, also those two aren't known for being able to identify scents correctly. I think this balm kinda smells like a cookie, so maybe this balm is left open for interpretation! The Vanilla is a light vanilla that is a wonderful, not overwhelming scent.
Wear:
These balms go on with ease, they glide on smooth and make my lips feel soft! They're moisturizing and these two make my lips feel a bit tingly which I love.
Packaging:
These balms come in a thinner than average lip balm tube; it's a very distinct thin white tube. The colors of the fonts go along with each flavor of the balm. These balms also come in a limited edition pack that is designed as a gift tag, which makes it perfect for gift giving. Simply write who it's to and who it's from, and you're good to go!
Price:
$3-4 which I think is totally worth it.
Overall
Pros:
Flavors, Wear, Packaging, Price
Cons:
Rating: 4.5 out of 5 twists. These balms are awesome! I have always been a Softlips™ fan and I probably always will be. I love these holiday and winter flavors from Softlips™. They're all wonderful!
Have you tried this holiday pack yet? What did you think of it?
-----------------------------
This pack was provided complimentary to me by Softlips™, however, this review is comprised strictly of my own opinions. Thank you, Softlips™, for this opportunity to review your products!
-----------------------------
**If you're a fan of Softlips™, don't forget to enter my giveaway here for your own 2-Pack of their Jack Frosting!**