Around Black Friday I had stumbled upon this shop, I liked the way the balms looked and was very curious. Then on Black Friday they had a really amazing sale going on, I think the balms were like 35% off and if you spent over a certain amount you received a free balm. After all the deals, I think I scored 7 balms for less than $14!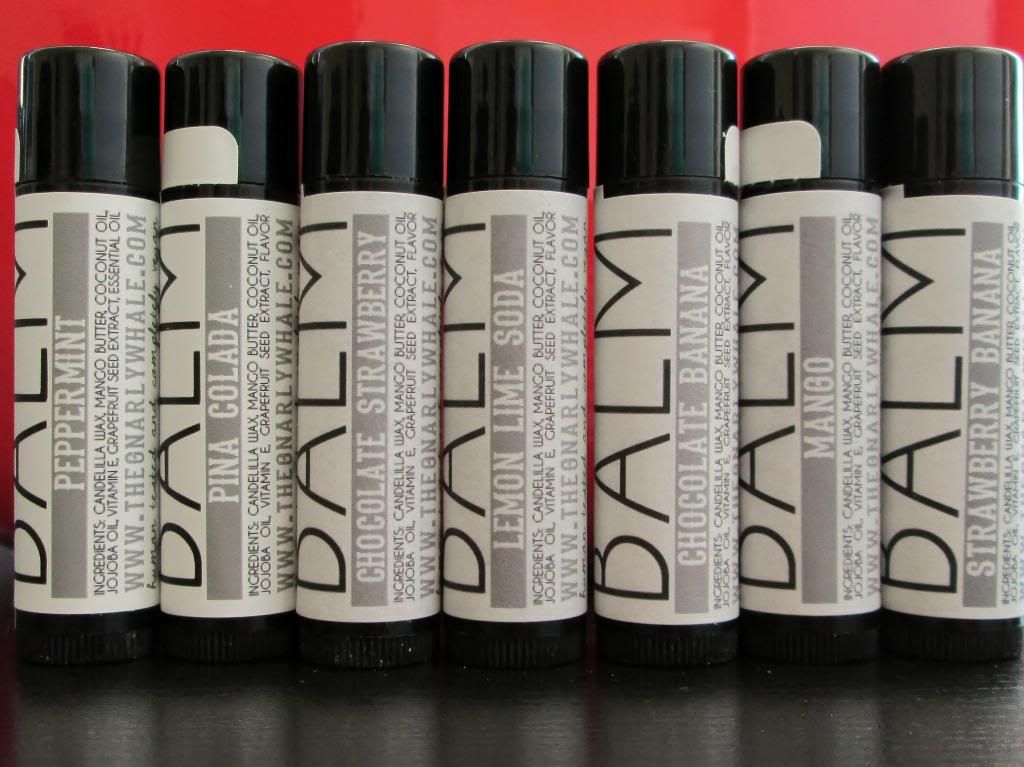 Company:
The Gnarly Whale
Flavors:
Chocolate Banana, Peppermint, Pina Colada, Mango, Lemon Lime Soda, Chocolate Strawberry, and Strawberry Banana. The
Chocolate Banana
smells very much like a chocolate covered banana. The banana isn't super strong in this one, but it is very good! I've been obsessed with all things chocolate banana and pretty much banana anything lately, so this is right up my alley. The
Peppermint
is a wonderful mint balm! It smells exactly like those blue Certz I'm always talking about. I really love that scent. The
Pina Colada
is very tropical, very much pineapple and coconut. It's a really wonderful scent. As everyone probably knows by now, I'm always in search of the perfect mango balm, so I thought I'd give their Mango balm a shot! The
Mango
balm smells fruity, but not very much like mango to me. It smells a little off like some other mango balms I've tried before. The
Lemon Lime Soda
smells amazing! Very citrusy and soda-like, it smells like something I've had before. It's not exactly like 7-Up or Sprite, but it does remind me of something I've had before. The
Chocolate Strawberry
smells just like sweet strawberry dipped in milk chocolate, this would be perfect for Valentine's Day! The
Strawberry Banana
smells like fresh, sweet strawberries blended with ripe bananas. It's extremely light in scent, so for those who don't like really strongly scented balms, this would be one for you to try.
Wear:
These balms go on really smooth! They glide right across my lips, in one or two swipes on top and bottom I'm good to go! They don't feel really heavy on my lips which is really nice!
Packaging:
These balms come in your average sized lip balm tube. The tube is black which is always a nice subtle change to the look of a balm. Each tube has a white label with black and grey fonts, it's hard to tell them all apart because they're all very, very similar in style. I really like the font selection they used for their balms. It makes everything look really neat and polished! The one thing that was seriously driving me up a wall about these balms was how the labels were put on. Each label unrolled right off the tube. I would try to smooth out the label only to have to try to smooth it down a minute later. One of my friends saw them on my desk one day and even commented on how the labels were bugging her. It sounds crazy, but it's just a pet peeve of mine when the labels aren't put on properly. But it's not something to get totally bogged down by, it's nothing a little tape can't fix. Other than that, the packaging on these balms is lovely and very pleasing to the eye!
Price:
$3.50 per tube which is a pretty classic price for a handmade lip balm.
Overall
Pros:
Flavors, Wear, Packaging, Price
Cons:
Some labels don't stick
Rating: 4 out of 5 twists. These balms were pretty great! I love that there's such a large variety of flavors to choose from, there's a flavor for every taste!
Ingredients: Candelilla wax, mango butter, coconut oil, jojoba oil, vitamin E, grapefruit seed extract, flavor
Have you tried balms from The Gnarly Whale yet? What did you think of them?
**Don't forget to enter both my giveaways this week! Find my Softlips giveaway here and my PuurBody giveaway here!**