It seems like today is a day for secondary reviews. Shortly after
the last time
I reviewed Wicked Soaps, they had another sale so I had to try a couple more flavors! Most of you know by now that I can't resist a sale. I was so happy to be able to snatch these balms up! They're amazing!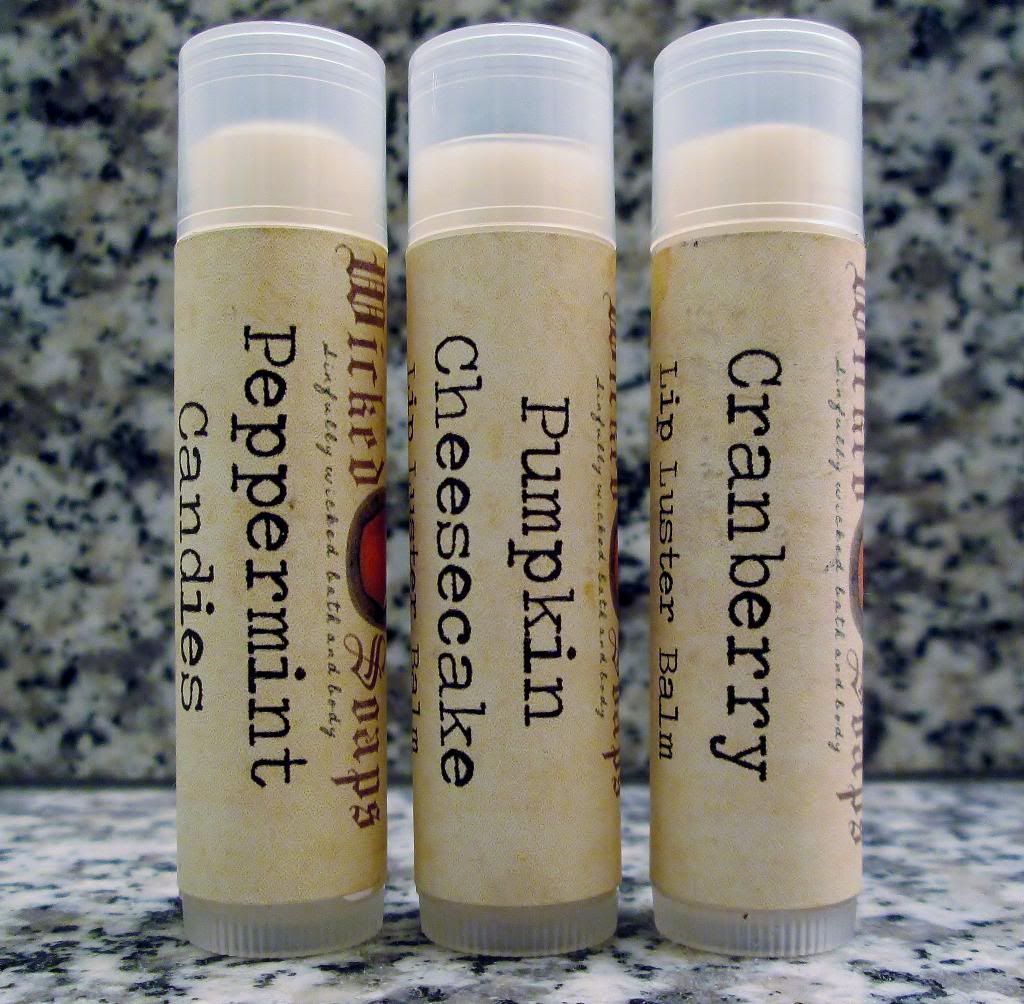 Company:
Wicked Soaps
Flavors:
Pumpkin Cheesecake, Cranberry, and Peppermint Candies. The
Pumpkin Cheesecake
smells AMAZING! Just as you would expect, a little spicy, a little creamy, and all around wonderful. The scent is noticeable but not overbearing, I think it is just the right about of scent. The
Cranberry
flavor really surprised me! It's dead on cranberry and smells very sweet; it's much stronger than other cranberry balms. It's really lovely. The
Peppermint Candies
balm is icy cool and reminds me of the blue Certs my dad used to always have on hand. It smells amazing! Each one of these balms was a winner in my book; I liked them a lot better than the last flavors I tried from this shop.
Wear:
These balms go on sooo smooth and very creamy. With these, a little goes a long way. I feel like the balm immediately sinks into your lips and goes to work on making your lips feel nice and soft.
Packaging:
These balms come in your average sized lip balm tube with labels that have a bit of an old-timey apothecary feel to them, if that makes any sense. The labels have a weathered look to them. The flavors of the balm and name of the shop are clearly stated on front.
Price:
$3 a tube which is an amazing deal for one of these balms!
Overall
Pros:
Flavors, Wear, Packaging, Price
Cons:
Rating: 4 out of 5 twists. These balms were amazing! I really enjoyed these ones, they were perfect for this wintery weather and the transition from fall to winter.
Ingredients: Cocoa butter, beeswax, coconut oil, avocado oil, flavor oil
Have you tried Wicked Soaps balms before? Which flavor is your favorite?
**Don't forget to enter my HUGE Birthday Giveaway here!**