I bought these balms shortly after I bought Aubrey's Winter Set, I couldn't help it! Whenever I see new flavors from one of my favorite shops, I have to have them. Yes, I know, I have a problem. And I promise, I'm trying to work on it...really, I am!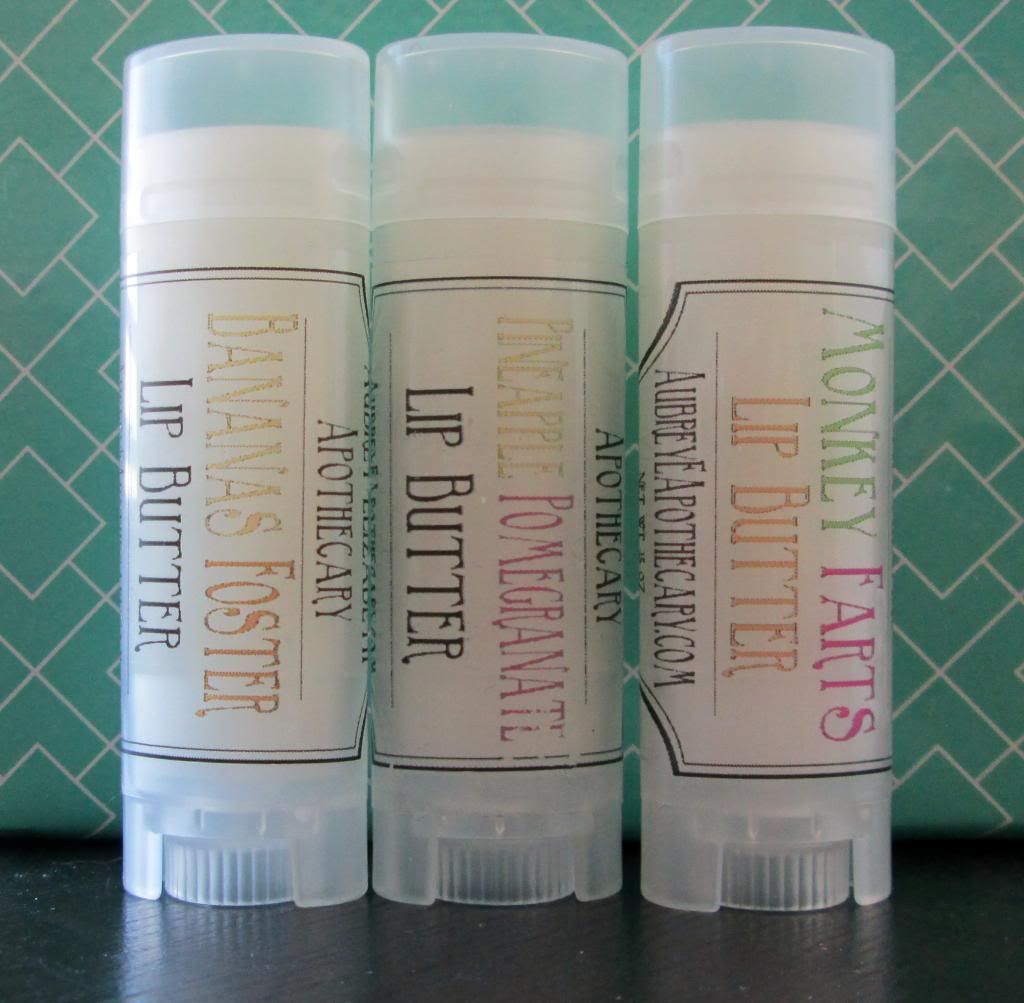 Company:
Aubrey E. Apothecary
Flavors:
Pineapple Pomegranate, Monkey Farts, and Bananas Foster. The
Pineapple Pomegranate
is a very unique and interesting flavor combination. It smells like sweet pineapple and a little bit of pomegranate, it's tart and sweet. The
Monkey Farts
is such a yummy, sweet, and fruity balm! It smells just like bananas mixed with other yummy tropical fruits and bubble gum. The
Bananas Foster
smells of banana and caramel, it's a very sweet and decadent balm.
Wear:
These balms go on so smooth! They glide right across my lips, they go on a bit thinner than some of my other balms, but don't let that fool you! It's definitely more than enough to coat your lips in balm.
Packaging:
These balms come in lovely oval tubes with clear labels. The labels are very simple with the shop name above the name of the balm which is colored to match the flavor of the balm. Each label has a different color combination which is really nice.
Price:
$3.75 per tube which is in the right zone for a good balm.
Overall
Pros:
Flavors, Wear, Packaging, Price
Cons:
Rating: 4 out of 5 twists. These balms are pretty great! I definitely like these fruity balms, they're wonderful!
Ingredients: Beeswax, Sweet Almond Oil, Coconut Oil, Avocado Oil, Flavor Oil
Have you tried Aubrey E. Apothecary balms yet? Which flavors are your favorite?