I've had these balms for quite some time, but at the time I received these I was receiving a ton of other balms so these kind of got pushed to the back burner. It's so hard to keep track of which balms to use sometimes because of the influx of balms that can occur when I go a bit crazy on lip balm buying.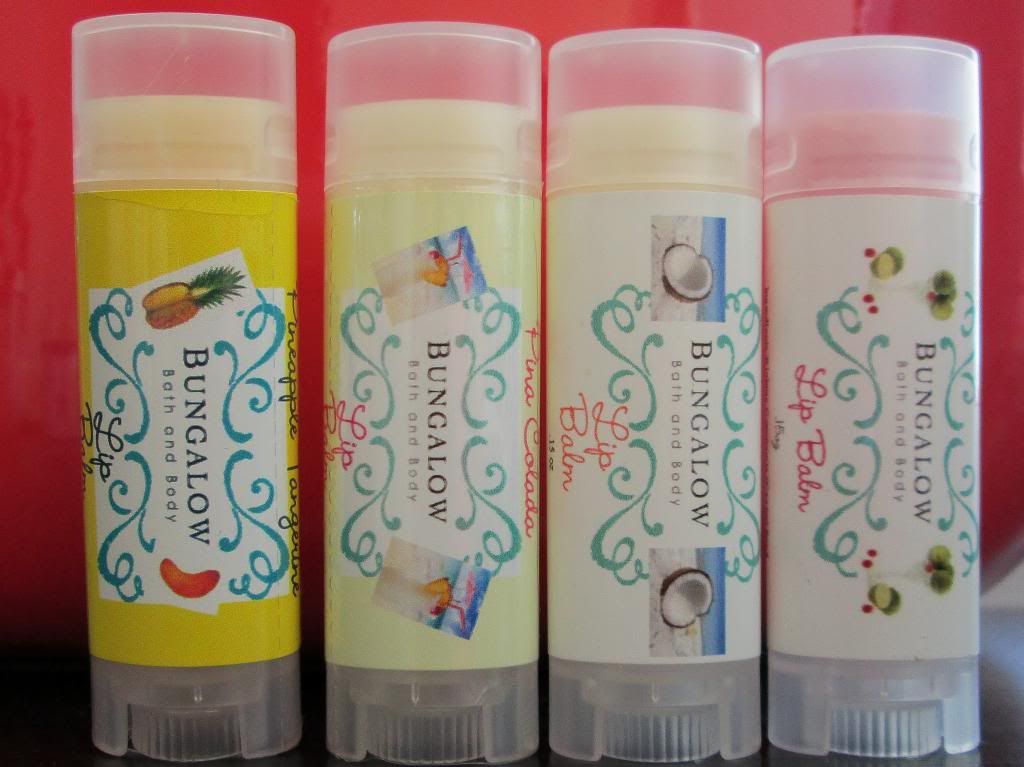 Company:
Bungalow Bath and Body
Flavors:
Pineapple Tangerine, Cherry Limeade, Pina Colada, and Coconut Milk & Peaches. The
Pineapple Tangerine
is a wonderful blend of tangy, tart pineapple and sweet, ctirusy tangerine. It is a very fresh and fruity scented balm. The
Cherry Limeade
smells just like a pack of gummy Lifesavers, you know what I'm talking about when you first rip open the package and you smell every flavor at once in there? It smells just like that! It then kind of mellows out and smells just like the cherry Lifesavers with a little bit of lime. It's a very interesting scent, a different yet wonderful rendition of a Cherry Limeade balm. The
Pina Colada
smells just like the tropical drink, tropical pineapple and coconut blended together. It smells lovely! Jen was nice enough to include a tube of her
Coconut Milk & Peaches
with my order. This balm smells incredible! Just like very sweet peaches mixed with tropical coconut that adds a little bit of creaminess to the scent. It's probably my favorite one out of this bunch! I'm so glad she included it in my order. Thank you, Jen!
Wear:
These balms glide on very smooth and a bit thicker than other balms which is pretty nice. They cover my lips really well and provide a nice layer of moisture on my lips! If you're looking for a balm that's a little thicker, this is definitely one to try. It feels different than other balms, I don't know if it's because the ingredients are a little different, but these balms feels really good on my lips!
Packaging:
These balms come in oval tubes, which you know I absolutely adore and prefer to your typical circular tubes. The labels of these balms have the name of the shop right on front in between two images that depict the flavor of the balm. The flavor of the balm is positioned right on the curve of the tube, which is kinda different since it isn't straight on front. I do love the font choices Jen chose for the label, it's a cute script almost hand written cursive. The only thing is that the cursive makes the ingredients a little difficult to read, but it's not that big of a deal.
Price:
$3 per tube which is definitely a reasonable price for one of these!
Overall
Pros:
Flavors, Wear, Packaging, Price
Cons:
Rating: 4.5 out of 5 twists. These balms are pretty darn good, and there are definitely a few more flavors I'm interested in trying. Jen offers a wide variety of flavors in her shop, there's sure to be a balm for everyone!
Ingredients: Castor Seed Oil,Cetyl Stearyl Alcohol, Olive Fruit Oil, Beeswax, Hydrogenated Castor Oil, Soybean Lipids, Lauryl Laurate,Carnauba Wax, Candelilla Wax, Flavor oil, Color
Have you tried Bungalow Bath and Body balms before? Which flavors are your favorite?
***Don't forget to enter my Little Batch giveaway here!***