When I first fell in love with e.o.s. products over a year and a half ago, I immediately felt the urge to collect them all. Before it was available everywhere like it is now, I know that Pomegranate Raspberry had been only available in a limited edition pack and I was doubtful that I'd ever come across it. I had all the flavors including Passion Fruit and the Alice in Wonderland trio which for some are super hard to find, but I still didn't have the Pomegranate Raspberry. And then, they finally re-released Pomegranate Raspberry and I was able to get my hands on one right away! Finding a new lip balm from one of your favorite companies or finding a lip balm flavor you've been looking for forever is probably one of the best feelings in the world, at least it is for me.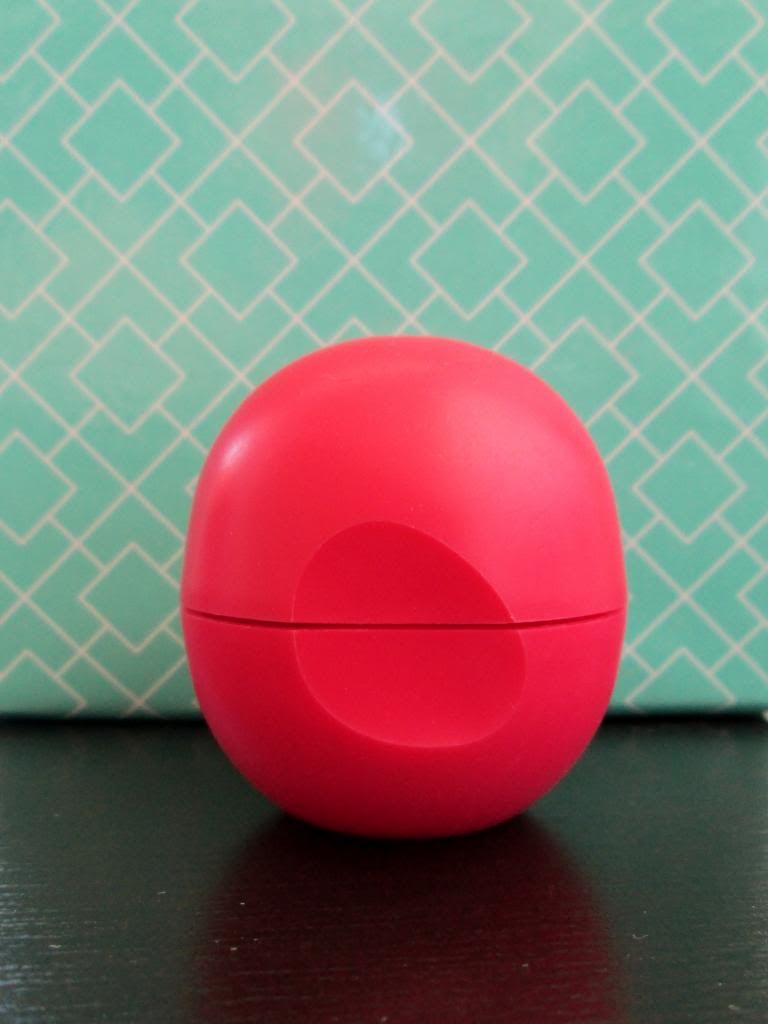 Company:
evolution of smooth (e.o.s.)
Flavor:
Pomegranate Raspberry. This balm has a pretty light scent overall, but you can definitely tell that there is Raspberry and Pomegranate in this balm. The scent is tart, yet sweet. It's really nice.
Wear:
Like all e.o.s. smooth spheres, this one goes on beautifully. I love the shape of the balm and how it glides on my lips. It covers well and makes my lips feel soft.
Packaging:
You've all probably seen an e.o.s. balm before, they're those cute little bright colored spheres. I love the way these balms look. Yes, they're harder to carry around in a pants pocket, but they sure are adorable! They still fit in a sweatshirt pocket or a purse no problem. This particular sphere is colored a kind of reddish-pink.
Price:
About $3 which is definitely not a bad deal for this balm.
Overall
Pros:
Flavor, Wear, Packaging, Price
Cons:
Rating: 4 out of 5 twists. I have always loved e.o.s. products and this one didn't disappoint. I can't wait to see what else they come up with in the future!
Ingredients:
Olive Fruit Oil*, Beeswax*, Coconut Oil*, Jojoba Seed Oil*, Natural Flavor*, Shea Butter*, Stevia Rebaudiana Leaf/Stem Extract*, Pomegranate Seed Oil*, Tocopherol, Sunflower Seed Oil*, Raspberry Leaf Extract*, Linalool. The * indicates an organic ingredient
Which evolution of smooth balm is your favorite?