Happy Valentine's Day, everyone (or Happy Anti-Valentine's Day, if that's how you celebrate today)! I received these balms a while ago, and I don't know why I've put off reviewing them until now! I know you're probably hoping I'm going to be reviewing one of my larger hauls from ForGoodnessGrape (I've got a 10 balm haul and 2-7 balm hauls still to come), but that won't be coming until later. I try to keep things as chronological as possible (it makes it easier for me to keep track in my mind which haul is up next for review). Any who, let's dive right into it, shall we?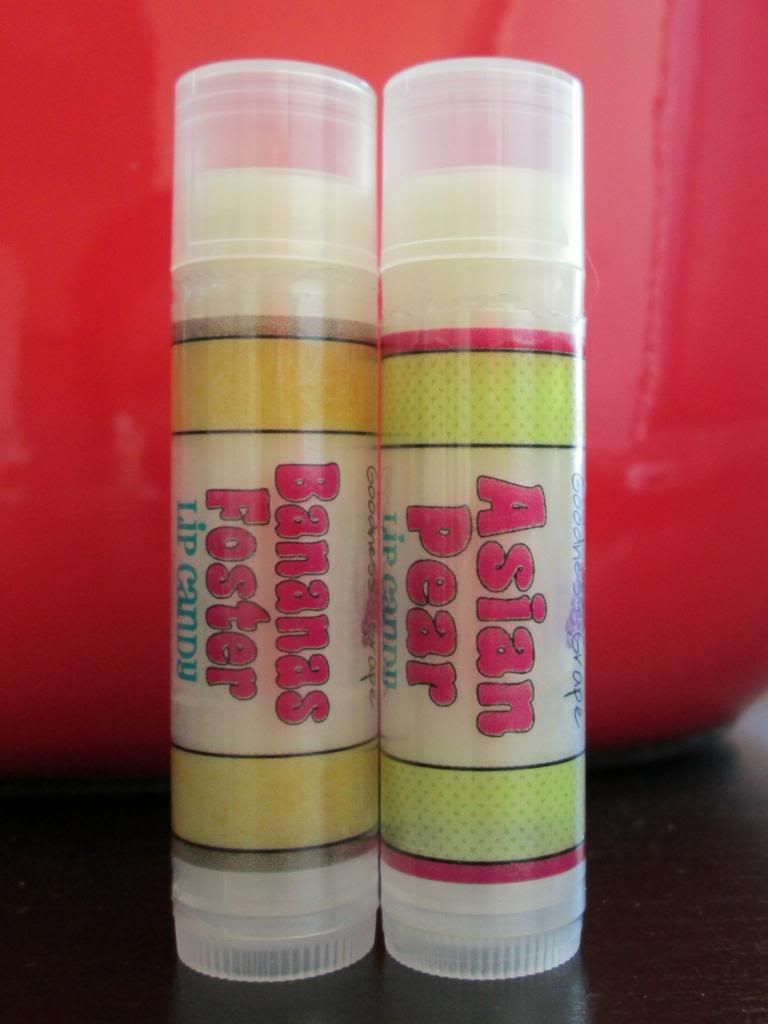 Company:
ForGoodnessGrape
Flavors:
Asian Pear and Bananas Foster. The
Asian Pear
has a very distinct, fresh, and crisp pear scent. It's very strong and fragrant! If you're a pear lover, this is definitely one to try! The first time I ever smelled the
Bananas Foster
I was in love; this flavor seriously made my mouth start watering, it smells incredible! It smells like baked sweet bananas and sugar. It smells a little caramel-like as well. It seriously smells wonderful! I've been on such a banana balm kick lately, this is perfect! I also snatched up almost all of Lisa's other banana scented balms in the last couple of weeks.
Wear:
These balms go on SO smooth, they glide right across my lips! Only a few swipes and you're good to go! They last at least 2 hours which is great!
Packaging:
These balms come in your average sized lip balm tubes that are clear. The labels have the flavor of the balm displayed in large letters right on front. Also there are two panels on each end of the tube that are designed to compliment the flavor of the balm.
Price:
$4 per tube, usually Lisa has a coupon code too which brings the price down so it's totally worth it!
Overall
Pros:
Flavors, Wear, Packaging, Price
Cons:
Rating: 5 out of 5 twists, I love ForGoodnessGrape balms and I would definitely recommend them to anyone! Lisa's shop is basically a lip balm addict's heaven, there are SO many flavors to choose from it's hard not to go overboard (trust me, I would know).
Ingredients: Shea butter, mango butter, cocoa butter, sweet almond oil, beeswax, jojoba oil, coconut oil, castor oil, vitamin e, fragrance
Have you tried ForGoodnessGrape balms before? Which flavors are your favorite?
***Don't forget to enter my Little Batch giveaway here!***