I don't know if you all have noticed or not, but Jen over at Little Batch has re-opened her shop! As you may recall, she closed up shop for a little while to prepare for the birth of her child, but now she's back! So I figured it was a better time than any to review my second (and third) purchases I made right before she closed.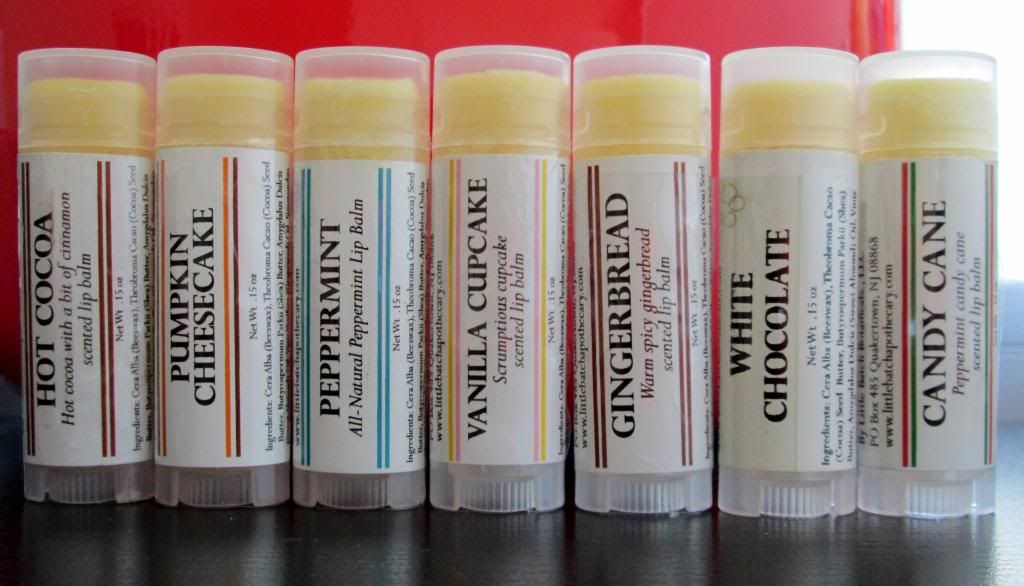 Company:
Little Batch Apothecary
Flavors:
Candy Cane, Peppermint, Hot Cocoa, Vanilla Cupcake, Pumpkin Cheesecake, Gingerbread, and White Chocolate. Clearly these were purchased right in the beginning of winter and I was very much into winter and fall flavors. The
Candy Cane
is a wonderful blend of peppermint and a hint of vanilla, just like the favorite Christmas time treat! It's nice and icy and just all around wonderful. The
Peppermint
is very cooling, tingly, and minty! The
Hot Cocoa
is heaven in a tube, I swear, it's so chocolatey and rich and decadent and just amazing. It's scrumptious and an absolute must-have for any chocolate lover! I usually don't like cupcake scented things (balms, candles, lotions, etc) but the
Vanilla Cupcake
smells incredible, exactly like a vanilla cupcake with creamy, delicious frosting on top. The
Pumpkin Cheesecake
smells spicy and pumpkiny, yet very creamy. It's a great balm for fall! The
Gingerbread
also smells spicy and warm and just like I would imagine gingerbread to smell. It's lovely! And of course, the
White Chocolate
smells amazing! Very creamy and chocolatey in the way only white chocolate can be. I knew I would love this balm since I am already so in love with Jen's Winter Frost which is a combination of White Chocolate and Peppermint.
Wear:
These balms go on smooth and cover flawlessly. They melt into my lips and provide a little bit of shine on my lips. They last around a minimum of two hours which is wonderful.
Packaging:
These lovely balms come in those oval tubes that I love and have white labels that have the flavor of the balm stated right out on front. Each balm has two sets of stripes that are on the face of the label which are color coded to match the flavor of the balm. It's a subtle difference that makes each balm unique!
Price:
$4 per tube, which is definitely worth it for one of Jen's balms!
Overall
Pros:
Flavors, Wear, Packaging, Price
Cons:
Rating: 5 out of 5 twists, I really love Little Batch balms and I cannot wait to see what Jen comes up with this year. I can always use a few more Little Batch balms in my collection! (If you can believe it ;)).
Ingredients: Beeswax, Cocoa Seed Butter, Shea Butter, Sweet Almond Oil, Grapeseed Oil, Jojoba Oil, Castor Oil, Vitamin E, Flavor
Have you tried Little Batch balms before? If not, what are you waiting for?!
****Don't forget to enter my Epically Epic giveaway here!****