I don't know if you all know this or not, but You Stink Soap has discontinued making balms. These balms are seriously some of my favorites and I'm sad that there won't be any more in the future! Whatever is left in Sandy's shop is what's up for grabs. So I guess this is kind of a farewell review of You Stink Soap balms? Maybe? If you want to see it that way! Or maybe this review will serve as a memory for You Stink Soap's wonderful balms!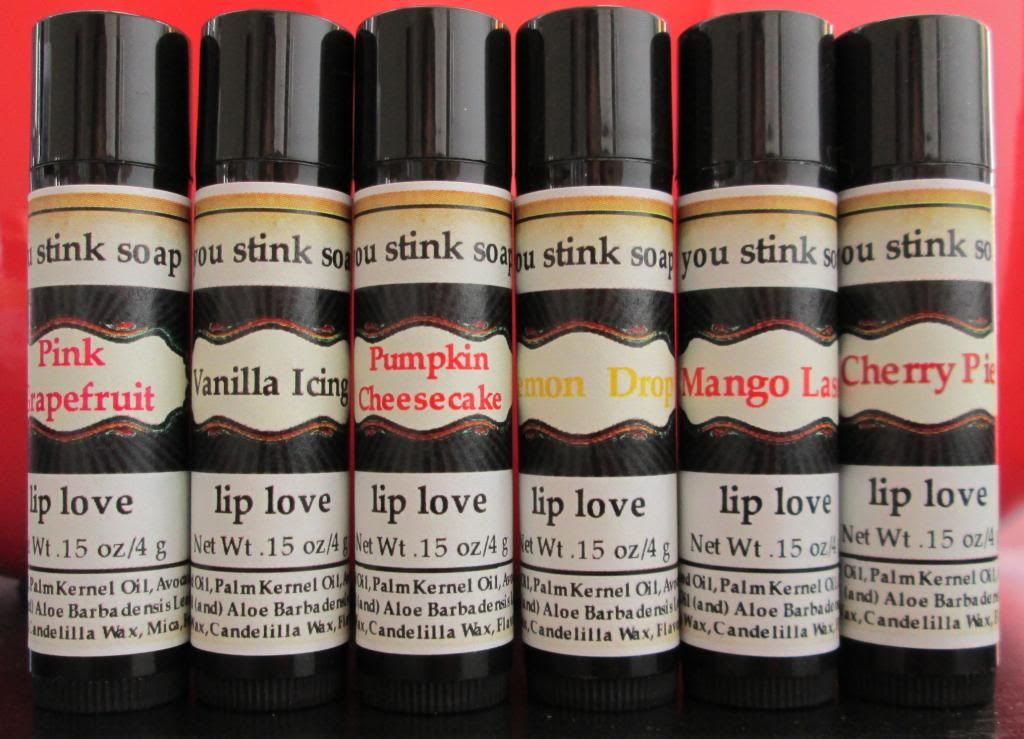 Company:
You Stink Soap
Flavors:
Lemon Drop, Mango Lassi, Cherry Pie, Pink Grapefruit, Vanilla Icing, and Pumpkin Cheesecake. The
Lemon Drop
smells incredible! Its a wonderful sugary lemon scent and actually smells like it has a little bit of alcohol in it which makes this balm smell just like one of my favorite drinks, Lemon Drop Martinis! This is definitely a great alternative without the calories (or the hangover). The
Mango Lassi
smells amazing, just like mango and yogurt and all the yummy seasonings that go into a Mango Lassi. Seriously, it's wonderful! The
Cherry Pie
smells very lightly of sweet cherries with sugar, not too much of the crust. My boyfriend thinks it smells like flowers, he's not always been the best at guessing what lip balm smells like. The
Pink Grapefruit
smells exactly like sweet grapefruits! It's light, fruity, and sweet; what else could you ask for? The
Vanilla Icing
is a balm I usually wouldn't try, but I'm definitely glad I did! It smells just like birthday cake to me, maybe because it's icing. But it smells like yummy and sugary vanilla, it's light but it really is quite lovely! And last, but not least, the
Pumpkin Cheesecake.
This balm is probably one of the best pumpkin cheesecake balms I've ever used. It's just the right amount of spicy and creamy and pumpkin-y. I really do love this one!
Wear:
These balms go on great! They're smooth and creamy, and just glide on wonderfully. One swipe on top and one swipe on bottom and I'm good to go! These balms also leave a nice glossiness on my lips which I do actually like in these balms.
Packaging:
These come in your average sized lip balm tubes, but they're a little bit different because they're black which definitely makes them stick out in my collection. The labels have a worn and maybe kind of rustic look to them? It's really hard to describe, but you can see in the photo what these babies look like!
Price:
$3.75 per tube which is definitely reasonable for one of these balms!
Overall
Pros:
Flavors, Wear, Packaging, Price
Cons:
That they're being discontinued!!!
Rating: 5 out of 5 twists. I honestly loved each and every one of these balms. I love all my You Stink Soap balms, I've never actually come across one I didn't like! If you're even a little bit interested in You Stink Soap balms, you better act quick because what's left is the last of it! I promise, you won't be disappointed!
Ingredients: Castor oil, palm kernel oil, avocado oil, coconut oil, aloe extract, carnauba wax, candelilla wax, flavor
Have you tried You Stink Soap balms before? Which flavors are your favorites?
***Don't forget to enter my Chapstick Cupcake giveaway here!!***