Okay, I know this is super behind since March is almost over and St. Patty's Day was a few weekends ago, but hey that doesn't mean I can't just review them now right? It's still March and green and minty things are very much still in the air, at least it feels that way for me, plus I love these two balms so I really don't need an excuse for why this review is posted when it is! (Okay, I slept 3 hours last night and some of these words sound really great in my head, but please forgive me if it sounds snarky and nonsensical. =))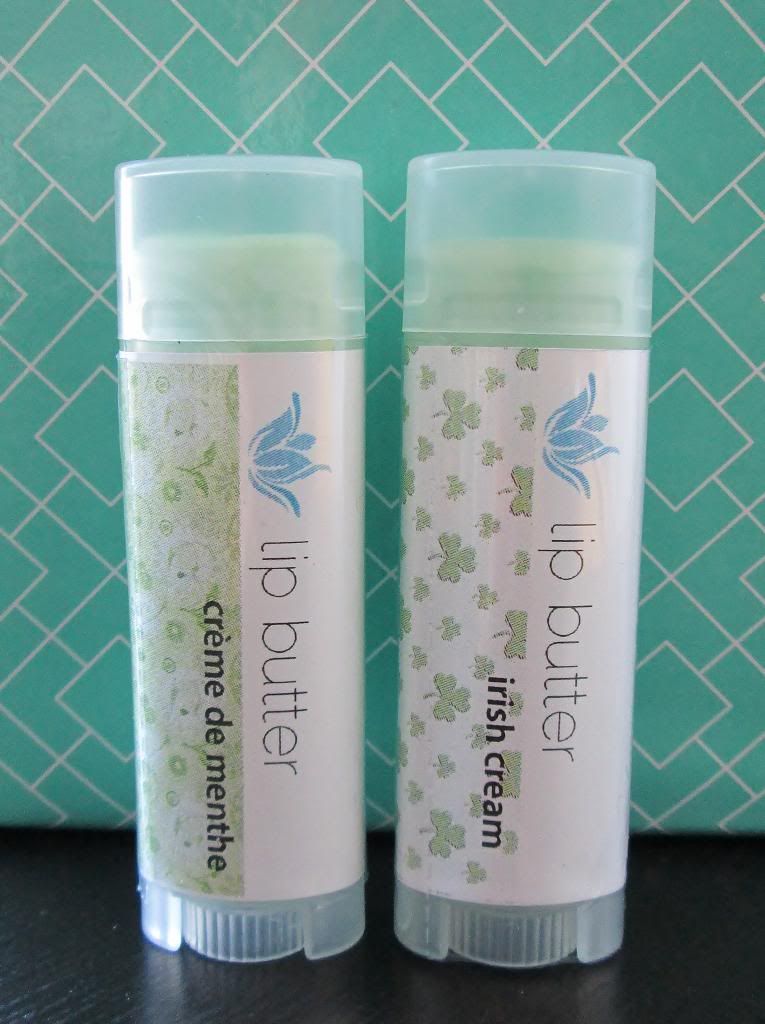 Company:
Aqua Blossom
Flavors:
Irish Cream and Creme de Menthe. Since I've never had irish cream before, it's so hard for me to figure out what this smells like.The
Irish Cream
smells slightly of sweet cream. I don't know how else to describe it! It smells wonderful and I really like it, I just can't put in words what it smells like! The
Creme de Menthe
on the other hand is definitely something I can describe! It smells just like Thin Mint Girl Scout cookies! It smells like cool and refreshing mint with a little bit of chocolate, yum!
Wear:
These balms go on smooth and creamy, just like all my other Aqua Blossom balms. They leave my lips feeling moisturized and a little bit glossy.
Packaging:
These tubes look so festive! Both balms come in oval tubes with green and white St. Patty's Day themed labels. I love when things are festive! I always love the simple and super polished look of Aqua Blossom balms, they're just so pleasant to look at!
Price:
$3.75 per tube which is definitely the right price I want to pay for a great balm!
Overall
Pros:
Flavors, Wear, Packaging, Price, Bonus points for being so festive!
Cons:
Rating: 5 out of 5 twists, these limited edition St. Patty's Day balms are amazing! Grab them while you can!
Ingredients: Shea Butter, Sweet Almond Oil, Apricot Kernel Oil, Avocado Oil, Candelilla Wax, Coconut Oil, Kokum Butter, Soybean Oil, Essential and/or Lip-safe Fragrance (flavor) Oil, Vitamin E Oil
Have you snatched up these limited edition St. Patty's Day balms from Aqua Blossom yet?