For a while now I've been seeing some balms from this shop on Etsy every now and then and I was really curious about them. I think about two months ago they were having a sale that was 50% off their lip balms so I figured, half off is a better time than any to try out some new balms, right? And that's just what I did!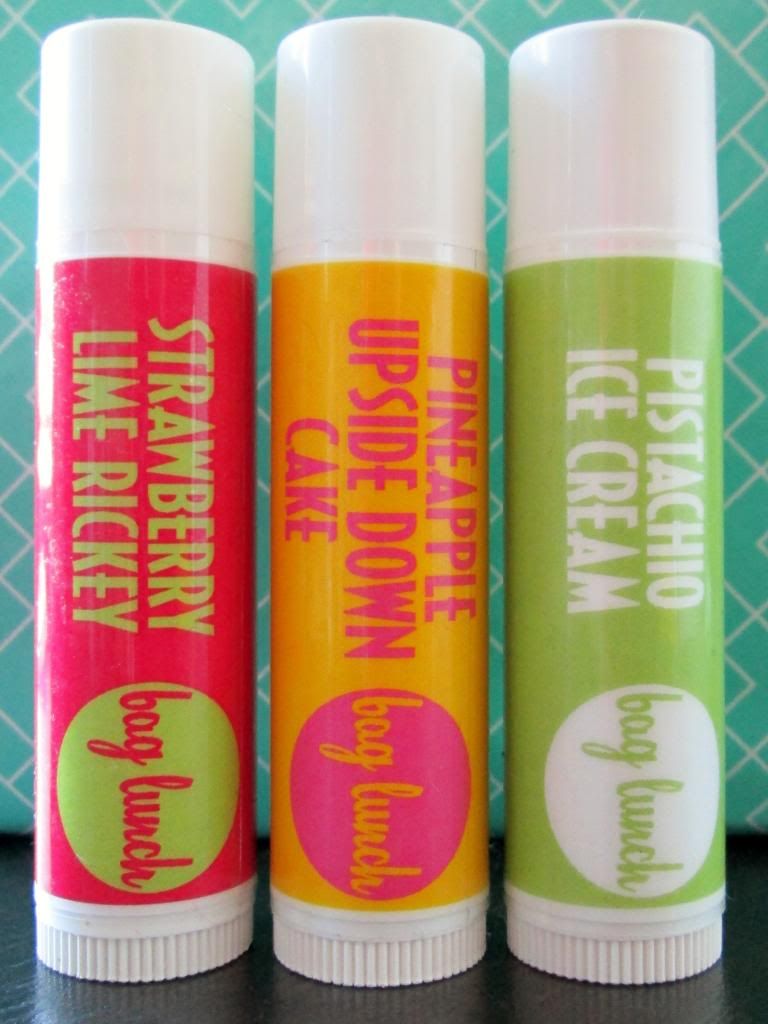 Seriously, look how bright and beautiful these
balms are!
Company:
Bag Lunch
Flavors:
Pistachio Ice Cream, Strawberry Lime Rickey, and Pineapple Upside Down Cake. The
Pistachio Ice Cream
is an amazing pistachio balm. It smells sweet, creamy, and a little nutty which is exactly what you want in a pistachio lip balm. The
Strawberry Lime Rickey
has got to be one of my most favorite lip balm flavors of all time. It smells almost like a candy like strawberry with a very mellow and refreshing lime with some extra sugar thrown in. It really is a wonderful balm sweet balm! Both of these flavors are pretty strong and obvious which is really great! However, the last balm of this order, the
Pineapple Upside Down Cake
is not the same. It's a very, very, very light scent; almost nonexistent to me. It's a very, very faint scent of pineapple and that's about it. I would have preferred this balm to be stronger, but that's okay, you win some and you lose some and the other two definitely won me over.
Wear:
These balms are a little bit firmer than some of the other balms I'm used to, but they still go on pretty smooth even if you have to work it just a little bit more. They also go on a little bit thicker I think than some of my other balms which is really nice! One swipe on top and one on bottom and you're good to go!
Packaging:
These balms come in your average sized white lip balm tubes. They each have a brightly colored label to match the flavor of the balm which makes it really easy to identify which balm you're reaching for. Each label has the flavor of the balm clearly stated on the front and the shop's name in a really cute design on it as well.
Price:
$4 per tube which is just at my upper spending limit for balm, but I've found that they often have sales where you can get their balms for less than that.
Overall
Pros:
Flavors, Wear, Packaging, Price
Cons:
Pineapple Upside Down Cake could be a little stronger
Rating: 4 out of 5 twists, I really did enjoy these balms and definitely plan on buying a few more in the future. There are just so many interesting flavors they have in their shop, it's hard to not want to try them all!
Ingredients: Castor seed oil, Cetearyl alcohol, Olive Oil, Hydrogenated Castor Oil, Beeswax, Carnauba Wax, Hydrogenated Soybean Oil, Candelilla Wax, Flavor
Have you tried Bag Lunch balms yet? What did you think of them?
Also, right now you can use code "Vacation" to save 50% off your purchase from Bag Lunch from now until April 4th! Happy Shopping!