I'm always so excited whenever I get this little package each month. I really love both of my lip balm subscriptions and I think they really are a great way to try balms I may have never tried if not for these lip balm of the month clubs. This is another flavor I probably wouldn't have tried on my own.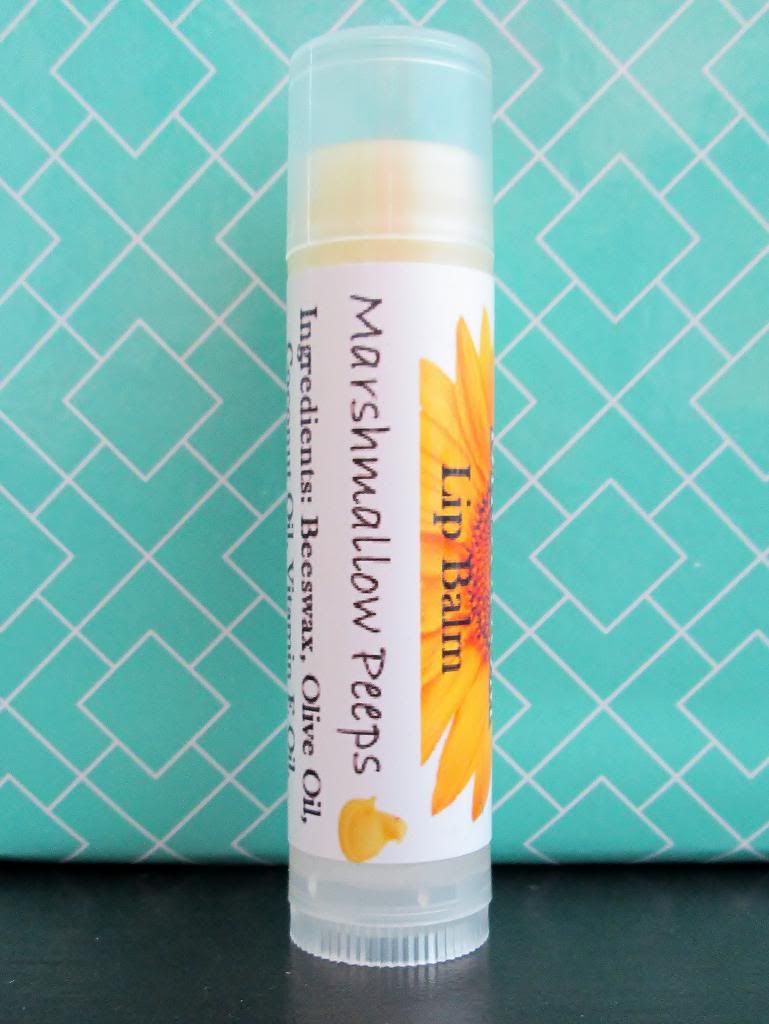 Company:
Country Blossom
Flavor:
Marshmallow Peep
.
I have to be honest here, I've never had a Marshmallow Peep, ever. They always just look so strange and toy-like that I just never thought it was something you could actually eat. Even when I was a little kid, I stayed away from peeps. I don't even think my mom ever bought any. So I really didn't know what to expect of this balm. I thought maybe sugary sweetness, like uh...a marshmallow? But what I really smell in this balm is a chocolate scent. The balm has a subtle sweetness, but I definitely smell chocolate. And I really like it! I think this balm smells fantastic. Maybe I'm just not smelling the right thing?
Wear:
Okay, I love the way this balm feels. Seriously, Country Blossom balms always make me want to continuously smear this stuff on my face...er..lips. It goes on soooo smooth and creamy, and makes my lips feel luscious and moisturized! Seriously, my lips feel so soft and I just love the consistency of this balm.
Packaging:
This balm comes in your average sized lip balm tube with a white label. The label has a giant yellow flower with the name of the shop on it and right below that is the flavor of the balm with a picture of a yellow marshmallow peep right next to it! How festive!
Price:
$3 a tube which is a great deal for one of Megan's balms!
Overall
Pros:
Flavor (although maybe that's not what a peep smells like?), Wear, Packaging, Price
Cons:
Rating: 5 out of 5 twists, this is probably one of my favorite balms from Country Blossom. I'm not sure if it smells exactly like a Marshmallow Peep since I've never had one, but I think this chocolate scent I'm pickin' up is so good! I like it a lot!
Ingredients: Beeswax, Olive Oil, Coconut Oil, Vitamin E Oil, Flavoring Oil
Have you tried this balm before? Or any Country Blossom balms? Which ones are your favorites?
**Don't forget to enter my giveaway for the new Spring flavors from Softlips here!**