This is probably one of the biggest orders I've ever made from ForGoodnessGrape. I had never ordered more than 7 balms before, but during Lisa's big Black Friday sale, I just had to order 10. That's when she had her 10 balm bundle and I just couldn't help myself! Don't worry, they weren't ALL for me...I did order one for my sister as well as a lip scrub for her.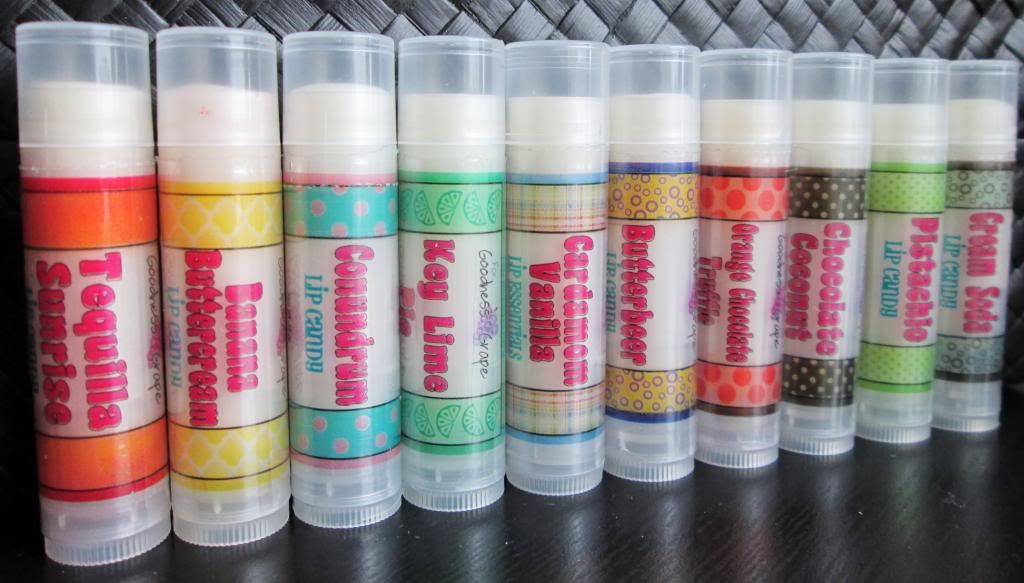 Company:
ForGoodnessGrape
Flavors:
Pomegranate Martini, Conundrum, Pistachio Ice Cream, Key Lime Pie, Banana Buttercream, Orange Chocolate Truffle, Cream Soda, Butterbeer, Chocolate Coconut, Cardamom Vanilla, and Tequila Sunrise. Okay, get ready, this might be kind of long! Hang in there! First of all, the
Pomegranate Martini
was for my sister and that's why it's not included in the photo above. I think it smells tart and sweet like pomegranate, but my sister thinks it smells more like grapes. I was very curious about Lisa's
Conundrum
balm and I always take a gamble on mystery balms, so I knew I had to have it. But, unfortunately, I have no idea what this balm smells like! I kind of want to say it smells like bacon or something, but I don't think that's right. This one is still quite a conundrum for me! The
Pistachio Ice Cream
smells incredible! It's very sweet and nutty and smells just wonderful! The
Key Lime Pie
makes me crave a slice of key lime pie. Seriously, this smells of tart and tangy lime and sweet cream. Key Lime Pie is probably my favorite dessert, and this balm is definitely just like it! As most of you should know by now, the
Banana Buttercream
is probably one of my most favorite flavors from ForGoodnessGrape. Seriously, it's amazing. If you haven't tried it yet, you need to! It smells of sweet bananas and cream, it is so lovely! Seriously, go try this and report back to me what you think! The
Orange Chocolate Truffle
is another absolutely yummy flavor from FGG. It smells of rich chocolate, possibly dark chocolate because it doesn't smell as sweet as milk chocolate, and a hint of sweet, citrusy orange. It's divine! My next absolute favorite flavor from FGG is Lisa's
Cream Soda
. I don't think very many things smell better than this balm. It smells just like my favorite cream soda lollipop! It's vanilla-y and creamy and soda-y. Yes I know, this is such a bad way to describe a vanilla cream soda balm, but it's true! If you like cream soda, you're going to LOVE this balm. Ever since I had
Butterbeer
at Harry Potter world at Universal Studios Orlando, I've been trying to find a balm that's exactly like it. I still haven't found it, but this balm is pretty darn close. It smells like a combination of butterscotch and rootbeer. It's such an interesting combination! The
Chocolate Coconut
smells of sweet, rich chocolate and warm tropical coconut. It reminds me of an Almond Joy bar, minus the almonds! The
Cardamom Vanilla
is so lovely! It smells of rich, warm vanilla and a little bit of spice, which I'm assuming is the cardamom. It's not a crazy overbearing scent, which makes this balm even more lovely! With this order, Lisa also included a Tequila Sunrise balm. I've never had a Tequila Sunrise before, although now I think I might. It smells of oranges and sweetness with a little bit of something else. It's probably one of my favorite balms!
Wear:
These all go on sooo smooth and creamy. They glide right on and make my lips feel so lovely! These balms cover evenly and with only a few swipes, you're good to go!
Packaging:
These balms come in your average sized lip balm tubes. The labels have the name of the flavor right on front which makes it easy to tell which balm you're using. The labels also have colored panels that are designed to match the flavor of the balm, so each one is different!
Price:
$3.50 to $4.75 which is pretty much in my spending limit comfort zone, but the balms that reach the higher limit are Lisa's lip essentials. Most FGG balms are around $3.50 to $4 which is definitely in my price range.
Overall
Pros:
Flavors, Wear, Packaging, Price
Cons:
Rating: 5 out of 5 twists. I really love ForGoodnessGrape balms! There are just so many flavors to choose from and apparently, I'm attempting to try them all!
Ingredients: Shea Butter, Mango Butter, Cocoa Butter, Sweet Almond Oil, Beeswax, Jojoba oil, Coconut Oil, Castor Oil, Vitamin E, Fragrance
Which ForGoodnessGrape balm is your favorite? Or which ones are you dying to try?
**Don't forget to enter my giveaway for the new Spring flavors from Softlips here!**