As you all probably know by now, I LOVE Live Beautifully balms. Seriously, I haven't found one that I didn't like. They're just so wonderful. This is probably one of my favorite anthologies from Live Beautifully. I just love it so much!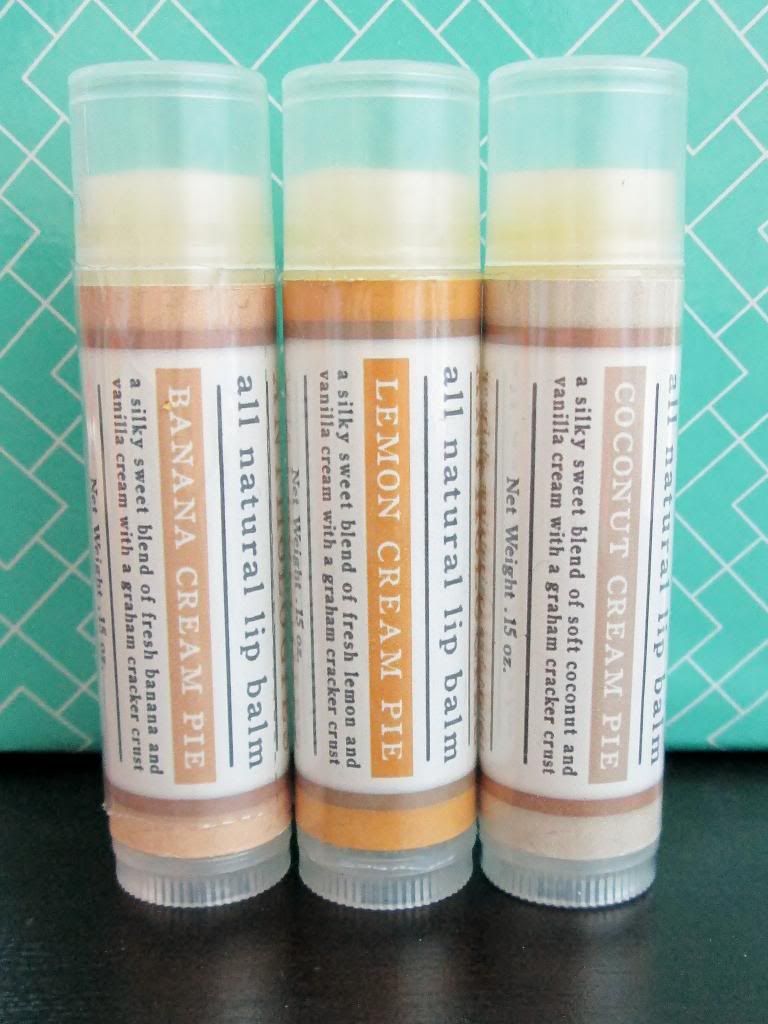 Company:
Live Beautifully Body
Flavors:
Lemon Cream Pie, Banana Cream Pie, and Coconut Cream Pie. Okay, these balms are AMAZING. The
Lemon Cream Pie
like amazing sweet lemon with a little bit of creaminess to it. It has a strong lemon scent. The
Banana Cream Pie
has the distinct scent of ripe bananas and sweet cream. The
Coconut Cream Pie
has a warm tropical scent combined with a sweet cream which makes this balm just wonderful! Each one of these is a perfect dessert balm.
Wear:
These balms go on smooth and creamy. I really love the way these feel on my lips, they make my lips really soft and smooth.
Packaging:
These come in your average sized lip balm tubes with super neat labels. I love the way these balms look, they look so sophisticated and lovely. The labels have the flavor of the balm contained in a rectangle that is colored to match the color scheme of each balms flavor (did that make sense?).
Price:
$10 for the anthology or $4 per tube. Which is definitely not a bad deal for one of these balms!
Overall
Pros:
Flavors, Wear, Packaging, Price
Cons:
Rating:
5 out of 5 twists. I really love Live Beautifully balms! If you haven't tried these balms yet, I urge you to put them at the top of your shopping list. There are so many flavors to choose from, there's got to be one for everyone!
Ingredients: Beeswax, Cocoa Butter, Shea Butter, Mango Butter, Apricot Kernel Oil, Grapeseed Oil, Sweet Almond Oil, Macadamia Nut Oil, Coconut Oil, Natural Flavors & Oils
Have you tried Live Beautifully balms yet? Which flavors are your favorites?