I know I'm bumping this balm up past a few others from LWF and other shops, but I figured this would be a balm you guys would like to see in March! I know it's a little too late to have this balm for St. Patty's Day, but that doesn't mean you can't use this balm all year round!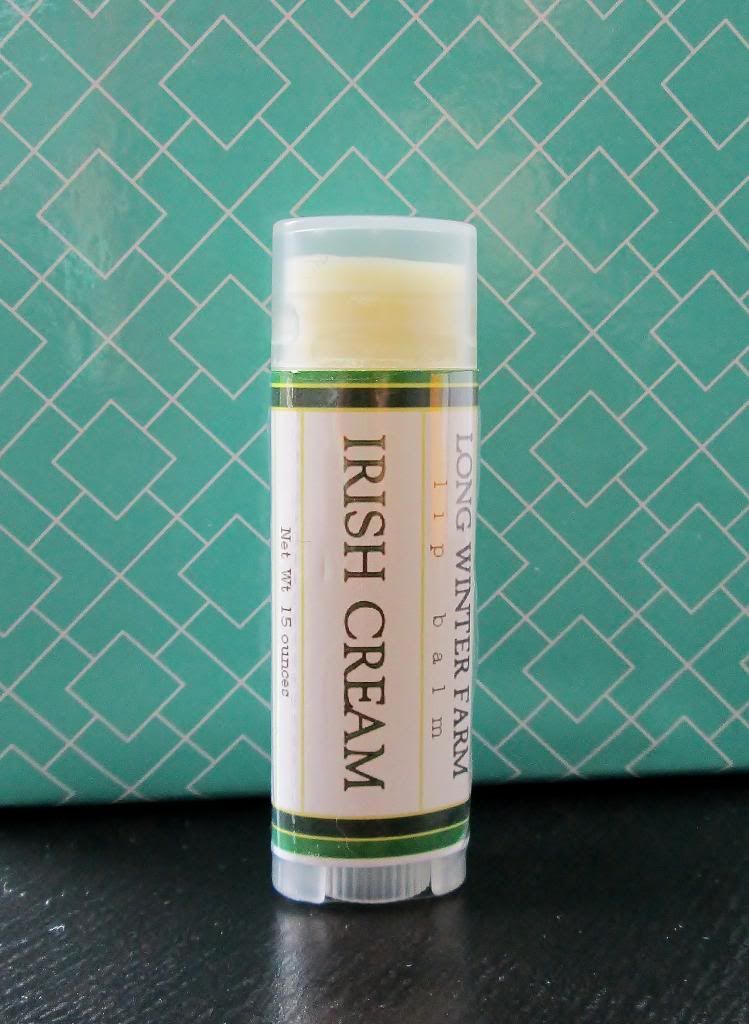 Company:
Long Winter Farm
Flavor:
Irish Cream. I've actually never had Irish Cream before, but I wanted to try this balm anyway. This balm smells so creamy and lightly of chocolate. Rob says it smells just like Irish Cream should, he'd know better than I do!
Wear:
Like all my other LWF balms, this one goes on soooo smooth and creamy. It glides right on and covers beautifully. The balm melts right into my lips, leaving them feeling soft and moisturized.
Packaging:
This comes in those oval shaped tubes that we all know and love. The label has the flavor of the balm stated right on front and there are two sets of two colored bands on each side of the label. This label is simple, sophisticated, and pleasing to the eye.
Price:
$4 per tube which is definitely worth it for a LWF balm.
Overall
Pros:
Flavor, Wear, Packaging, Price
Cons:
Rating: 5 out of 5 twists. Another wonderful balm from Long Winter Farm has joined my collection. I would definitely recommend this balm if you're at all curious about it!
Ingredients: Natural Beeswax, Sweet Almond, Grapeseed & Jojoba Oils, Cocoa & Unrefined Shea Butters, Vitamin E, Flavor Oil
Have you tried this balm from LWF yet? What did you think of it?
**Don't forget to enter my giveaway for the new Spring flavors from Softlips here!**