After my first order from Ripe Shop, I knew these were some balms I definitely wanted more of. So, naturally of course, I got my hands on some more. As you should know by now, when I find a shop whose balms interest me, I always have to try tons of flavors. You know, for comparison, usually... Anyway, let's get to it!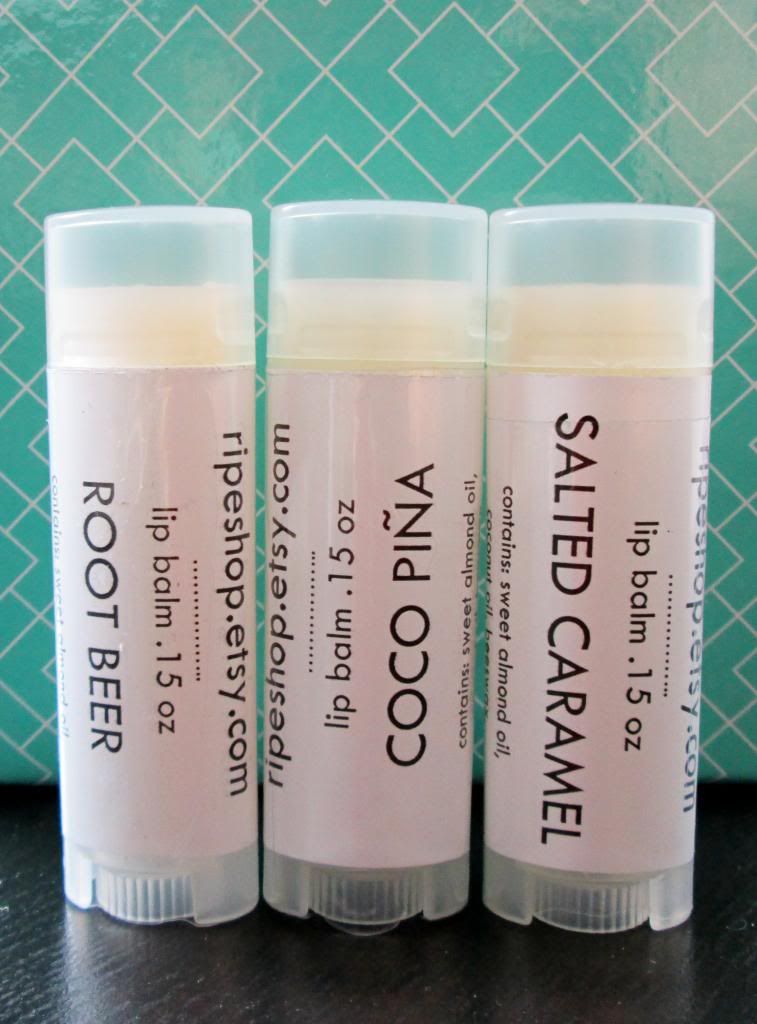 Company:
Ripe Shop
Flavors:
Root Beer, Coco Piña, and Salted Caramel. The
Root Beer
smells exactly like root beer should! It smells so good it makes me actually want to drink some root beer, so you know it must be good since I don't like root beer! Root beer lovers will love this balm. The
Coco Piña
is so wonderful. It's actually a nice change from some of my other piña colada balms because in this balm the pineapple is stronger than the coconut which I actually really like! Sometimes piña colada balms have so much coconut in them that you can't tell there's any pineapple at all, but not this one. It's a beautiful rendition of one of my favorite lip balm flavors. I've never had salted caramel before, and I only kind of, sometimes like caramel itself. But, I was very interested in trying this balm, so I did! This
Salted Caramel
balm is definitely a sweet caramel scent; some slightly burnt sugar with a little bit of saltiness.
Wear:
These balms go on nice and smooth. They glide right onto my lips and a little goes a long way. You only need about one swipe on top and bottom and you're good to go. They also leave my lips a little bit shiny, but still provide great protection for my lips.
Packaging:
These balms have very simple packaging. They come in oval tubes with white labels, the white labels have black fonts and the flavor of each balm is stated right on front. The packaging is very simple and straightforward.
Price:
$4 per tube which I'm definitely willing to pay for one of these balms.
Overall
Pros:
Flavors, Wear, Packaging, Price

Cons:
Rating: 4.5 out of 5 twists. These balms really are pretty great. I love all the flavor options you can find in the shop, and there are definitely more I have my eye on!
Ingredients: Sweet almond oil, coconut oil, beeswax, avocado oil, cocoa & shea butters, vitamin E, flavor
Have you tried Ripe Shop balms before? Which flavors are your favorite?
**Don't forget to enter my giveaway for the new Spring flavors from Softlips here!**