I've had these balms for quite a while now, I ordered them back during Black Friday and have finally been able to get around to reviewing them! (Yes, that is usually how backed up I get on scheduling my reviews, there are just so many to try to fit in such a small span of time!) Enjoy!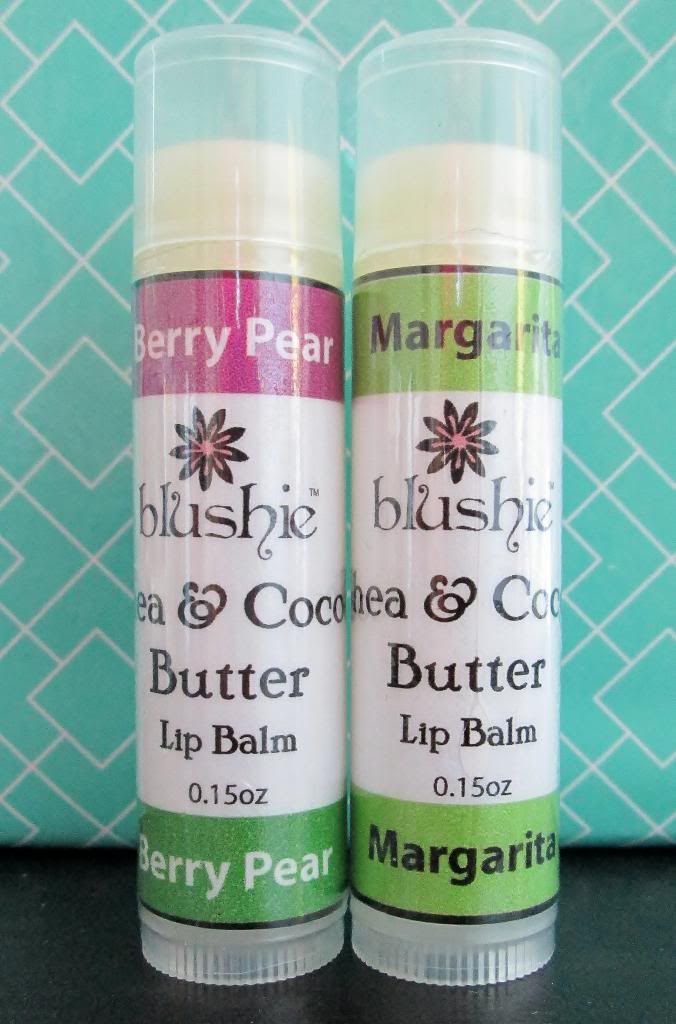 Company:
Blushie
Flavors:
Margarita and Berry Pear. I know, I definitely went out and tried some balm flavors that I've never had before and aren't usually what I'd go for. I thought I'd change it up a bit and try some new stuff! The
Margarita
smells a little bit like a lime margarita. It's a lighter scented balm and smells of tangy lime. The
Berry Pear
is a flavor I really wanted to try since I love Bath and Body Works' Pearberry lotion, I thought that this would be something similar for my lips! It smells of ripe berries and sweet, juicy pears. My boyfriend thinks it smells more like watermelon. Neither balm is super strong in scent so if you like lighter scented balms, these are some you'd want to try!
Wear:
These balms go on pretty slick, they're a little more oily than the usual balms I use. But, they cover pretty well although it feels a little bit thin. Even though it goes on a bit thin, you definitely don't need to put on more than one or two swipes. It really does cover well!
Packaging:
These balms come in your average sized lip balm tubes. The labels have the flavor of the balm written at the top and bottom of the tube as well as the name of the shop right on the front.
Price:
$3.50 per tube which is a pretty decent price for a balm and right in my price range!
Overall
Pros:
Flavors, Packaging, Price
Cons:
Wear is a little oily
Rating: 3.5 out of 5 twists. These are pretty nice balms and they have a few other flavors I'd be interested in trying.
Ingredients: Olive Oil, Palm Oil, Cocoa Butter, Beeswax, Fractionated Coconut Oil, Coconut Oil, Shea Butter, Flavor
Have you tried Blushie balms before? What did you think of them?