A while ago I went into the GAP (where I almost never go) and when I was being rung up, out of the corner of my eye on a shelf behind me I noticed little objects that I thought were lip balms. So, of course, as soon as I was done being rung up, I went over to have a look and was surprised to see that they were indeed lip balms! And they weren't just ordinary flavors either like strawberry and cherry, there were actually some interesting ones!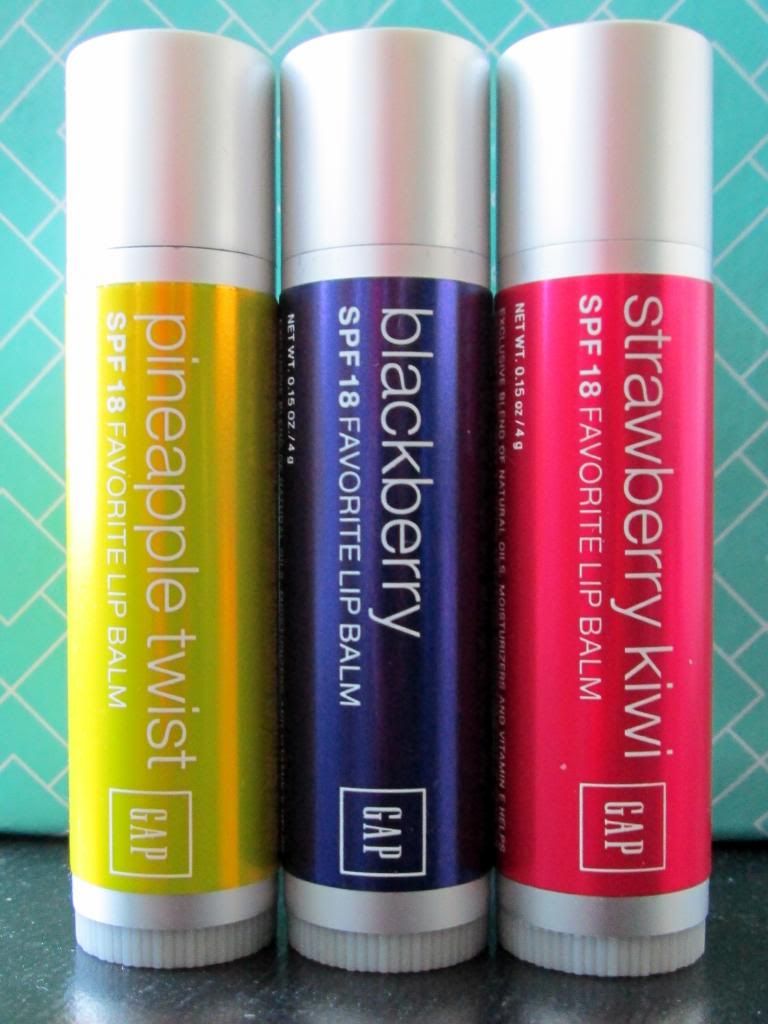 Company:
GAP
Flavors:
Pineapple Twist, Strawberry Kiwi, and Blackberry. The
Pineapple Twist
smells like amazing fresh and sweet pineapple, really nice and tropical and a great pineapple balm. I don't usually like the combination of strawberry and kiwi, but I thought I'd give this balm a shot. The
Strawberry Kiwi
smells incredible! Sweet, ripe strawberries combined with juicy kiwis, this balm really surprised me! The
Blackberry
balm smells just like the real thing; sweet ripe berries, perfect for summer!
Wear:
These balms glide on so smooth! Two swipes on top and bottom and you're good to go! They cover really well. They also have SPF 18 in them so I like that especially now that I'm outdoors more and more now and I really need some extra protection from the sun.
Packaging:
These balms come in your average sized lip balm tubes; the tubes are silver which isn't something that I see a lot, usually it's black, white, or clear. The labels on these balms are so fun and stick out a bit in my collection. They're a little bit shiny and metallic? If that makes sense. The labels look so chic and sophisticated.
Price:
$4.50 per tube which is definitely out of my price range, but I think there was a special on these balms which is why I let myself pick them up.
Overall
Pros:
Flavors, Wear, Packaging
Cons:
Price
Rating: 4.5 out of 5 twists. These balms surprised me with how lovely they applied and how wonderful the flavors were! They also have a plain mint balm that I didn't pick up, but I'm sure it's lovely as well!
Ingredients: Octinoxate, Oxybenzone, hydrogenated coconut oil, beeswax, candelilla wax, flavor, olive fruit oil, tocopheryl acetate, ammonium glycrrhizate, soybean oil, calendula officinalis extract, echinacea purpurea extract, tocopherol, lecithin, rosemary leaf extract
Have you tried any of the balms from the GAP before? What did you think of them?