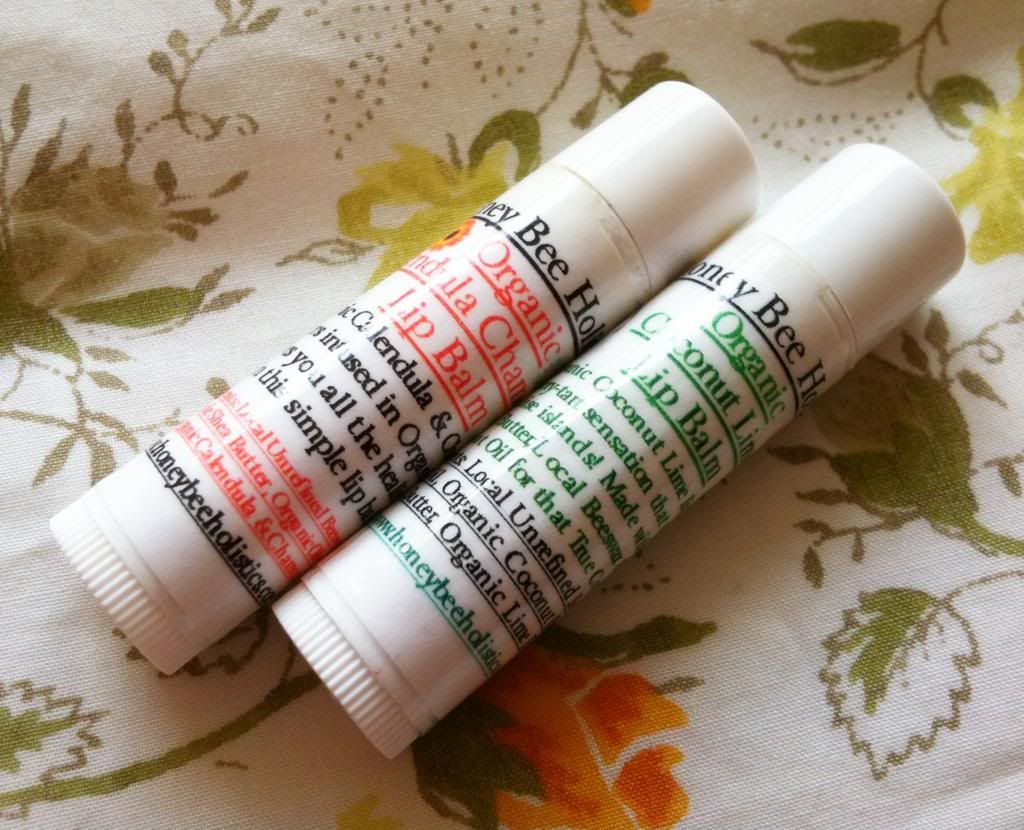 Today I have a special guest review for you all! I'm so grateful that Alyssa owner and writer of the
Soapy Days Blog
offered to write a guest review for me while I'm on vacation this week. I hope you enjoy!
Thank you, Alyssa, for being so great to do this for me!
-----------------------
Hello all! I love the Lip Balm Wrangler and am honored to be doing a guest review post here! The lip balms I am going to review come from one of my all-time favorite Etsy shops (and I've tried a lot!).
Company:
Honey Bee Holistics
Flavors:
Calendula Chamomile and Coconut Lime. The Calendula Chamomile is very plain in terms of flavor. I can mostly detect the oils used to make the balm with a hint of the flowers. It's a simple balm meant to be super healing. The Coconut Lime on the other hand is a fun flavor! The coconut is sweet and almost buttery pairing well with the citrusy lime. The coconut is stronger than the lime, giving the overall scent a certain creaminess. If a "creamy" scent makes sense to you! The other thing I like about this flavor is that it is made using all natural ingredients. I don't know about you, but sometimes artificial flavorings can irritate my lips. I love it when I can find flavored lip balms that don't use artificial flavorings (as fun as they can be!).
Wear:
These balms feel a bit grainy in the tube but once applied, they glide on smoothly. Once on the lips, the balm feels wonderfully silky. Almost creamy. It is a very pleasant feeling with a bit of gloss! The balms last for a couple hours, about average for a balm. And they leave my lips feeling moisturized and happy!
Packaging:
The balms come in regular lip balm tubes. The tubes are white with simple labels. There is not too much design on the labels, just text telling the name of the balm and ingredients and such. However, the labels hold up very well and I've had no issues with them.
Price:
$3.75 per tube which is about average for lip balm, so I have no complaints!
Overall:
Pros:
Flavors, Wear, Packaging, Price, Ingredients
Cons:
Rating: 4 out of 5 twists. These balms are truly great and definitely worth giving a shot if you haven't given 'em one yet!
Ingredients for Calendula Chamomile: local unrefined beeswax, organic fair trade shea butter, organic olive oil infused with organic calendula and chamomile flowers.
Ingredients for Coconut Lime: local unrefined beeswax, organic olive oil, organic coconut oil, organic fair trade shea butter, and organic lime essential oil.
Have you tried Honey Bee Holistics balms before? What did you think of them?