Hi all! I have yet another guest review for you today! Blaire from
Dirtsy.com
is here today to share with you her review on one of my favorite shops! Here's a little bit about Blaire: She is an indie Bath & Beauty junkie who bought 52 lip balms (in the same week!) after reading Lip Balm Wrangler (oops! I have a bad habit of doing that). She blogs about turning craft to business at
dirtsy.com
. Thank you, Blaire for sharing this review with us! I hope you all enjoy!
--------------------------
Hi everyone! I have a confession to make: I LOVE PetiteThrela. The "I would be totally devastated if you were gone" kind of love. PetiteThrela was one of the first bath and body shops I bought from. I never knew there were so many handmade B&B products out there and being the B&B junkie that I was, I splurged, I waited and I was hooked. I started with two
lip glaces
and four
lip balms
. TH was awesome and even added two scrub samples. She's cool like that. Fast forward almost three years later and I'm an addict with regular hauls.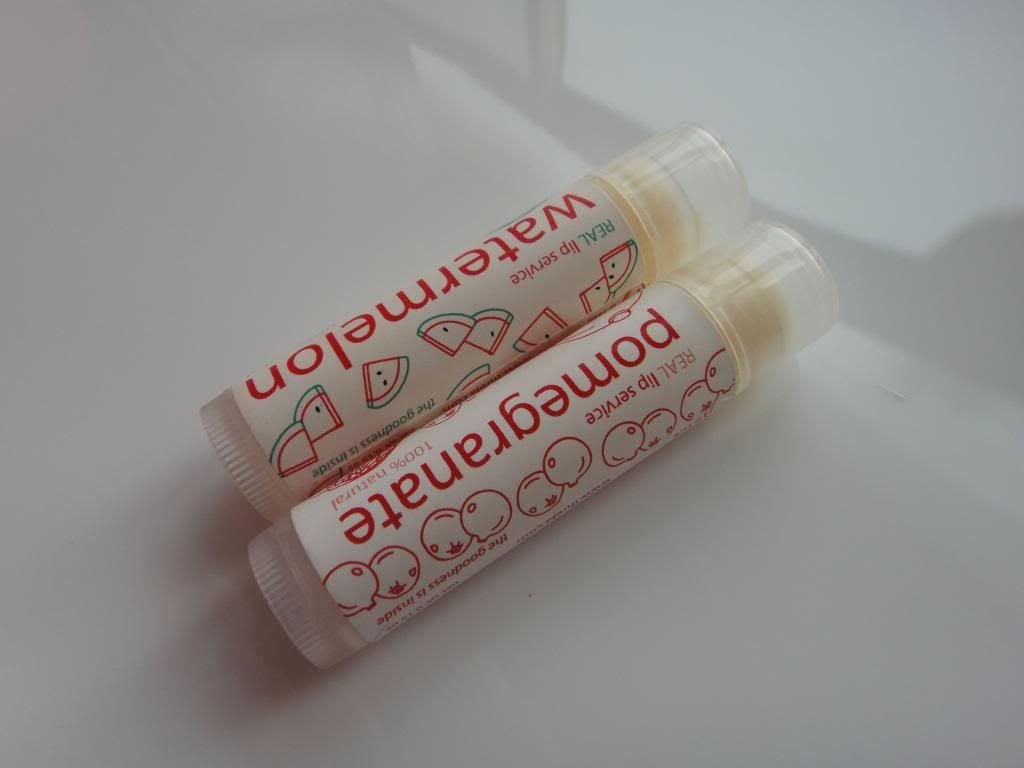 Company:
Petite Threla
Flavors
: Yuzu, Pomegranate, Watermelon, Coca Cola, Jasmine.
Yuzu
is one of my favorite fruits. If you haven't eaten one before, give it a try; it's a large Asian grapefruit that's deliciously aromatic. TH captures the fresh citrus of Yuzu just right in this lip balm. It's as light as the fruit itself and is just as edible.
Pomegranate
is one of my latest hauls. The best part about PetiteThrela's balms is the fact that they are true to the fruit itself, instead of smelling like a candy version. Pomegranate is so real you can actually make out notes of the peel in the background.
Watermelon
is sweet and ripe, awesome for summer!
Coca Cola
is perfectly bottled in this lip balm. It's sweet and fizzy like the drink and you can almost smell the bubbles!
Jasmine
is made with real Jasmine Absolute, and reminds me of the trees in my old school yard. I used to sit under them during lunch time and let the gentle scent of jasmine sweep over. Sublime.
Wear
: These lip balms go on incredibly smooth and have amazing texture. They're buttery without being goopy and I can barely feel them on my lips- a huge bonus since I hate heavy lip balms. These moisturize without being sticky; so light-weight they can be used under lipstick. One thing to note is the high heat-resistance of these balms despite being so buttery. They managed to survive sitting in a desert mailbox without melting.
Packaging
: Each lip balm comes in a translucent tube and has the cutest label. The name of the flavor is written in large font with clip art of the fruit used as a background. This is one of the best forms of consistent branding I've seen.
Price
: $3.5 per balm or $9 for a sampler pack.
Overall:
Pros
: Wear, price and customer service.
Cons
: PetiteThrela has over 60 flavors and they regularly add more. Stop it, TH, you're making trying out all your flavors that much harder!
Rating: 5 out of 5 twists!
Ingredients: beeswax, coconut oil, mango butter, sweet almond oil, safflower oil, aloe vera oil, soybean oil, vitamin E, lecithin (soy, certified non GMO), natural flavors, stevia (in select lip balms)