I know a bunch of you have been waiting for this review for a while now, and I'm here to deliver! If you don't know, Live Beautifully came out with a new product recently, all natural lip jellies! I love all my Live Beautifully products, and was eager to try this one. Nicole and Aaron were so kind and generous to send me three of their new lip jellies to try!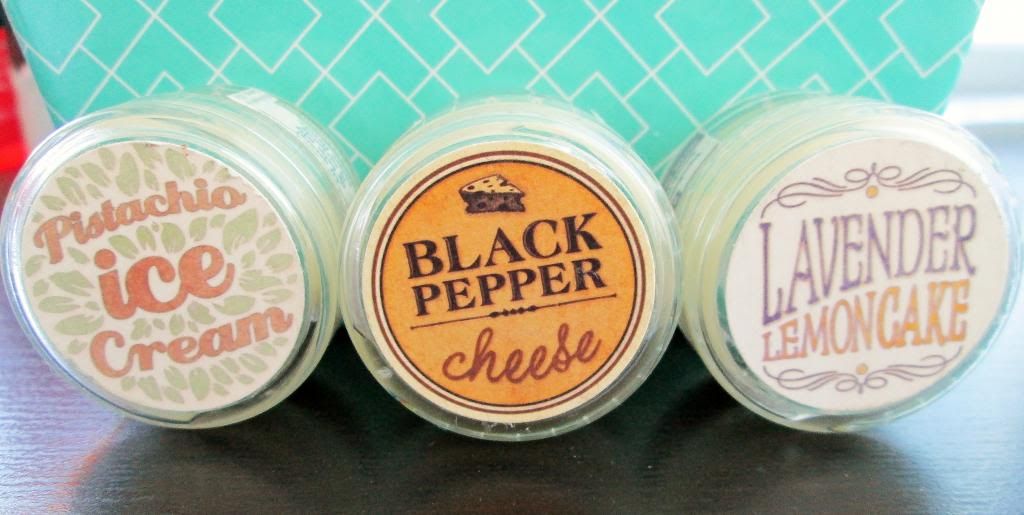 Company:
Live Beautifully
Flavors:
Pistachio Ice Cream, Black Pepper Cheese, and Lavender Lemoncake. The
Pistachio Ice Cream
has a rich, nutty scent. It smells so rich and creamy, it's not as sweet as other pistachio balms I've used, but it works! I'm a huge cheese lover and when I saw that there was actually a cheese flavor, I had to try it! The
Black Pepper Cheese
is seriously probably the most unique lip flavor I've ever had. It has a light cheese scent with a little kick from the black pepper.It's so interesting! When on my lips, you can really tell there's black pepper in there! Nicole and Aaron also sent me a pot of the
Lavender Lemoncake
to try, and you know I normally wouldn't try a flavor like that on my own because I'm not a fan of floral balms, but I'm really glad they did! The lemoncake part of the combination is super strong and so lovely. It's definitely the prominent scent and you know I love anything with sweet lemon in it! When on my lips there's a slight lavender scent which actually doesn't bother me! I really like this flavor combination! There are so many more of their flavors I want to try! They've got something for every taste, I swear!
Wear:
These lip jellies are applied with your finger, so how much goes on is up to you, but from my experience I don't need to go over more than once or twice to get great coverage. These feel a little greasier than what I'm used to, but it's because it's a jelly and definitely not going to have the same consistency as a balm or one of their whipped lip butters. But it really sinks into my lips and makes them so smooth. I really love the way these feel on my lips!
Packaging:
These come in little pots, the same one as their whipped lip butters if you've used those before. You probably know by now that I absolutely adore the way all of Live Beautifully's packaging is designed and these are definitely no exception! These all have an old fashioned look to them and I absolutely adore them! Each label is so fittingly (is that a word?) designed to match each flavor, seriously I love these!
Price:
$6 each which I know is usually out of my price range, but for these superior products and for how much product you get, I really think it's worth it!
Overall
Pros:
Flavors, Wear, Packaging, Price
Cons:
Rating: 5 out of 5 twists. I really love these new lip jellies from Live Beautifully. I would definitely recommend them! I would recommend all Live Beautifully lip products to anyone and everyone, they're just so great!
Ingredients: Certified Organic Self Emulsifying Wax, Beeswax, Avocado Oil, Grapeseed Oil, Macadamia Nut Oil, Essential Oils & Natural Scent Oils
Have you tried these new lip jellies yet? What did you think of them? Which flavor is your favorite?
------------------
These lip products were sent complimentary to me by Nicole and Aaron from Live Beautifully, however all opinions in this review are strictly my own! Thank you, Nicole and Aaron, for sending me these amazing lip jellies to try!