You probably saw Live Beautifully in the title and immediately hoped it was going to be the new lip jellies, right? Sorry to trick you, but I really wanted to review some of the other lip butters I had received after
my first Live Beautifully review
. I promise though, those new jellies are going to be coming up soon!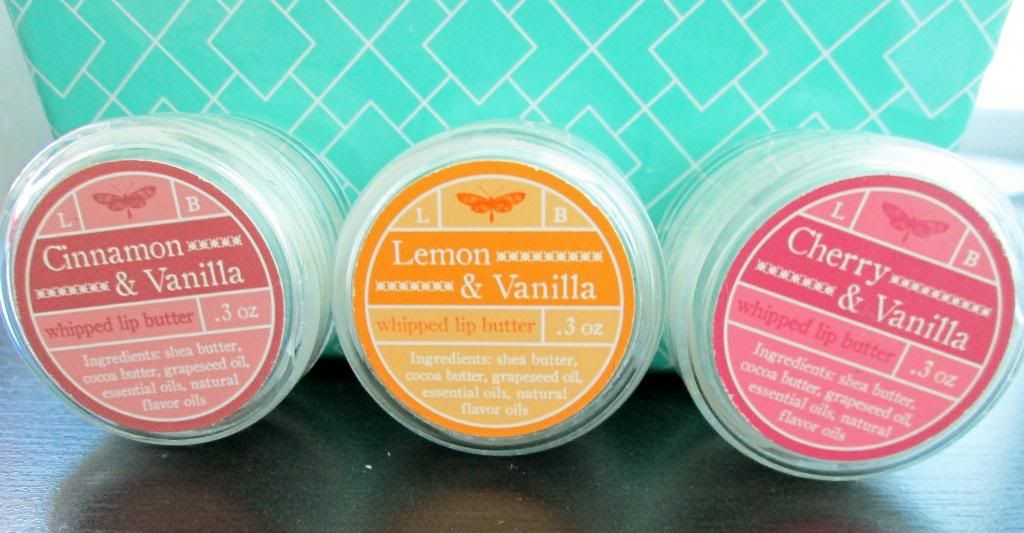 Company:
Live Beautifully
Flavors:
Lemon & Vanilla, Cinnamon & Vanilla, and Cherry & Vanilla.
The
Lemon & Vanilla
smells so lovely! It smells just like sweet lemon combined with a warm vanilla that really mellows out the whole scent. I really love it! I ordered the
Cinnamon & Vanilla
because at the time I was super obsessed with this Cinnamon Frosting candle from Bath and Body Works and I really wanted a similar version to smear on my lips. This butter smells just like dessert! Or, it also kind of reminds me of breakfast! It smells like warm and spicy cinnamon with a rich, warm vanilla. Oh, I got it! It smells like cinnamon rolls! Yes! There you go, it smells incredible. The
Cherry & Vanilla
also smells amazing! It reminds me of my favorite yogurt. I love cherry yogurt and this reminds of me it. It's a refreshing sweet cherry scent, like maraschino cherries, mixed with the same warm vanilla that all the whipped lip butters are combined with. It really smells lovely. I love each one of these butters!
Wear:
These go on beautifully! They're light and fluffy and go on so smooth, I really like how silky they make my lips feel. Also, with these whipped butters, a little goes a long way.
Packaging:
These come in little pots with screw top lids. The lids have labels on them that are colored differently to reflect the different flavors of the butters. I really love the way these labels and everything in the shop (from shipping to actual product labels, everything is seriously adorable and amazing) are designed. It's sophisticated, yet a little rustic, in my opinion and it really just makes me love Live Beautifully products more.
Price:
$6 per pot, which I know is a little steep and you know I usually wouldn't pay that much for a lip balm, but these whipped lip butters are seriously amazing.
Overall
Pros:
Flavors, Wear, Packaging, Price, Design, Customer Service
Cons:
Rating: 5 out of 5 twists. I love Live Beautifully products! From lip balms, to lip butters, to lip jellies. I really love everything! These lip butters are so silky and have the best consistency, I just love them so much! I'd recommend them to anyone wanting to experience something that feels really incredible on their lips.
Ingredients: Shea Butter, Cocoa Butter, Grapeseed Oil, Essential Oils, Natural Flavor Oils
Have you tried Live Beautifully whipped lip butters yet? Which flavors are your favorite?