A few months ago Rachel Rene underwent another grand opening, which of course included a grand opening sale of which I could not keep myself from partaking in!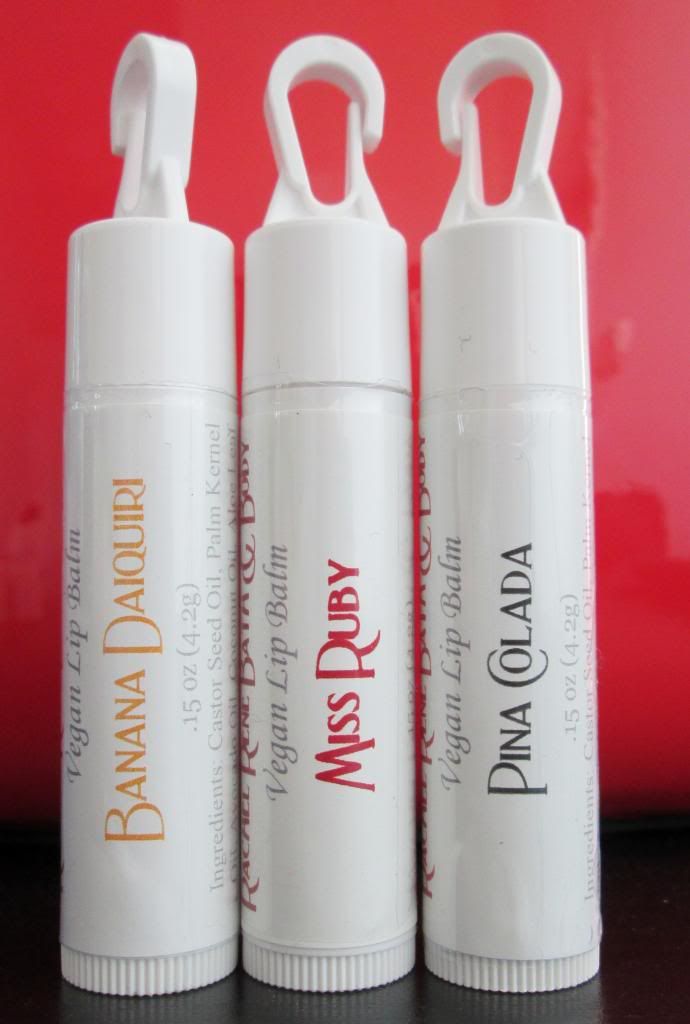 Company:
Rachel Rene Bath & Body
Flavors:
Miss Ruby, Banana Daiquiri, and Pina Colada. The
Miss Ruby
smells of sweet and slightly tart pomegranate. It's not overly sweet or overpowering in scent which is great if you don't like those things! The
Banana Daiquiri
smells of sweet, ripe, and fresh bananas. It's a perfect banana balm! This one definitely came in handy during that period of time where I was obsessed with banana balms. The
Pina Colada
smells just like the tropical drink! A wonderful combination of fresh pineapple and tropical coconut!
Wear:
These balms go on beautifully! You really only need one swipe on top and on bottom, any more than that and it's overkill! These balms go on so smooth and creamy. They also feel a little bit thicker than my usual balms.
Packaging:
These balms come in white standard sized lip balm tubes. The labels on these tubes are also white with the flavor of the balm stated on the front with the shop name and type of lip balm (balms can either be vegan or beeswax). These lip balm tubes also have caps with clips on them which makes them perfect to attach to your keys, that way you can really have your balm with you no matter where you go!
Price:
$3 per tube or 3 tubes for $8 which is definitely a great price for one of these balms!
Overall
Pros:
Flavors, Wear, Packaging, Price
Cons:
Rating: 4 out of 5 twists. These balms were great! I love the consistency of these balms and the variety of flavors Christine offers in her shop.
Ingredients: Castor Seed Oil, Palm Kernel Oil, Avocado Oil, Coconut Oil, Aloe Leaf Extract, Carnauba Wax, Candelilla Wax Flavor Oil and/or Essential Oil, color
Have you tried Rachel Rene balms before? What did you think of them?