If you've been reading and following along since September, you know about
the special Long Winter Farm balms
I received from one of my readers, Denise. She honestly orders the best flavor combinations of balms ever. A few months ago, she sent me another five that she thought I'd like, and yes, they are just as amazing as the last ones she sent me! I've been waiting for forever to share these ones with you guys, so I hope you enjoy!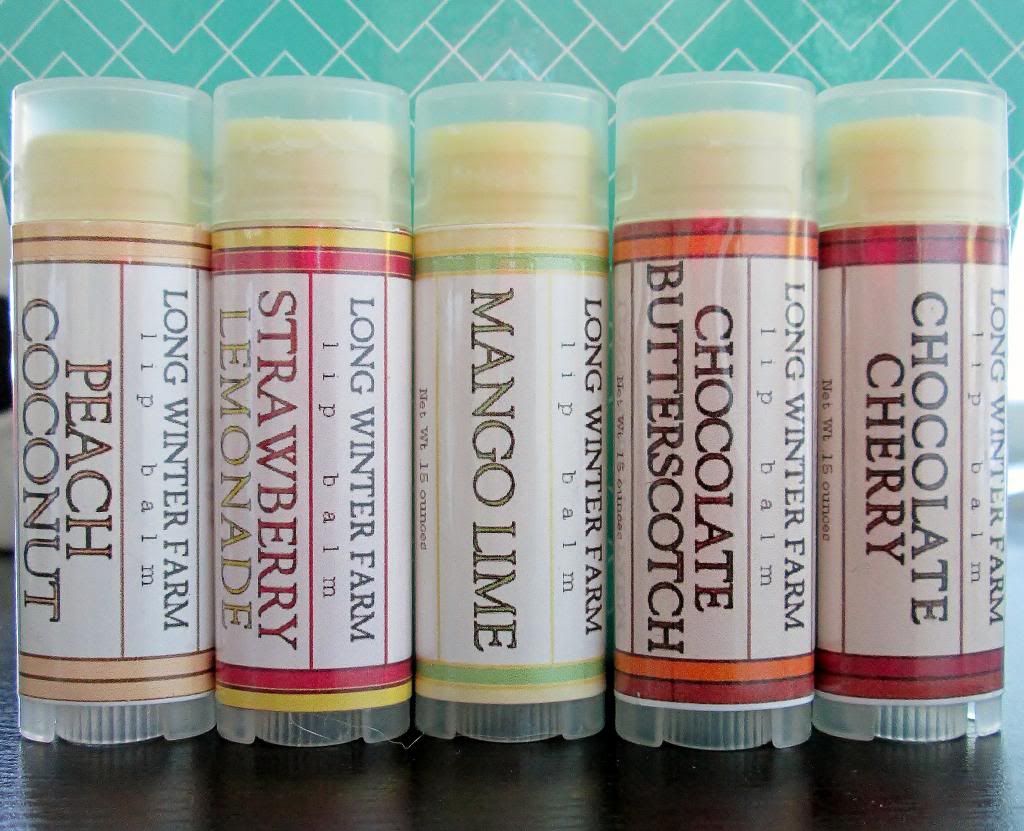 Company:
Long Winter Farm
Flavors:
Chocolate Butterscotch, Chocolate Cherry, Strawberry Lemonade, Peach Coconut, and Mango Lime. The
Chocolate Butterscotch
is a rich, sweet scented balm. It smells of rich chocolate and sweet, creamy butterscotch morsels! The
Chocolate Cherry
also smells really rich and just wonderful. It's a lovely chocolate scent combined with ripe cherries. The
Strawberry Lemonade
is perfect for summer! It smells of really sweet lemons and sweet strawberries. You know how I'm a sucker for anything with lemon! The
Peach Coconut
has got to be one of my most favorite flavors from LWF ever. It smells of warm, tropical coconut and sweet peaches! Absolutely perfect for summer! The
Mango Lime
is super limey! It has a strong sour, tangy lime scent with a little bit of tropical mango. Overall all of these custom LWF balms were amazing!
Wear:
These balms go on smooth and creamy, just like you'd expect a LWF balm to. They make my lips feel so soft and wonderful. What's there not to love about Long Winter Farm balms?
Packaging:
These balms come in those oval tubes I love! Each label has the flavor of the balm stated clearly on the front with a color scheme to match the flavor of the balm. I love the look of LWF balms.
Price:
$4 per tube which is definitely worth it for one of these balms!
Overall
Pros:
Flavors, Wear, Packaging, Price
Cons:
Rating: 5 out of 5 twists. Of course I was going to love these balms, I love all my Long Winter Farm balms and would recommend them to anyone and everyone! So what are you waiting for? If you haven't tried any LWF balms yet, go do it!
Ingredients: Natural Beeswax, Sweet Almond, Grapeseed & Jojoba Oils, Cocoa & Unrefined Shea Butters, Vitamin E, Flavor Oil
Have you tried Long Winter Farm balms yet? Which flavors are your favorite?
----------------
Thank you so much, Denise, for sending me such wonderful balms! You're the best!