I'm so glad to see that The Simple Siren is back and open after they closed their shop for a little while. There are a few of their new flavors that I've definitely got my eye on, so hopefully some time soon I'll have them in my collection as well. But, for now, I have one of my older orders to review.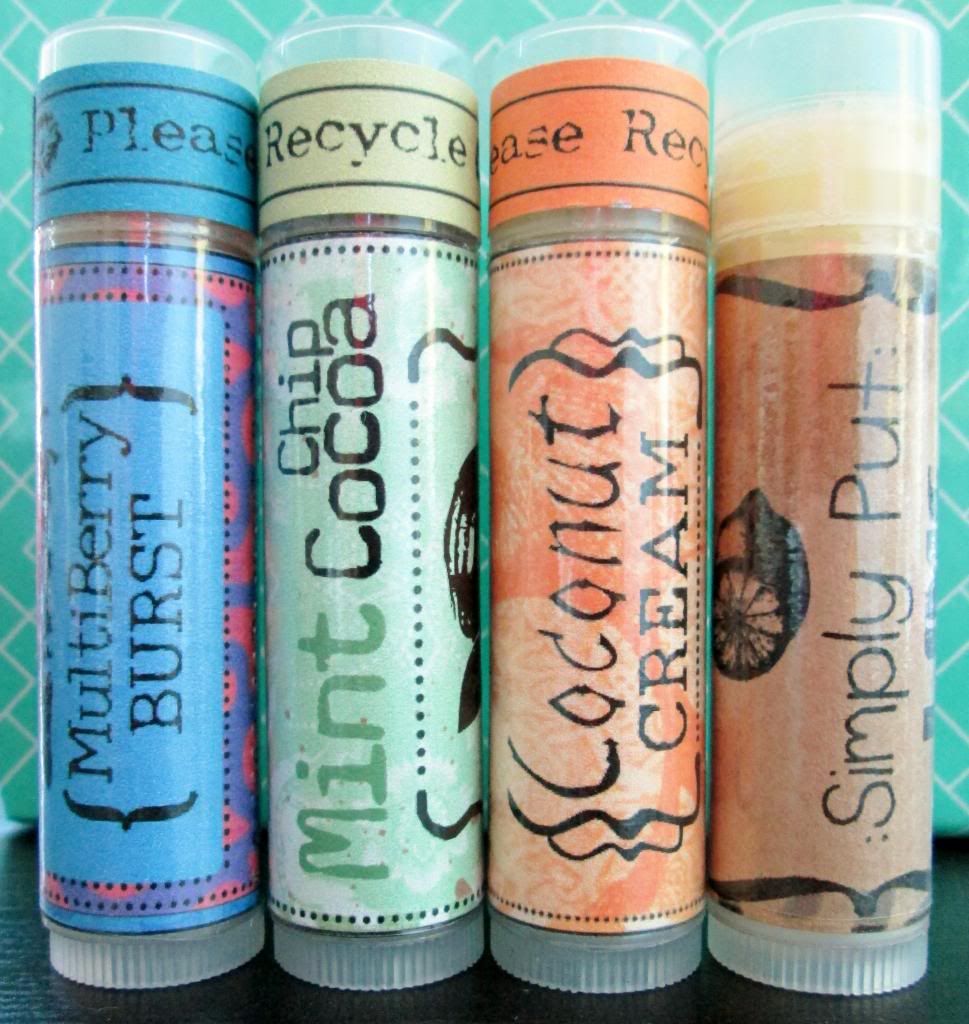 Company:
The Simple Siren
Flavors:
Coconut Cream, Multiberry Burst, Mint Cocoa Chip lip scrub, and Simple Put Lime. The
Coconut Cream
smells of warm, tropical coconut combined with rich vanilla. It's a very luxurious and rich scent. The
Multiberry Burst
is so yummy! It smells like a wonderful combination of ripe berries, if you like berries at all, this is one you want to try. The
Mint Cocoa Chip
lip scrub smells wonderful. It reminds me of an Andes chocolate mint. I really love those things, any time we eat at Olive Garden I definitely hoard the Andes they give us with the check. It smells of refreshing mint combined with rich chocolate. I'm so glad it's a lip scrub so I can lick my lips a little with it on. A tube of their Simply Put Lime was also included in my order. The
Lime
smells so incredibly limey! It's very sour and citrusy and tart, kind of what you'd expect if you cut open a lime and held it right under your nose and gave it a big whiff.
Wear:
These balms go on very smooth and creamy. They melt right on contact with your lips which makes them a little on the softer side, so definitely be gentle when applying these babies. The lip scrubs first couple of uses were really great and made my lips super soft, but as I kept using it (I use it about once a week) the sugar got kind of packed down and instead of getting the scrub on my lips with the tube, I now just use my finger to put the scrub on my lips. Not a big deal because this scrub is really wonderful!
Packaging:
These balms come in your average sized lip balm tubes with wonderfully designed labels. The labels are made of a heavier weight paper with a nice texture to it. Each label is colored differently to match the flavor of the balm or scrub with the flavor of the balm written clearly on the label.
Price:
$5 for the normal line and scrubs, and $3.85 for the Simple Put line.
Overall
Pros:
Flavors, Wear, Packaging, Price
Cons:
Rating: 5 out of 5 twists, I really love Simple Siren balms. They're just so soft and creamy. I also really love their lip scrubs, and combined with one of their balms, my lips are in heaven!
Ingredients: *All are organic*
Multiberry Burst: Raw Shea Butter, Raw Avocado Butter, Raw Cocout Oil, Local beeswax, carnauba wax, jojoba oil, organic blueberry flavor, raspberry flavor, strawberry flavor )from real organic berries), oliver oil, vanilla bean, stevia.
Coconut Cream: Raw Coconut Oil, Raw Avocado Butter, Raw Shea Butter, Beeswax, Carnauba Wax, Organic Coconut and Vanilla flavor infusion, may contain: Vegetable Oil, Palm Oil, Canola Oil, Vanilla Bean, Stevia
Simply Put Lime: Raw coconut Oil, Virgin Jojoba oil, Rosehip seed oil (vitamin E), Beeswax/carnauba wax, blend of lime oils
Mint Cocoa Chip: Virgin Olive Oil, Coconut Oil, Cocoa Butter, Cane Sugar, Shea butter, avocado oil, Beeswax, Vanilla, Peppermint Oil, Cocoa, Cocoa powder, stevia
Have you tired Simple Siren balms before? Which ones are your favorite?