When I first heard that Ashley was going to be coming up with some new flavors, you can bet that I was stalking her shop so I could get them as soon as they were in stock. I'm a sucker for any new flavors from my favorite shops and Aqua Blossom is definitely one of my favorite shops! These were some of the first new flavors that she came out with, there have been a ton more since I got these and you can bet I jumped at those too!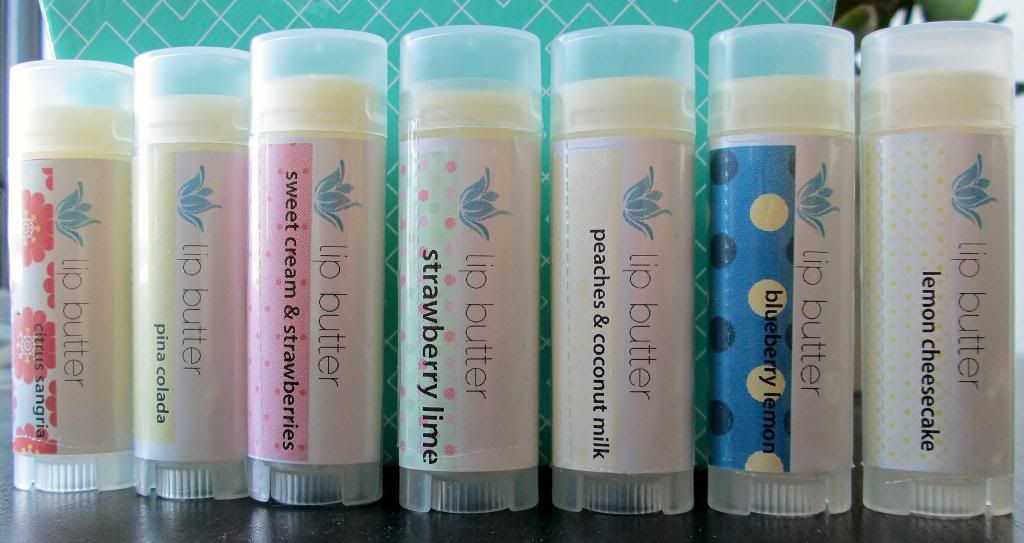 Company:
Aqua Blossom
Flavors:
Blueberry Lemon, Sweet Cream & Strawberries, Pina Colada, Citrus Sangria, Strawberry Lime, Peaches & Coconut Milk, and Lemon Cheesecake. The
Blueberry Lemon
smells amazing and exactly like it should; fresh, ripe, and juicy blueberries combined with sweet and refreshing lemon! The
Sweet Cream and Strawberries
smells wonderful and makes me really crave strawberries. It smells of ripe, sweet strawberries and fresh cream, it also has a lighter scent. The
Pina Colada
is perfect for summer! It's just like the tropical drink, warm, tropical coconut combined with ripe pineapple, yum! Okay, if you like citrus balms at all, you HAVE to try the
Citrus Sangria
. Oh my gosh does this balm smell incredible! It's full of bright, refreshing citrus scents and just, wow! The
Strawberry Lime
is definitely one of my go-to's for this summer, it's one of my new favorites! It's a wonderful combination of sweet strawberries and sour lime, seriously, try it.
Peaches and Coconut Milk
is always one of my favorite flavor combinations and this one was no different, ripe peaches and tropical coconut make this balm smell amazing! Okay, one balm that I can't go even a day without using is the
Lemon Cheesecake
. It's a perfect lemon cheesecake balm, sweet lemon and creamy cheesecake, what's there not to love?
Wear:
All of these balms go on super smooth and glide on easily. You can definitely get away with only using two swipes on top and two on bottom, although I usually go way overboard and end up circling my mouth three or four times. They're just so smooth and wonderful! They sink into my lips and make them feel so smooth.
Packaging:
One of the reasons I can circle around my lips so many times is because these balms come in oval tubes! I just feel like oval tubes really fit the contour of your lips and make it super, super easy to get carried away when putting on balm (or is that just me?). These labels always look so polished, I just love them. The labels have a colored section that takes up half the label that's colored or patterned differently for each flavor, I love this because it makes it super easy to pick out the balm I'm looking for.
Price:
$3.75 which is a steal for one of these balms!
Overall
Pros:
Flavors, Wear, Packaging, Price
Cons:
Rating: 5 out of 5 twists. Aqua Blossom balms are definitely some of my most favorite balms and I can't recommend them enough. These new flavors were definitely on point and just amazing. If you've been eyeing them, just get them, they're wonderful!
Ingredients: shea butter, sweet almond oil, apricot kernel oil, avocado oil, candelilla wax, coconut oil, kokum butter, soybean oil, essential and/or lip-safe fragrance (flavor) oil, vitamin e oil
Have you tried these new Aqua Blossom flavors yet? What did you think of them?