I know some of you have been waiting to see a review on some of the limited edition balms from Epically Epic for a while. Well, it's finally time! These limited edition balms are some of my most favorite balms ever. I really love all the limited edition balms I've tried from Epically Epic, they're just so great! I hope you were able to grab some of these lovely balms before they sold out!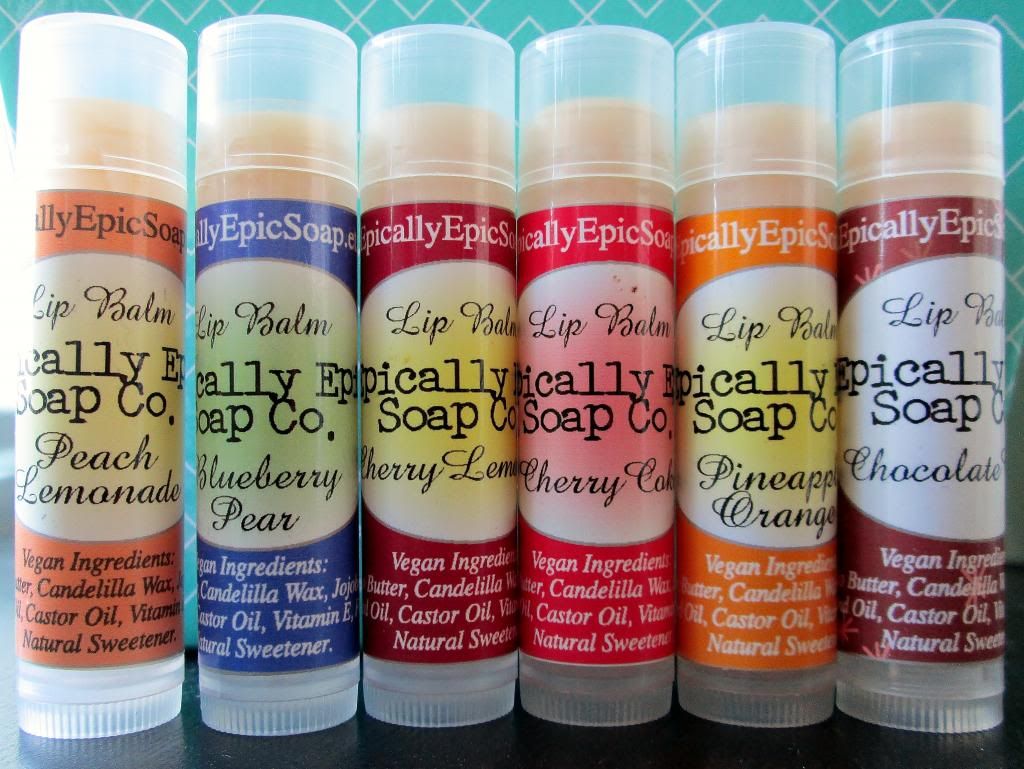 Company:
Epically Epic
Flavors:
Cherry Cola, Cherry Lemonade, Peach Lemonade, Pineapple Orange, Chocolate Chai, and Blueberry Pear. The
Cherry Cola
is a perfect combination of ripe cherries and sweet cola, a cherry coke lover's dream! The
Cherry Lemonade
has the same ripe cherry scent as the Cherry Cola, but this time combined with a light, sweet lemony scent. I really love anything combined with lemon, so fruity lemonade balms are right up my alley! The
Peach Lemonade
is heavier on the peach scent and it is just so lovely! It reminds me of sweet, ripe peaches that I love to eat during summer combined with a light lemony scent. The
Pineapple Orange
smells exactly like one of my favorite breakfast drinks, pineapple orange juice! This balm is made up of tangy pineapple and sweet, citrusy orange; it smells great! I've never had chai tea before and certainly never chocolate chai before, but I really wanted to try Allison's
Chocolate Chai
balm. I'm so glad I did! It smells incredible! This balm has a rich chocolate scent with a hint of spices, it's really lovely. The
Blueberry Pear
is such a unique combination of scents, sweet blueberries and ripe pears, it's really one you need to try!
Wear:
These balms go on sooo smooth and creamy and make my lips feel incredible! They really sink into my lips and makes them feel great. They also last at least two hours which is great!
Packaging:
These balms come in your average sized lip balm tubes with wonderfully colored labels. The labels are all colored to match the flavor of the balm and are just so cute to look at, I love waking up and seeing a bunch of my EE balms on my nightstand.
Price:
$3.75 per tube which is totally worth it, trust me, I have almost 60 Epically Epic balms (with 4 more on the way).
Overall
Pros:
Flavors, Wear, Packaging, Price
Cons:
Rating: 5 out of 5 twists. Like all my other Epically Epic balms, these ones definitely did not disappoint. I'm always ready to jump and get my hands on any new lip balms Allison comes out with and these limited edition balms were no exception! If you're ever even slightly interested in one the limited edition flavors, just get it, trust me, you'll love it!
Ingredients: Pisatchio Butter, Candelilla Wax, Jojoba, Sweet Almond Oil, Castor Oil, Vitamin E, Flavor, Natural Sweetener.
Did you try these limited editions from Epically Epic? What did you think of them?