So it has just occurred to me that I have reviewed Epically Epic balms almost ten times! That's crazy! I mean, obviously I will definitely be doing a lot more than ten because I have over 60 tubes of Epically Epic balms. Have I mentioned I LOVE Epically Epic balms yet? =P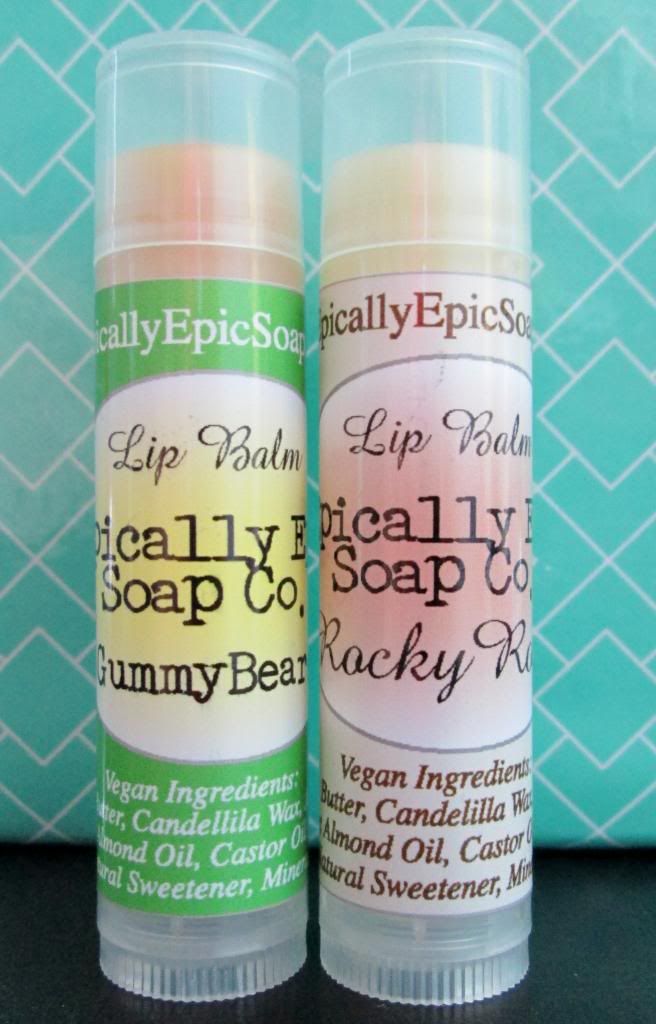 Company:
Epically Epic
Flavors:
Gummy Bears and Rocky Road. The
Gummy Bears
balm smells incredible! It's just like the first whiff you get when you open a brand new bag of sugary gummy bears, a huge combination of fruity scents! It's wonderful! I've only had
Rocky Road
ice cream about two times in my whole life (I believe both times were before I was even 13, so it's been a while), so I'm not a huge expert on what it's supposed to be like. But to me it smells chocolatey and a little bit nutty, it also isn't an overpowering chocolatey scent which I think is due to the fact that there's just a bit of vanilla in it too. I also get a good whiff of a marshmallow scent too! This balm has it all!
Wear:
These balms glide right on! One swipe on top and one swipe on bottom and you're good to go! I usually end up going round and round my mouth a few times and end up looking like a crazy person, but hey I really like this stuff okay? I love slathering it on my lips! One of my favorite lip balm formulas ever, a little slicker than some of my balms, but still creamy and wonderful!
Packaging:
These balms come in your average sized lip balm tubes with labels that are colored to match the flavor of the balm. The flavor of the balm is stated right on front which makes distinguishing the balm you're using super easy. If you're like me and have 60+ tubes of EE balms, then you're bound to have quite a few that look the same based on the color of the label and you definitely need a quick backup way of figuring out which balm you're about to use.
Price:
$3.75 per tube which is totally worth it!
Overall
Pros:
Flavors, Wear, Packaging, Price
Cons:
Rating: 5 out of 5 twists. Epically Epic balms are and will probably always be one of my most favorite lip balm shops everrrrr! If you haven't tried any of Allison's super amazing balms yet, please go do yourself a favor and try some! If you need any flavor recommendations or questions on any balm in particular, don't hesitate to contact me!
Ingredients: Pistachio Butter, Jojoba, Sweet Almond Oil, Castor Oil, Vitamin E, Candelilla Wax, Flavor, Natural Sweetener
Have you tried these Epically Epic balms yet? If not, which EE balms are your favorite?