I hope you're all ready for a kind of long review! There are a ton of balms that need to be covered in this post and I'll try to keep it as concise as possible, but you probably know by now how much I like to ramble. This was the first order that kicked off my spree of buying several more large orders from ForGoodnessGrape, I don't know how or why that happens, but it happens a lot! =)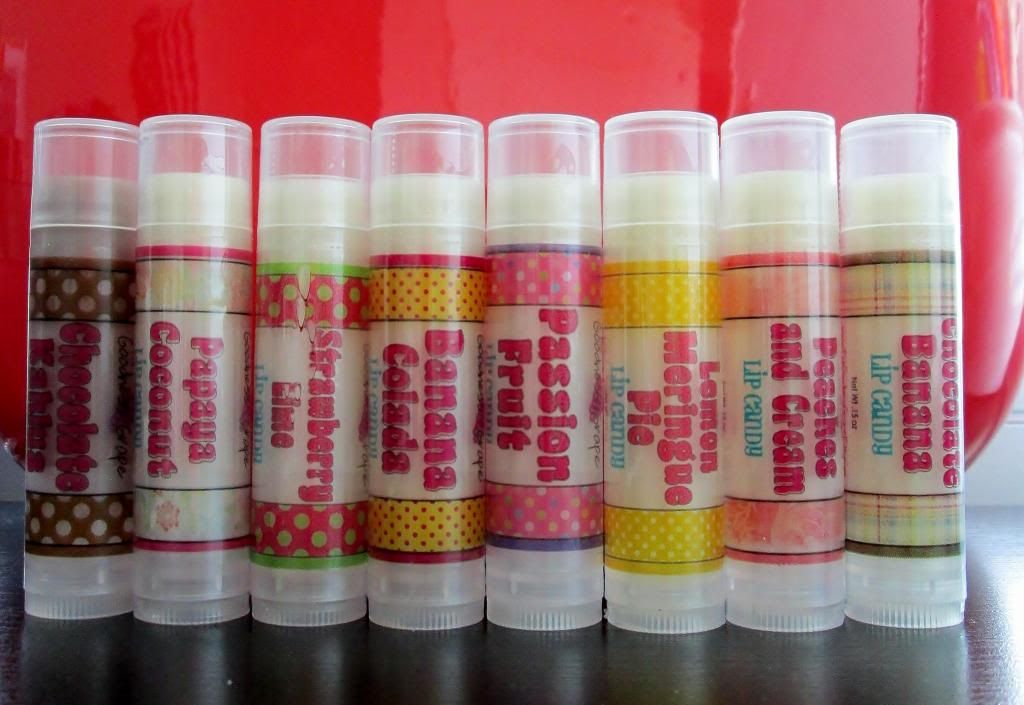 Company:
ForGoodnessGrape
Flavors:
Lemon Meringue Pie, Banana Colada, Chocolate Banana, Peaches and Cream, Papaya Coconut, Strawberry Lime, Passion Fruit, and Chocolate Kahlua. The
Lemon Meringue Pie
smells incredibly lemony, but it's a more rich and creamy lemon scent than a bright and citrusy lemon scent. I love anything lemon, so this creamy lemon balm was going to be a winner in my book from the start. The
Banana Colada
was one I kept close by when I was on a huge banana balm kick. It's a perfect banana balm combined with coconut and pineapple, it's so lovely and tropical, I can tell I'll be using it a lot this summer! The
Chocolate Banana
is any chocolate or banana lover's dream, it's such a beautiful mix of both scents! This balm has a rich chocolate scent that's combined with the delicious scent of banana. It reminds me of those frozen chocolate bananas! The
Peaches and Cream
is probably one of my favorite ForGoodnessGrape flavors. It has such a sweet scent to it, ripe peaches and sweet cream. It really is lovely! Another balm that will definitely be perfect for summer is the
Papaya Coconut
. It really reminds me of being on the beach! It smells of warm coconut and tropical papaya. I'm not a huge fan of papaya, but when it's in a balm or shampoo, I love it! The
Strawberry Lime
is another balm that is definitely going to be one of my choices for summer. It's absolutely perfect! This balm is a combination of sweet, ripe strawberries and tangy, refreshing sour lime! It's soooo yummy! The
Passion Fruit
is really fruity and is more of a mellow passion fruit scent than some of my other passion fruit balms which are more of a bright, tropical and sweet scent. Lisa also included a tube of
Chocolate Kahlua
with my order. I've never had Kahlua before, but this balm smells wonderful! This balm is a rich chocolate scent with a touch of creaminess to it, this is a really decadent balm!
Wear:
These balms glide on smooth and creamy! They have no fight in them at all, they go on and cover beautifully! They really sink into my lips and make my cracked lips a lot more manageable. (Yes, somehow I still have chapped lips, yes I know I have a million tubes of lip balm, but still get chapped lips).
Packaging:
These balms come in your average sized lip balm tube. Each balm has a different label which is colored to correspond with the flavor in some way. Each label also has the flavor of the balm clearly stated on front which makes it easy to find the exact balm I'm looking for.
Price:
$3.75 per tube which is definitely worth it for one of Lisa's balms!
Overall
Pros:
Flavors, Wear, Packaging, Price
Cons:
Rating: 5 out of 5 twists. These balms are really wonderful and if you haven't tried ForGoodnessGrape balms yet, you really should There are just SO many flavors to choose from!
Ingredients: Shea Butter, Cocoa Butter, Mango Butter, Sweet Almond Oil, Beeswax, Jojoba Oil, Coconut Oil, Castor Oil, Vitamin E, Fragrance
Have you tried these ForGoodnessGrape balms yet? What did you think of them? Which FGG balm is your favorite?