----------------------------
Hello everyone, my name is Trish and today I am going to be reviewing some of the lip product offerings from Brazen Cosmetics. A little bit about myself: I'm 34 years old, live in Northwestern Ontario (Canada), have been obsessed with lip balms and all other lip products for as long as I can remember and have a little blog called
Ladybug, Cats and Things That Sparkle
.
A little bit about Brazen Cosmetics: Brazen Cosmetics was founded back in 2009 by a lovely lady named Sandria Marie (Sandi) and is marketed as "bold and provocative organic makeup". Based out of Ferndale, Michigan, Brazen's offerings range from face powders, blushes, eye shadows, brow powders, lip gloss, lip balm, sugar lip scrubs and perfumes.
Brazen's lip products: UltraGlaze lip gloss, Balm Stick (cross between lip balm and lipstick), Smartmouth (lip balm), First Base Sugar Lip Scrub.
Today I will be reviewing UltraGlaze lip gloss, Smartmouth balm and First Base Sugar Lip Scrub.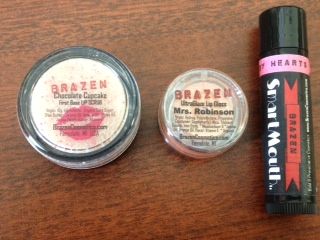 UltraGlaze Lip Gloss
Flavour/Colour: I own nearly every colour of lip gloss made by Brazen but today I am reviewing Mrs. Robinson. This gloss was released last summer as part of the One Hot Summer collection. Mrs. Robinson is a peachy orange colour and smells like a creamcicle.
Wear: The gloss is highly pigmented, glossy and thick. It goes on relatively thick/even and lasts for hours. It is a bit sticky though, so if you are like me, a bit can easily end up in your hair.
Packaging: Brazen's glosses come in two sizes, 3g sample pots which are clear pots mini pots with a screw on lid or 11g squeeze tubes. The pots have a product sticker on the bottom, containing the company, product and ingredient information. The tubes have a similar labels but are stuck on the sides of the tube itself.
Price: $4.25 for the 3g sample pot, $8.49 for the squeeze tube
Overall:
Pros: Flavour/Colour - large variety of colours and scents, Wear
Cons: 3g pots can be messy, price
Rating: 4 out of 5 twists.
Ingredients: Vegan/Organic: Hydrogenated Polyisobutene, Propylene Copolymer, Copolymer(s), Mica, Titanium Dioxide, Iron Oxide, Meadowfoam & Jojoba Oils, Orange Oil, flavour, Vitamin E
Smartmouth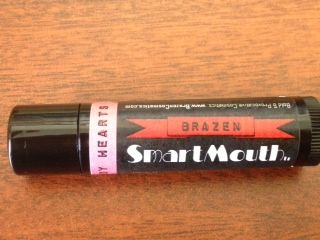 Flavour: Candy Hearts. This balm or as Brazen bills it "vitamin treatment stick" smells very similar to the little conversation hearts candy you can buy at Valentine's. The balm is not vegan, although Brazen did release a vegan counterpart called Nearly Naked which is no longer available. These balms come in a variety of flavours ranging from unflavoured to chocolate cupcake and drink scents like mojito and pina colada.
Wear: Smartmouth is very light on the lips and melts in quickly. I tend to use it before bed or under lipstick for a smooth application. My lips are always smooth, not greasy or waxy after application and it lasts for a few hours before needing to reapply.
Packaging: Smartmouth is packaged in black standard lip balm tubes. Labels are black, contains the company name, product description and ingredient list and have a coloured band near the cap indicating the flavour of the balm. With regular use, the label tends to wear out and become hard to read.
Price: $4.75 - $4.99 depending on the flavour
Overall:
Pros: Flavours, Wear
Cons: Packaging, Price
Rating: 4 out of 5 twists. Smartmouth is my go to balm. Candy Hearts is not my favourite scent but the balm itself is very high quality. A bit expensive compared to other Indie balms but definitely worth the money.
Ingredients: Organic: Beeswax, Almond Oil, Sunflower Oil, Aloe Butter, Cocoa Butter, Shea Butter, Coconut Oil, Jojoba Oil, flavour, Comfrey Extract, Vitamin C, Vitamin E
First Base Sugar Lip Scrub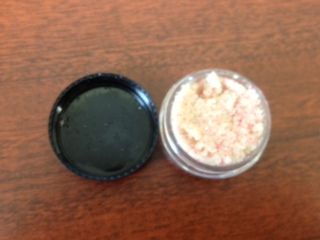 Flavour: Chocolate Cupcake. This smells a bit like coconut to me, more so than chocolate but it smells yummy never the less. The flavour is stronger on your lips than in the jar.
Wear: The scrub is very course, with large sugar for exfoliation. Some of the flavours also contain little pink lipid beads for extra moisture. Overall it is a mix of dry (the feel scooping it from the jar) and oily (when applied to the lips). After use, lips are very smooth, soft and fragrant.
Packaging: Brazen's lip scrubs come in a 10g pot clear pot with a black screw on lid. Label is attached to the bottom of the pot, containing the company name, product description, flavour and ingredients.
Price: $4.75
Overall:
Pros: Flavours, Packaging, Wear, Price
Cons: none

Rating: 4 out of 5 twists. I am not sure if it is a bit expensive compared to other lip scrubs but this is one of the best I have tried.
Ingredients: Vegan: Organic Cane Sugar, Shea Butter, Coconut Oil, Almond Oil, Jojoba Oil, Jojoba Beads, flavour, Vitamin E
------------------------------
Thank you to Christina for letting me do this guest post! If you would like to try Brazen Cosmetics, head over to their online shop and don't forget to tell Sandi that Brazen Beauty Trish sent you. If you would like to read more of my reviews, please check out my blog at ladybugcatsparkle@blogspot.com. Thanks for reading!