Hi all! I have a wonderful guest review for you today. Blaire was kind enough to do a guest review for me while I was in Hawaii two weeks ago and she volunteered to do another one. In case you missed her last guest review, you can find it
here
. If you don't know already, Blaire is an indie Bath & Beauty junkie who bought 52 lip balms (in the same week!) after reading LipBalmWrangler. She blogs about turning
craft to business
.
------------------------
One of the many Etsy stores I tried during my lip balm haul was
Get Lathered
, run by Rhonda. Her Etsy shop is amazing- full of wonderful handmade bath and body products. A bath and body junkie's dream! I ended up buying two pairs of her Rock & Roll hair care set too (which I love!), but that's for another review. My lip balm purchase was for the TwinPak of Pucker Polish, a set of
two handmade lip balms
.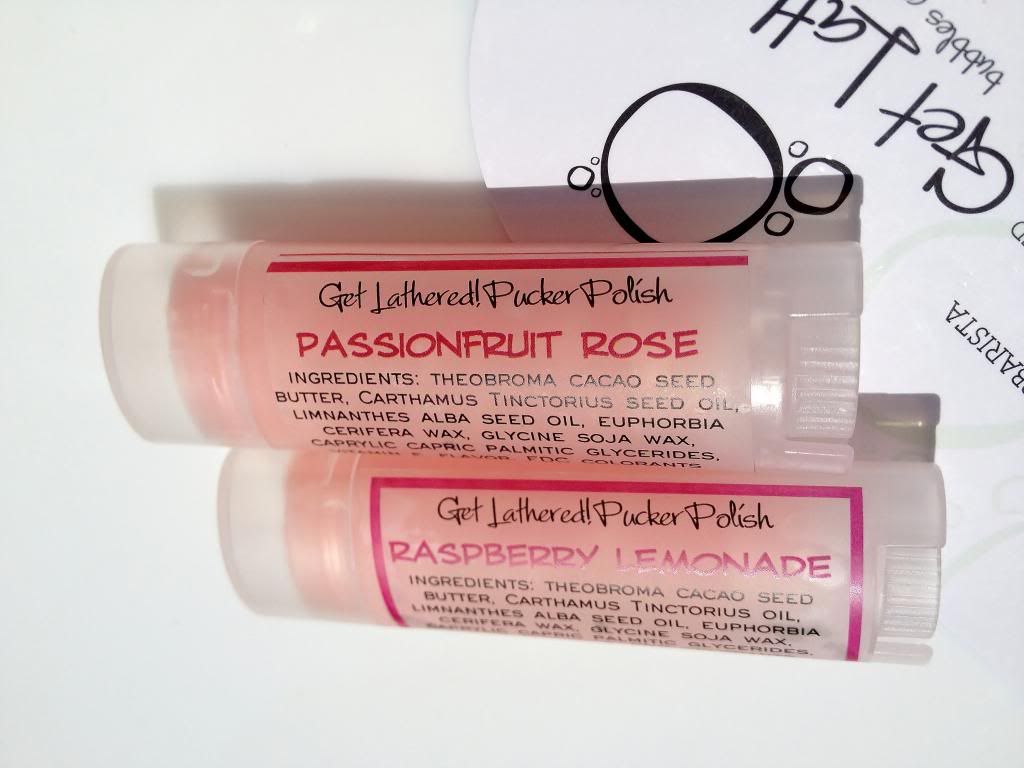 Company:
Get Lathered
Flavors:
There are 23 flavor choices available and I opted for Passionfruit Rose and Raspberry Lemonade.
Passionfruit Rose
: a delightful marriage between fruity and floral. Passionfruit is one of my favorite fruits so I adore this one.
Raspberry Lemonade
is both fruity and fizzy, like raspberry soda with a dash of lemon.
Wear:
Get Lathered's Pucker Polishes glide on, and have a very creamy finish. They're lightweight- perfect for summer. If all you need is a little bit of hydration without that goopy feel, these lip balms are for you.
Packaging:
Rhonda's packaging is beautiful- my order arrived wrapped in gift-ready paper. Each lip balm comes in a transluvent oval tube, with a clear plastic label. I love that they're water-proof! The ingredients are clearly written beneath the flavor's name.
Price
Get Lathered's lip balms retail for $3.5 alone, and $6 for a 2-pack (which is what I bought). Totally worth the money :)
Overall:
Pros
: Wear, price, customer service, gift-ready packaging and vegan.
Cons
: The label lifts slightly after a lot of use.
Rating: 5 out of 5 twists. I'd highly recommend these lip balms. One thing to note is that they're free of beeswax, so if you're looking for a vegan lip balm, this is a great choice.
Ingredients: Theobroma cacoa seed butter, Carthamus Tinctorius Seed Oil, Limnanthes Alba Seed Oil, Euphorbia Cerifera Wax, Glycine Soja Wax, Caprylic Carpic Palmitic Glycerides, Vitamin E, Flavor
Have you tried Get Lathered balms before? Which ones are your favorites?
-----------------
Thank you, Blaire, for writing this wonderful review!