Hi all! Happy Monday!
I know some of you wanted to see pictures from my trip to Hawaii and to know about it a bit, so I thought I'd do a quick recap of what we did and share some pictures with you all. We keep going through the pictures over and over because we want to continue reliving it! Anyway, we got there on Wednesday the 24th and left Wednesday May 1st, I'll take this day by day!
We almost didn't make our flight because we decided last minute that instead of taking a cab we'd just take the CalTrain to the airport, yeah good idea because we live right near it and it's cheaper right? Yeah, it would have been better if we remembered that a cab takes 20 minutes and the CalTrain takes an hour and a half. So we left at the same time as we would have with a cab which meant we were SO late for our flight. They said we would get lucky if our bag made it with us on this trip. We were actually running as fast as we could with full backpacks and our carry on luggage to our gate. Of course, my backpack was full of Tupperware containers because I packed a ton of food for us on the plane (I'm eating really healthy and clean these days so I wanted to make sure that we had good food on the plane; I brought sandwiches, watermelon slices, grapes, cheese sticks, sweet peppers, apples, and sliced cucumbers). We found out later that day that all the running around with that backpack on left a huge bruise on my lower back. Anyway, we got on the plane and it was a great flight; felt pretty quick, not too many crying babies, the nice light breakfast they provided went great with the food I packed. And then we were there!
View from the plane on landing.
We got in at about 11 or so and got to the hotel at 1. They actually let us check in even though we were an hour early and upgraded our room. What we didn't realize was they said they upgraded our partial ocean view room; we paid for a full ocean view room and were given only a partial ocean view room and then they told us they had no openings for ocean view rooms when we made sure to book it that way. So of course we spent a long time talking to the front desk and to Expedia, and nothing was done and we wasted an hour of our trip doing that. We also had a really disgusting lunch while on that phone call at one of the restaurants at the hotel which cost us a lot more than we would ever pay for such low quality food. So, so far Hawaii wasn't doing that great. I also hit that bruise on my back on the bar in the elevator about 4 times really hard, the last time it shook the whole bar and the lady next to me was so concerned, we tried shaking the bar later and it was almost impossible. So yeah..my back killed, I couldn't even lay on it, it was miserable. We spent the rest of that day walking around Ala Moana center really disappointed because we felt like we were in a flea market at some points. But, we did pick up some really amazing poke that we ended up eating in the room for dinner.
We spent the earlier half of the day on the beach and the second half at the pool and drinking haha. Rob got a horrible sun burn because he refuses to put on sunblock after the initial application even when I beg him because I know he burns really bad. We had Ruby Tuesdays for dinner because we really love Ruby Tuesdays and we don't live by any here in SF, as soon as the waitress found out I wasn't a local (because I look it, I got it the entire time we were there) she started treating us pretty bad and didn't bring us our check for 45 minutes, she didn't even come to our table. I remember this was the day Rob decided we'd never come back to Hawaii. Hawaii was rubbing us pretty wrong the first couple of days.
We also took a nap before dinner and I took this:
I was talking to him and I thought he was still awake and when I looked over he was passed out!
We woke up early to climb Diamond Head! We wanted a really active vacation and so we walked from our hotel to Diamond Head and back. The walk there and back was much worse than actually climbing the crater. It was so much fun though! We got these really amazing burgers off the food truck there and had some shaved ice that was amazing. It was probably the second best food we ate the entire trip, seriously we had the worst food we've probably ever eaten while on this trip. We got a ton of bug bites and saw these really interesting animals all over while we were eating. I was actually running up parts of Diamond Head and running on the way down. When we got to the top I was really disappointed because I wanted to keep hiking higher and higher, but Rob told me that was all and I was just so sad. We ended up walking 15 miles on our hike that day though! We plopped down and took naps for a little while and then we decided to get dinner at The Cheesecake Factory simply because everywhere had an hour wait for dinner. This was one of only dinners that was actually good!
We went to a breakfast buffet early in the morning and then relaxed a bit until it was time for us to go for our couples massage! After that we went to the pool and had salads next to the pool from the grab and go place at the hotel which actually became our go to place for lunch because it was the only decent food at the hotel for us to eat. Then we decided to go on the Atlantis submarine which was actually a lot of fun! We thought it would be cool to ride in a submarine and we like seeing fish and stuff but we thought it may also be really lame, it wasn't! In the first five minutes we saw a shark! It was so cool! You can barely make it out in our picture, but we know it's there.
If you look really hard you can see the outline of the shark.


I actually felt pretty sea sick on the boat ride back (which I've never felt before so it was really weird), so we went back and laid down for a while before dinner. It was also the night of the 11th annual Spam Jam so we went over and checked that out! We had some spam cheesecake, lilikoi cheesecake, strawberry cheesecake, some teriyaki spam, spam shu mai and spam bao. We put our name in at Yard House beforehand so we could kill some time at the Spam Jam.
We woke up early to go to Sea Life Park to swim with dolphins and sea lions! It was so much fun! We actually got to swim the only Wolphin in captivity, a cross between a false killer whale and an Atlantic bottle nosed dolphin. It was huge! And the sea lion was so awesome! We really love sea lions because we see them a lot by us and it was so much fun to touch and swim with it. The pictures we bought are amazing and we paid way too much for them, but we really wanted to remember this day!
Then we went back to the hotel for a little while and went by the pool for a half hour before we got ready to go to the luau. The dancing at the luau was really cool, the food was horrible as was expected, but the show was pretty good.
We rented a car and went to check out Waimea Valley and the waterfall. We wanted to go check out Waimea Beach Park but we didn't find any parking so that went out the window. We swam in the waterfall which was really fun!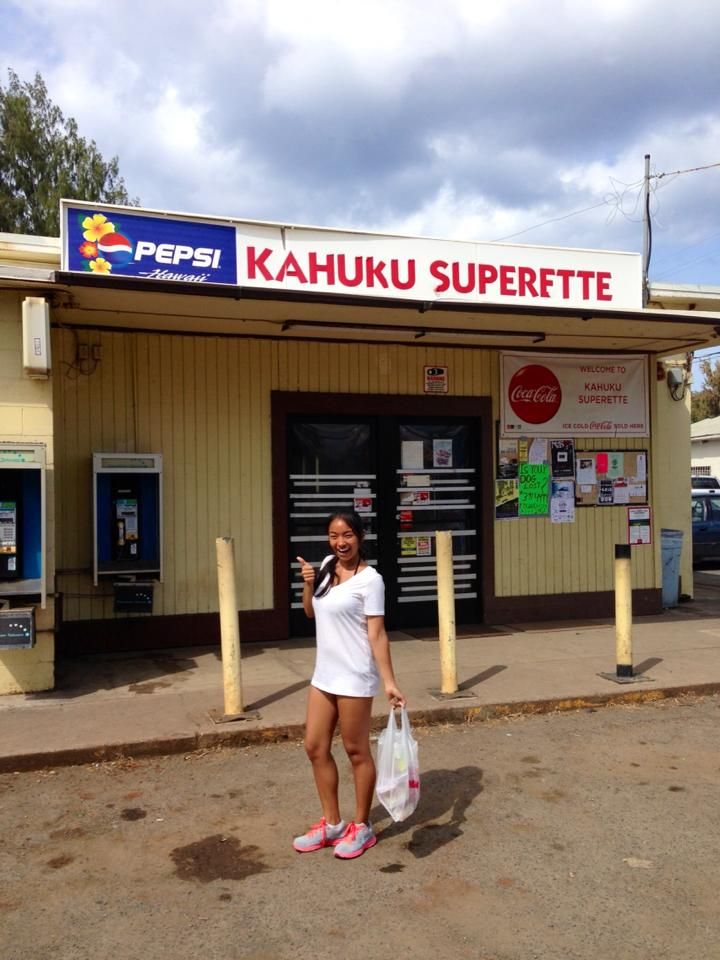 For you, Becka! Sorry I look ridiculous, I wasn't
wearing pants because I my swimsuit was
still wet.
On the way back from the falls we stopped by Kahuku Superette for some poke and rice! We also wanted to climb Koko Crater and another mountain but Rob took the wrong highway for SO long that we ended up having to give up entirely and just go back to drop the car off. This is what happens when men don't listen to women! So I was really disappointed I didn't get to climb it, but now it's on our list for next time. After we dropped the car off we went back to the hotel for a while and then we had our second couples massage which was lovely! Rob was hungry after the massage so we decided to go to Buffalo Wild Wings since it was open late (our massage was done at about 9:30pm). We had the worst experience of our life there! We love Bdubs and it was just awful. They served us one set of wings that looked like they were days old and reheated a thousand times in a microwave and the other wings we got were served ice cold and just covered in tons of sauce. Our potato wedges were also the worst ones I've ever eaten. All they played while we were eating was hardcore death metal and really loud obnoxious music, the other two tables that were in there were also complaining about the music. It was just such a bad experience. Another strike against Hawaii.
We wanted to spend our last day on the beach and that's exactly what we did! We spent a huge amount of the day at the beach and a too ridiculous amount of time trying to find something to eat for lunch and then ended up with something really just blah. Basically trying to eat anything at the hotel or nearby was awful. But we took a nap on the beach after lunch which was really lovely. I love sleeping on the beach!
Then we had a really wonderful dinner at Sarento's at the top of the 'I'. It was the best dinner had the entire trip and just the best way to end the trip. It was nice having a really nice, romantic dinner for our early anniversary.
We woke up early enough to spend some time at the beach before getting ready for our flight which was really wonderful. We really, really didn't want to leave because we had so much fun doing all the things we did on this trip! We had a lovely flight home, but still weren't ready to face reality.
If you actually read through that whole thing, good for you! I hope you enjoyed taking a peak into my week in Hawaii. And we'll definitely go back to Hawaii, but probably not to O'ahu anytime soon (except to climb Koko Crater). Oh and yes, I did wear that dress multiple days, I really love that dress and it was the only thing kind of dressy that I could wear.
Have a wonderful day!