Okay, first and foremost I want to apologize for not being able to blog and provide posts for you guys the last three days. I really wish I could explain just how busy I was this weekend, there were so many moments I cried in frustration and just from being completely overwhelmed. I really appreciate all your kind words and your patience with me as I try to finally get back into the swing of things. I know I received a bunch of e-mails and comments this weekend and I'll try my hardest to get back to you as soon as I can. Honestly I would have loved to switch places with anyone this past weekend, I barely had time to breathe. I don't remember the last time I was ever so busy! I did walk at graduation on Sunday and I will definitely post a few pictures from it, just in case anyone is interested in seeing how silly I looked in my gown. Anyway, I'm trying to get back on track for you all today, and I thought I'd start it off with a Little Batch review!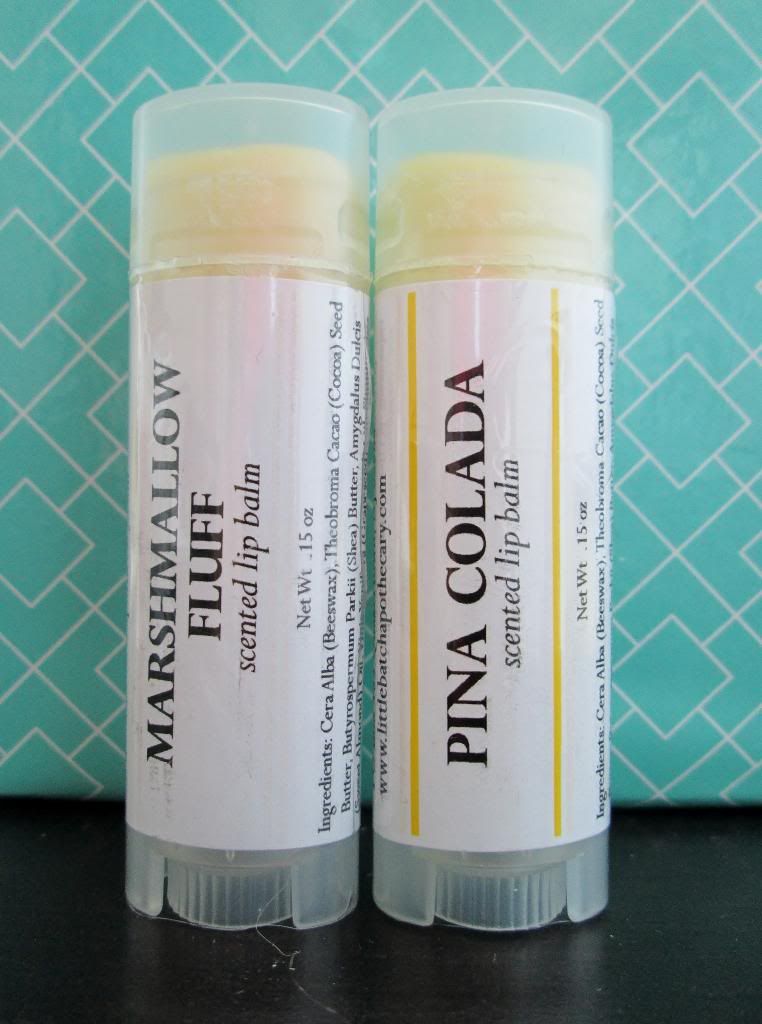 Company:
Little Batch Apothecary
Flavors:
Marshmallow Fluff and Pina Colada. I'm not always a huge marshmallow fan, at least in lip balm form (don't give me a bag of marshmallows because I won't be able to help myself from eating them), but I really wanted to try this balm from Little Batch! The
Marshmallow Fluff
is the perfect marshmallow balm! It's sweet and sugary and smells just like those delicious little puffs of sugar! I know I"ve told you about my love for this
Pina Colada
balm before, if you don't know what I'm talking about, I'll summarize for you now. Basically I used this balm one night like I do most nights and in my sleep I grabbed for it and clutched it in my fist all night, even while asleep I want to use this balm! This balm is so tropical and wonderful! It's a perfect blend of warm coconut and fresh pineapple!
Wear:
These balms go on so smooth and creamy! They glide right on my lips and cover them beautifully. I really love the consistency of these balms!
Packaging:
These balms come in those lovely oval tubes that I can't get enough of. Each tube has a white label that has the flavor of the balm printed clearly on front, the flavor of the balm is also has two parallel lines that are colored differently for each balm. These balms have a very simple, but lovely design.
Price:
$4 per tube which is definitely worth it for any Little Batch balm!
Overall
Pros:
Flavors, Wear, Packaging, Price
Cons:
Rating: 5 out of 5 twists. You really can't go wrong with a balm from Little Batch Apothecary, I really love them all!
Ingredients: Natural Beeswax, Cocoa Butter, Shea Butter, Sweet Almond Oil, Grapeseed Oil, Jojoba Oil, Castor Oil, Tocopherol, Flavor
Have you tried these Little Batch balms yet? What did you think of them?