Every time I see new flavors from Long Winter Farm, I just have to have them! I may or may not have bought every new flavor she had in her shop last week with record speed. I also bought 4 of her new perfume oils and I'm SO in love with them, I can't stop using them! Anyway, onto the review!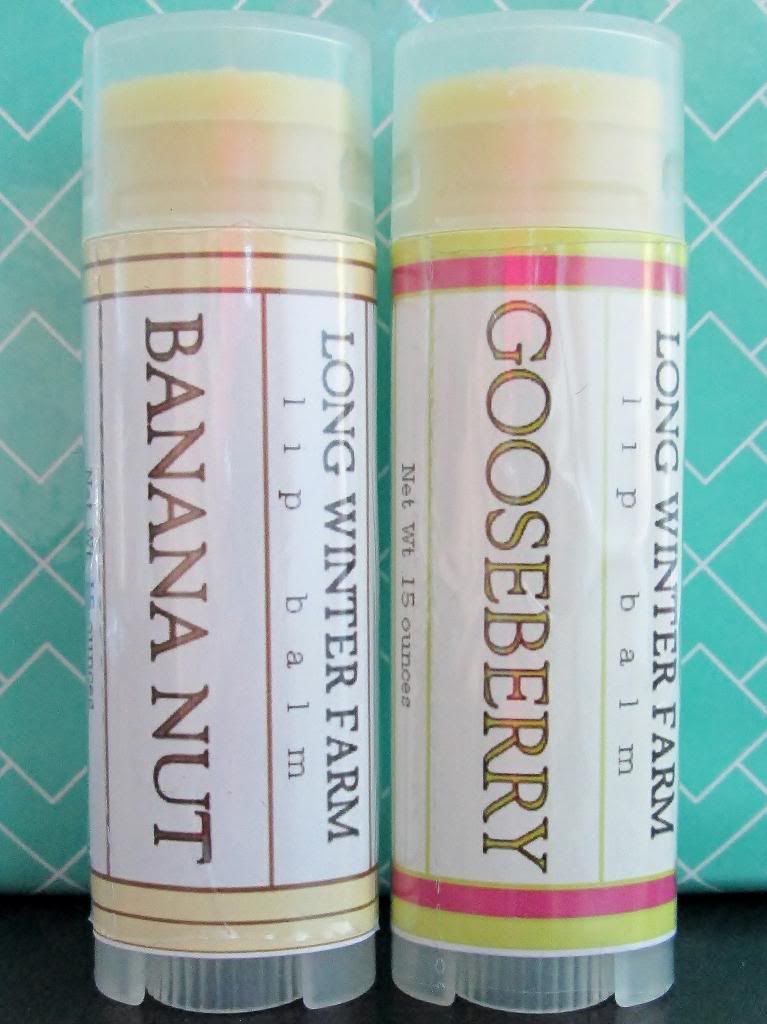 Company:
Long Winter Farm
Flavors:
Banana Nut and Gooseberry. The
Banana Nut
smells super nutty with just a touch of banana. If you're not a huge fan of banana, but are a huge fan of nutty balms, this is definitely one for you to try! Among other things, I've never had a
Gooseberry
before so I didn't really know what to expect with this balm. This balm has a sweet yet tart berry scent to it. It makes me really want to try gooseberries!
Wear:
These balms were a bit more firm than my usual Long Winter Farm balms, but after a little bit of warming up they still went on smooth and creamy. This formula really makes my lips feel wonderful!
Packaging:
These balms come in lovely oval tubes and have very simple labels on them. I love the way LWF balms look; I love that the flavor is big and easily seen on the front of the tube and that the bars of color on the top and bottom of the tube add something different to each tube.
Price:
$4 per tube which I'm more than willing to pay for one of Amanda's amazing balms!
Overall
Pros:
Flavors, Wear, Packaging, Price
Cons:
Rating: 5 out of 5 twists. Of course, I'm always going to love Long Winter Farm balms. If you haven't tried them yet, you need to! There are so many amazing and unique flavors to try, there's have to be a balm for everyone!
Ingredients: Natural Beeswax, Sweet Almond, Grapeseed & Jojoba Oils, Cocoa & Unrefined Shea Butters, Vitamin E, Flavor Oil
Have you tried these Long Winter Farm balms yet? What did you think of them?