Sometime ago, there was a sale over at PuurBody and I was, of course, obligated to buy a few balms because well: 1.) I'm the Lip Balm Wrangler, and 2.) I can't resist a sale. So I picked out a few flavors I hadn't tried yet, and well, that's what got us to here today!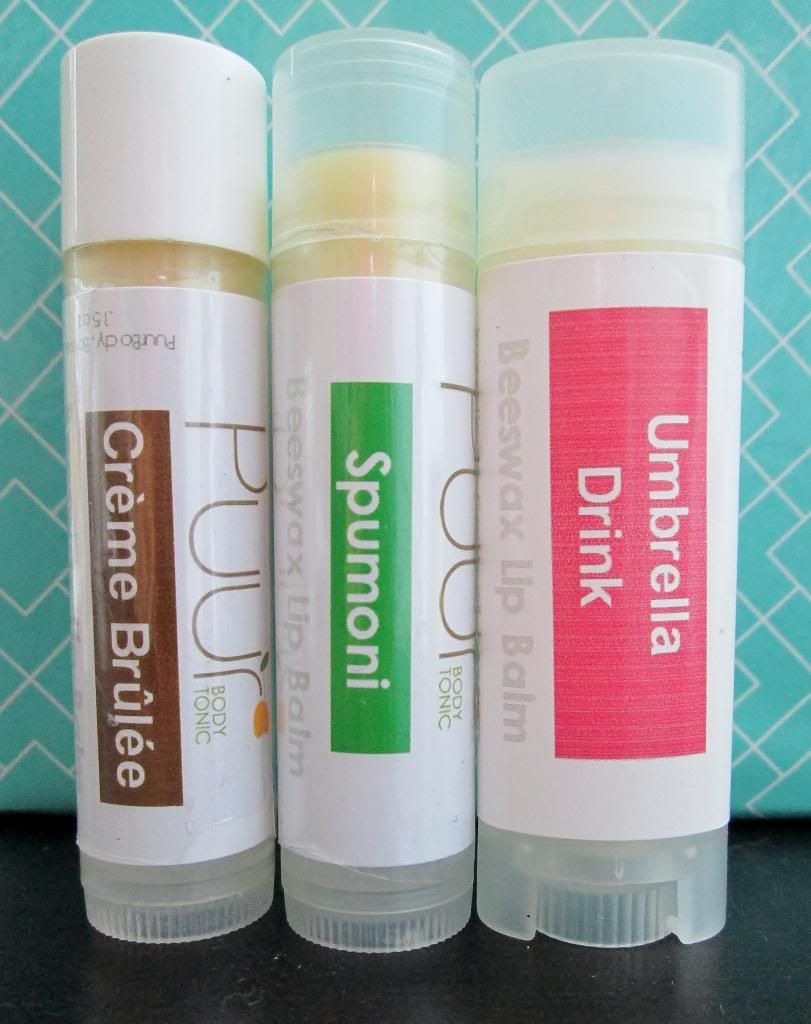 Company:
PuurBody
Flavors:
Umbrella Drink, Creme Brulee, and Spumoni. The
Umbrella Drink
was not quite what I expected, it wasn't as fruity as I thought it would be and actually smelled more like soap. Rob and I thought it smelled like a light fruity soap that you sometimes get in bathrooms at nice hotels? That's the best way we could describe it! It also actually smells a little floral to me, like roses! The
Creme Brulee
wasn't quite what I was expecting either, instead of a caramel and vanilla creaminess, I smell Waffle Crisp cereal? Don't get me wrong, it smells freaking delicious to me, but it's not quite creme brulee. It smells more like maple syrup and brown sugar which smells freaking fantastic! The
Spumoni
was definitely something I've never had before and I was super intrigued since it was supposed to be pistachio, vanilla, and cherry; three of my favorite lip balm flavors in one! This one I can't tell you what it smells like, honestly, Rob and I have been racking our brains trying to find out what this smells like and it doesn't smell like anything I've had. It doesn't smell like pistachio, vanilla, or cherry, it smells like an unscented balm, but with a scent of some sort. Does that make sense?
Wear:
These balms were a little stiffer than my usual PuurBody balms, but after a little while they softened up a bit. With two swipes on top and two on bottom, you've got a ton of creamy balm on your lips. These balms always leave my lips feeling soft and smooth. What's not to love about that?
Packaging:
The Creme Brulee and Spumoni balms come in your average sized lip balm tubes and the Umbrella Drink balm comes in an oval tube. All tubes have white labels on them which have the shop name clearly stated on front, and just below it in a colored rectangle (colored to match the flavor of the balm) is the flavor of the balm.
Price:
$3.50 per tube which is definitely more than I'm willing to pay for a PuurBody balm!
Overall
Pros:
Wear, Packaging, Price, Flavors
Cons:
Flavors were a little off
Rating: 4 out of 5 twists. I know, you're probably wondering "how can flavors be a pro and a con?" Well, that's because even though the flavors were off from what I thought they were supposed to be, I still liked them! I mean, come on, Waffle Crisp in a lip balm? Amazing! I love PuurBody balms and have yet to be dissatisfied with any of my purchases.
Ingredients: Castor Oil, Beeswax, Shea Butter, Cocoa Butter, Fragrance, Essential Oil
Have you tried these PuurBody balms before? What did you think of them?