Okay, by now you must know how I love Ripe Shop balms, I try to get my hands on as many of them as I can! I know some of you are probably hoping this review is on some of the newer balms I just got from Adriana, but those are still to come!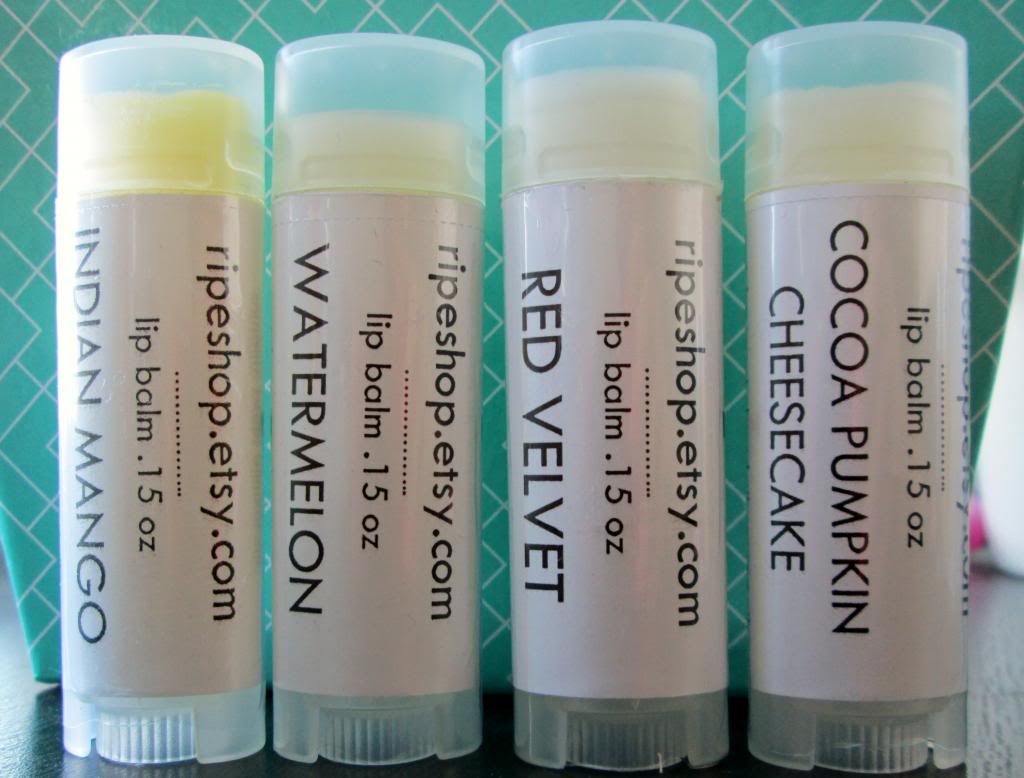 Company:
Ripe Shop
Flavors:
Red Velvet, Watermelon, Cocoa Pumpkin Cheesecake, and Indian Mango. The
Red Velvet
smells SO rich, it's chocolatey with a lot of creaminess to it, I really, really love this balm! The
Watermelon
reminds me of my childhood for some reason. It smells like watermelon jolly ranchers and it's super sweet and fruity, definitely perfect for summer! The
Cocoa Pumpkin Cheesecake
smells exactly like spicy pumpkin cheesecake with a little bit of rich cocoa thrown in. It's really lovely!! I couldn't wait to try the
Indian Mango
which smells wonderful! It smells just like mango lassi! You can definitely tell that there's mango and yogurt with a little bit of spice, yum!
Wear:
These balms go on so smooth and slick! I don't have to put any pressure at all to get balms on my lip. These are probably some of the softest balms I've ever used, they literally just melt right into your lips!
Packaging:
These balms come in oval tubes with white labels. The labels have the flavor of the balm and the shop's website right on the front.
Price:
$4 per tube or $7 for 2 which is definitely a great deal!
Overall
Pros:
Flavors, Wear, Packaging, Wear, Packaging, Price
Cons:
Rating: 5 out of 5 twists. I love these balms just like I love all my other Ripe Shop balms! If you have any sort of inkling to try any of these flavors, you should just go and buy them! They're really great!
Ingredients: Sweet Almond Oil, Coconut Oil, Beeswax, Avocado Oil, Cocoa & Shea Butters, Vitamin E, Flavor