Okay, so by now you must know how I can't help buying new flavors from my favorite shops, right? Well, when The Gnarly Whale came out with SO many new flavors a couple of months ago, I knew I would be going a little bit crazy on new flavors and I definitely did! I also bought myself some more of their amazing hair detangler, that stuff saves my hair! I may not have curly or frizzy hair, but my hair is super long and tangles really easily and their hair detangler makes it so easy to run a brush through my long locks! Anway, on to the new flavors!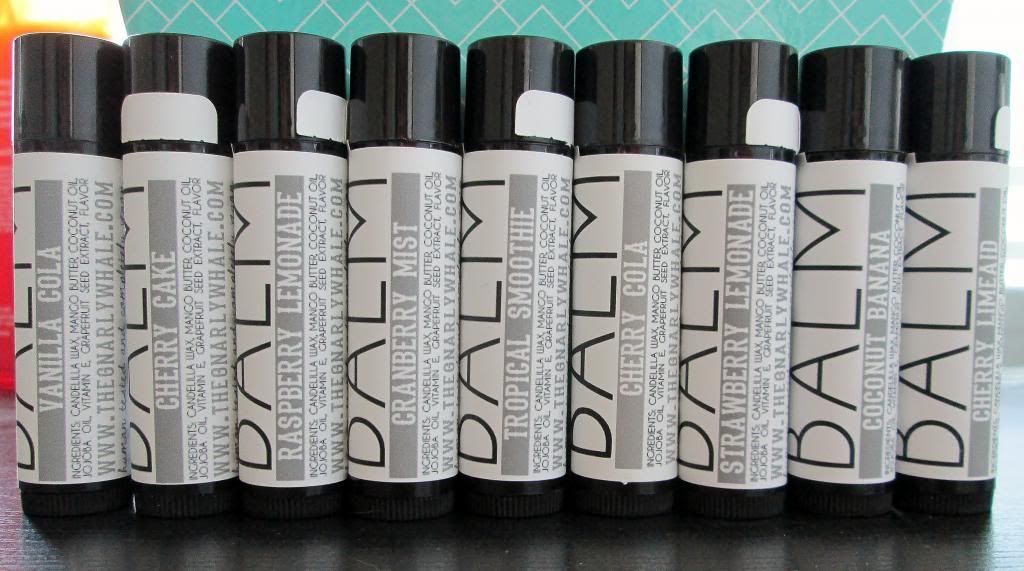 Company:
The Gnarly Whale
Flavors:
Tropical Smoothie, Cherry Limeaid, Cherry Cola, Cranberry Mist, Vanilla Cola, Strawberry Lemonade, Raspberry Lemonade, Cherry Cake, and Coconut Banana. The
Tropical Smoothie
does indeed, remind me of the tropics. I can't pick out all of the scents in it, but there's definitely coconut in this one. The
Cherry Limeaid
is a perfect combination of sweet cherries and sour lime, you definitely get a whiff of the lime before the cherry, but then you find the cherry. For some reason though, it kind of smells like Dr. Pepper LipSmackers to me haha. The
Cherry Cola
smells like sweet cola and ripe cherries, this one also smells like Dr. Pepper LipSmackers to me. Maybe it's the cherry flavor they use, but these both remind me of Dr. Pepper LipSmackers! Which is totally not a problem because I really love Dr. Pepper LipSmackers! The
Cranberry Mist
smells just like lemon-lime soda with just a splash of cranberry juice! It smells wonderful, airy, and light! The
Vanilla Cola
smells wonderful! If you're a fan of vanilla Coke, you'll be a fan of this balm, it's the perfect blend of vanilla and sweet cola! The
Strawberry Lemonade
is going to be perfect for summer! I love lemonade balms and especially when it's warmer out and this one definitely fits the bill. The scent of sweet and slightly sour lemonade and ripe strawberries makes this balm wonderful. The
Raspberry Lemonade
is no different, other than being ripe raspberry instead of strawberry, it smells incredible! Seriously, both these lemonade balms are amazing! The
Cherry Cake
(okay, I may have been going on a crazy cherry binge when I bought these balms) smells like sweet cherry and fluffy cake, this one does not remind of me of Dr. Pepper LipSmackers just in case you were wondering! The
Coconut Banana
is another balm that's going to be great for summer, it smells of warm and tropical coconut combined with a sweet and ripe banana. One of my most favorite combinations!
Wear:
These balms glide on smooth, some were a little more firm than others but they warmed up quickly and proceeded to go on smooth. These balms go on a little thinner than my usual balms, but they still cover just as well!
Packaging:
These balms come in your average sized lip balm tubes. The tubes are black with white labels which have a very clean look to them. The only thing that I wish were different about the tubes is maybe that the rectangle that the flavor of the balm is placed was colored differently for each flavor because it takes me a little while to find the balm I'm looking for since I have SO many Gnarly Whale balms. I'm sure I'm probably one of the few who have this problem, but still!
Price:
$3.50 per tube which is totally worth it for one of these balms!
Overall
Pros:
Flavors, Wear, Packaging, Price
Cons:
Rating: 4.5 out of 5 twists. These balms were great! I'm really glad I picked up a bunch of the new flavors they've come out with. If you've been eyeing them or going back and forth on whether to pick them up or not, just do it!
Ingredients: Candelilla wax, mango butter, coconut oil, jojoba oil, vitamin e, grapefruit seed extract, flavor
Have you tried these new flavors from The Gnarly Whale yet? What did you think of them?