A little while ago Cathy from Upstate Herb Works contacted me to see if I wanted to try one of her new products and of course, since I love Upstate Herb Works balms, I said yes!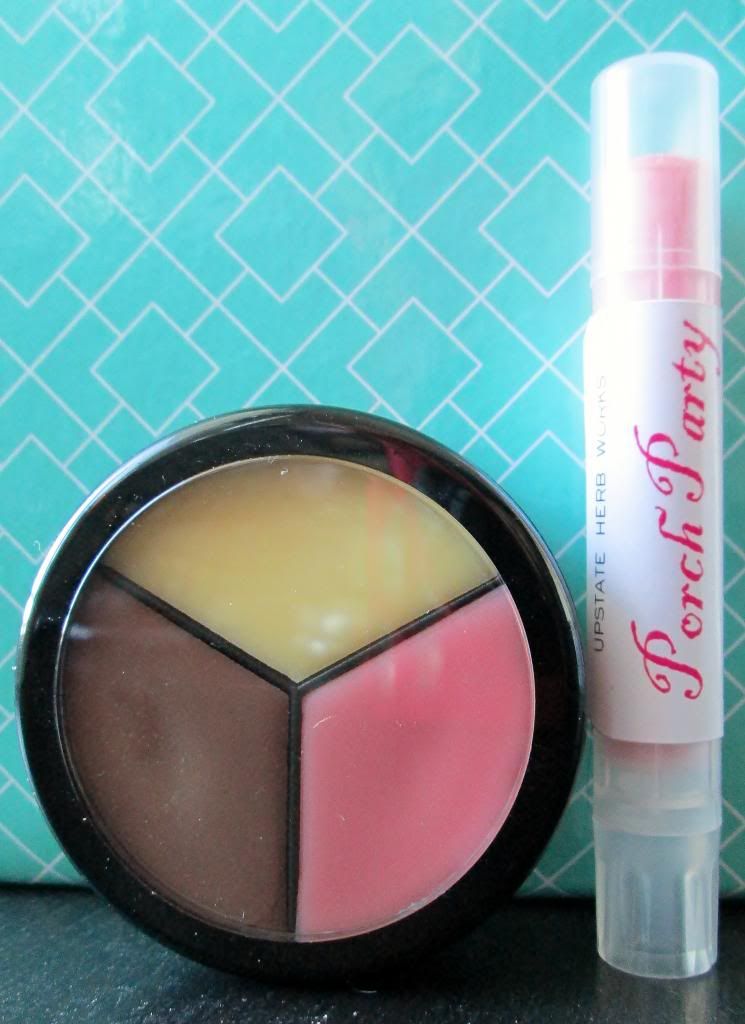 Company:
Upstate Herb Works
Flavors:
Neapolitan and Porch Party. I was super surprised to see not one, but two products in my package, both are super amazing! The
Neapolitan
smells just like you'd think Neapolitan ice cream should smell like, there's a lot of chocolate, some strawberry, and some vanilla. When you combine them all, it just smells wonderful! The
Porch Party
balm smells incredible! This balm is definitely going to be perfect for summer! It's a beautiful combination of fresh strawberry and tangy, bright lime. Seriously, I want to drink this balm! This balm gives off such a different aroma than my usual strawberry lime balms, it's not super sweet or candy-like, it's really like a cool glass of strawberry limeade.
Wear:
I love the way these balms go on! The consistency of the
Neapolitan
feels so different from other lip balm pots, it feels amazing! It's a little squishier than other lip balm pots which I really like. A good amount of product gets picked up with my finger and it goes on really smooth and creamy, it just melts right into my lips. It makes my lips feel sooo smooth! The
Porch Party
glides on SO smooth and super creamy, it's a little thicker than my usual balms and I really love the way it feels on my lips and the way it makes my lips feel! Both of these balms are winners in their consistencies and I just can't get enough of them!
Packaging:
The
Neapolitan
comes in a lip balm pot that is divided into three sections, one for each flavor. This is really cute and such a good idea because what if I only want to wear one of the flavors? You get three balms in one! The
Porch Party
comes in a little skinny tube which I also love! I don't know what it is about skinny tubes, but I really like them!
Price:
The
Neapolitan
is $13 and the
Porch Party
is $4.25. Both prices are steeper than I would usually pay for a balm, but if I break it down the
Neapolitan
is 0.5oz and three separate flavors, if it was three 0.15oz balms at $4 each, you'd still be getting a little more product for just about the same price. Oh and did I mention that both of these products are organic? If you think of it that way, the price tag just about fits the bill. Right now (as of May 20, 2013) Cathy is having a Spring Sale and you can get the
Neapolitan
for $9 and
Porch Party
for $3.75 which are both definitely reasonable prices!
Overall
Pros:
Flavors, Wear, Packaging
Cons:
Slightly steeper price
Rating: 4.5 out of 5 twists. These balms are both seriously amazing. The consistencies and flavors of these balms are just amazing! I've never been disappointed with any of my Upstate Herb Works products and I'd definitely recommend trying them!
Ingredients:
Neapolitan: *shea butter, fair trade *cocoa butter, *coconut oil, *olive oil, *castor oil, local undeodorized beeswax, cold pressed meadowfoam seed oil, soy vitamin e, my own blend of essential oils and co2 extracts including: *rosemary, *pomegranate seed, *sea buckthorn berry, *strawberry fruit, fair-trade *cacao powder, fair-trade *vanilla bean. * indicates organic ingredient
Porch Party: unrefined *shea butter, +*cocoa butter, virgin unrefined *coconut oil, castor oil, meadowfoam seed oil, *alkanet root infused jojoba, non gmo soy vitamin e, essential oils, co2 extracted rosemary, co2 extracted pomegranate seed, co2 extracted *sea buckthorn berry. local undeodorized beeswax, *strawberry fruit extract. * indicates organic ingredient, + indicates a fair trade ingredient
Have you tried these Upstate Herb Works balms before? What did you think of them?
------------------
These balms were provided complimentary to me by Cathy from Upstate Herb Works, however, all of the opinions are strictly my own. Thank you, Cathy, for the opportunity to try some more of your wonderful products!