I hope that you all enjoyed
my last review
on some lovely Bag Lunch balms. Shortly after I placed my first order, I had to place a second because I just fell so in love with them! Plus, there was a good sale going on and you all know how I can't resist those (although I'm really trying hard to!). Without further adieu...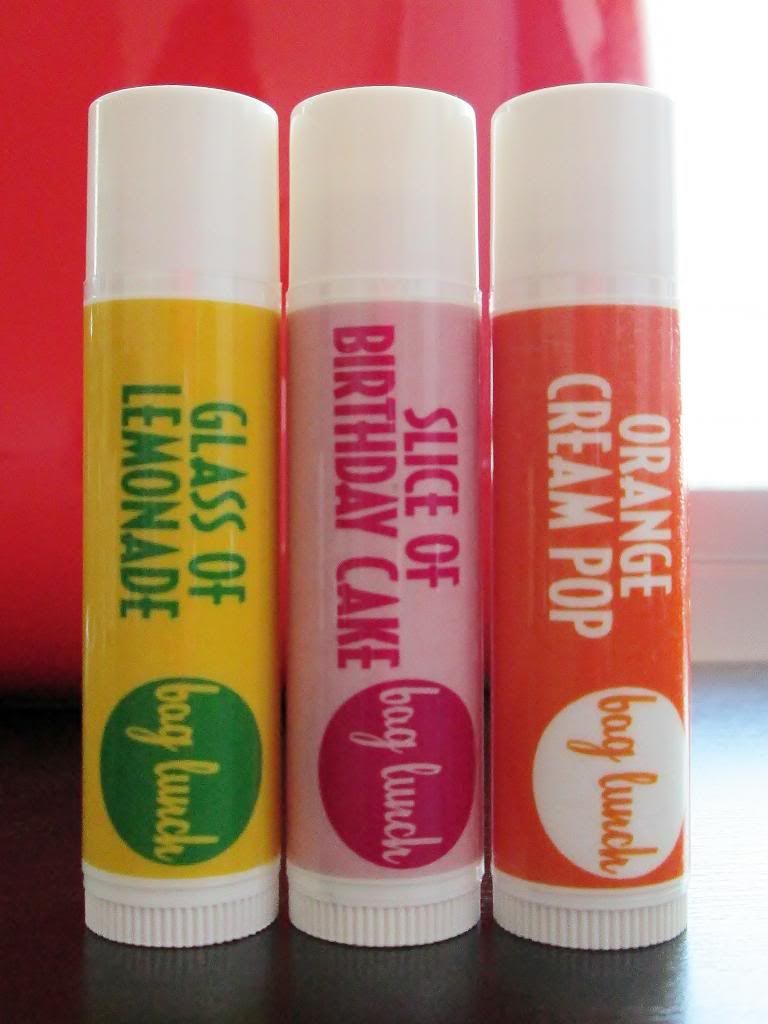 Company:
Bag Lunch
Flavors:
Slice of Birthday Cake, Orange Cream Pop, and Glass of Lemonade. The
Slice of Birthday Cake
smells just like delicious vanilla cake with a ton of sugary sweet frosting. It makes me crave a slice of cake! Man I haven't had cake in forever, but this sure does come close! The
Orange Cream Pop
smells like I just opened a can of SunKist and someone plopped a scoop and cold and delicious vanilla ice cream. It's super orangey which is complimented by a wonderful vanilla scent, it's really lovely and much brighter than other orange citrus balms I have. The
Lemonade
is a wonderful classic lemonade balm, it's sweet and a little sour and of course smells like lemons! Obviously, I would be a fan because I absolutely love anything with lemon in it (you should see how much lemon I put in everything we cook). But, seriously, if you're a lemonade fan, you'll be a fan of this balm.
Wear:
These balms definitely go on thicker than your average balm, so one or two swipes on top and bottom is more than enough. These go on very smooth and are only very slightly sticky, not enough for me to complain about it, you know what I mean? All in all, consistency is great!
Packaging:
These come in your average sized lip balm tubes with super bright and fun labels that make it super easy to differentiate between your balms! Really makes me happy every time I reach for one of my Bag Lunch balms, they're just so unique in how they pop! The flavor of the balm is also right in front in big letters as well as the shop's logo. Really simple and to the point label design, can't complain!
Price:
$4 per tube which is at my upper limit for how much I'm willing to spend on a balm, but these are well worth it! Even if only to try a few flavors. I was lucky enough to get these balms for about $2 on sale I believe, which was definitely a steal!
Overall
Pros:
Flavors, Wear, Packaging, Price
Cons:
Rating: 4.5 out of 5 twists. These balms were great! There's a nice variety of flavors, so there has got to be a flavor for everyone!
Ingredients: Castor seed oil, Cetearyl alcohol, Olive Oil, Hydrogenated Castor Oil, Beeswax, Carnauba Wax, Hydrogenated Soybean Oil, Candelilla Wax, Flavor
Have you tried Bag Lunch balms before? What did you think of them?