I hope you guys are ready for some more Epically Epic limited edition balms! I seriously cannot get enough of any of Allison's balms, but especially her limited edition flavors! They're just so amazing! I also just bought six of the new ones she posted earlier this week and I'm super excited to try those!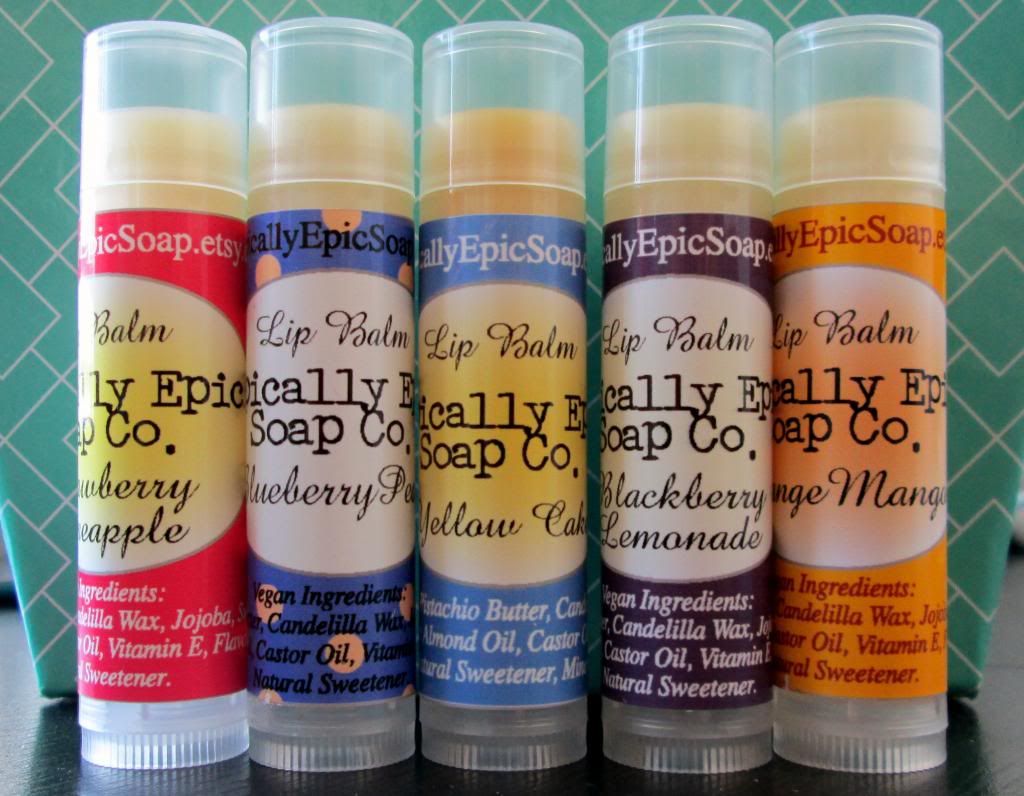 Company:
Epically Epic
Flavors:
Blackberry Lemonade, Orange Mango, Strawberry Pineapple, Blueberry Peach, Yellow Cake, and Mint Chocolate Espresso. The
Blackberry Lemonade
has been somewhat my "dirty little secret", I turn to this balm a lot! It's ALWAYS on my nightstand and I use it at least a couple times a week, but I don't really talk about it that much and I don't know why. It's a really, really wonderful balm! I love lemonade balms and this one was definitely no exception! It smells of ripe blackberries and sweet yet sour lemonade. This balm just screams summer to me for some reason. Definitely one of my most favorite Epically Epic balms! The
Orange Mango
is definitely another one of my staple lip balms. I love this balm! It smells of ripe, tropical mango combined with sweet, orange citrus. It's another balm that's so perfect for summer. I had this with me everywhere we went when we went to Hawaii in April. The
Strawberry Pineapple
smells just like sweet strawberries and fresh, tangy pineapple. Really, any of these flavors would be great for summer! As you should know by now, the
Blueberry Peach
is probably my most favorite EE balm,
ever
. It's just so wonderful, a beautiful and unique combination of ripe blueberries and peaches. It's sweet and tangy and fresh, it's just lovely! The
Yellow Cake
is another favorite of mine (okay, anyone keeping track of how many EE balms I've said are my favorite? Oops =). They're all just so good!); even Rob likes the Yellow Cake balm (his favorite cake in the world is yellow cake with chocolate frosting). This balm is so light and wonderful, it smells of light citrus, a little bit of lemon and a whole lot of vanilla cake. It's really wonderful (I also highly recommend the solid lotion in Yellow Cake!). The
Mint Chocolate Espresso
isn't so much a summery balm, but it is definitely a balm you could use all year round! It smells of delicious milk chocolate and refreshing mint with just a hint of coffee. Seriously, I want to eat this!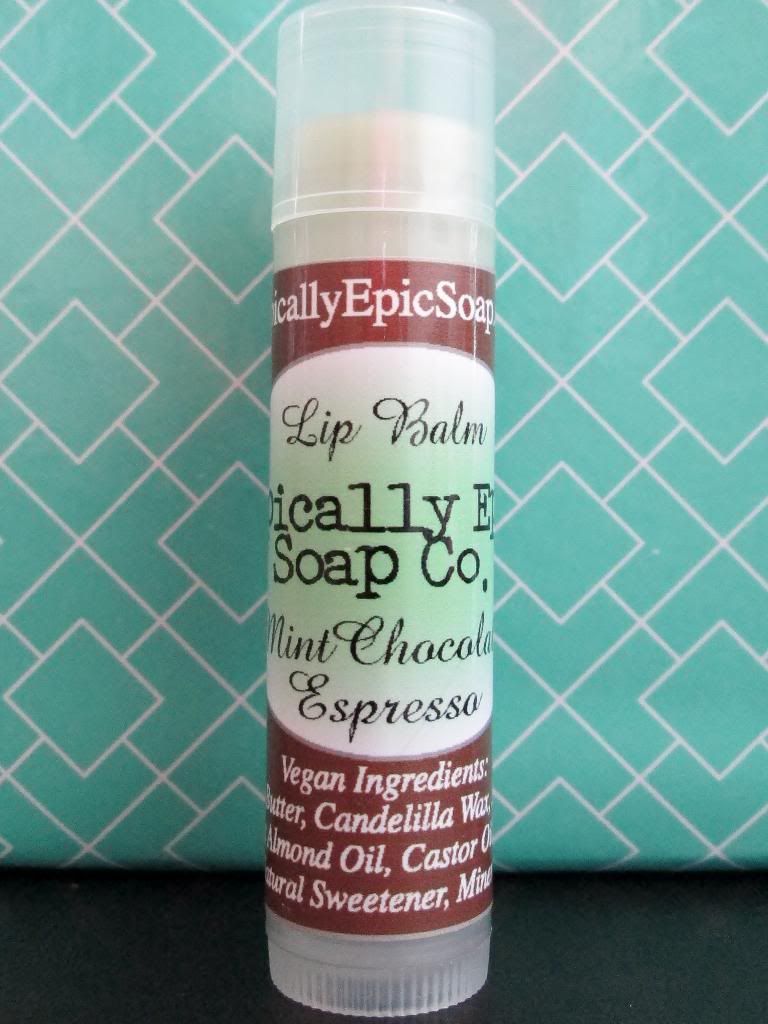 Wear:
These balms glide on so soft and creamy, and super smooth! There's honestly no fight at all in these balms, they're great to go right from the start. I only need one swipe on top and one on bottom to get amazing coverage, however I do tend to go a little overboard and go round and round my lips because they're just so smooth!
Packaging:
These balms come in your average sized lip balm tubes with really, really cute labels! The labels are all colored differently and each one is slightly different from the others. The label is colored to match the flavor of the balm and some of them have different designs on them (like polka dots). The flavor of the balm is put right on front as well as the shop name.
Price:
$3.75 per tube which is totally acceptable for one of these amazing balms!
Overall
Pros:
Flavors, Wear, Packaging, Price
Cons:
Rating: 5 out of 5 twists. Seriously you guys, if you're ever considering an EE balm, especially if it's a limited edition flavor, just get it! I've never, ever been disappointed with an Epically Epic balm!
Ingredients: Pistachio Butter, Jojoba, Sweet Almond Oil, Castor Oil, Vitamin E, Candelilla Wax, Flavor, Natural Sweetener
Also, did you know this is my
10th
Epically Epic review? Holy cow! That's a lot of balm!
What are your favorite Epically Epic balms? Have you tried any of the ones in this review before?